---
Photography
Even if your time in Phuket is short, photographs can last a lifetime. Sumalee Boxing Gym photography service is the perfect way to remember your time at the camp. Our professional photographer will produce stunning, high resolution images shot with a DSLR camera during a training session of your choice. All images are fully edited in a unique style and will include all aspects of your training, and beautiful portraits of you and your trainer.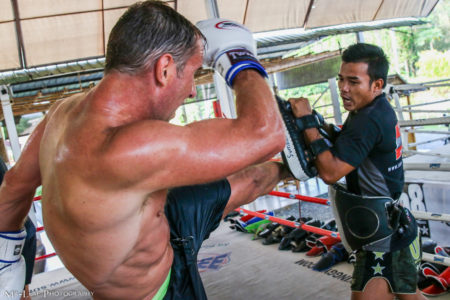 Do you have an idea you'd like brought into reality? We love trying new things and will be happy to accommodate any special requests wherever possible.
You will receive 40 – 50 high resolution images (minimum) on a CD, USB stick or direct to your laptop as required.
| Session | Price (thb) |
| --- | --- |
| Private Training (1 hour) | 2000 |
| Group Training (1hour/2 hours) | 1500/2500 |
---
Fight Photos
If you choose to represent Sumalee Boxing Gym in a Muay Thai fight we offer free fight photography for all fighters, subject to availability. Any images captured will be uploaded to our Facebook Page and website to share with your friends and family. High resolution copies will be available to purchase for a small fee.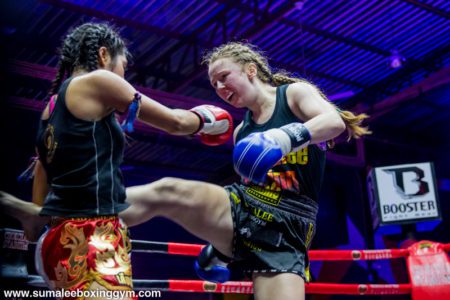 | Package | Price (thb) |
| --- | --- |
| 10 Images | 750 |
| 20 Images | 1200 |
---
Video
Sumalee Boxing Gym also offers a video service for our students. Our Muay Thai training showcases are fully edited on-site and are individually crafted for each student. Your showcase can be set to track of your choice, or a song can be selected for you based on your musical tastes. Personal touches, logos and other media can also be added to the video upon request.
Training Showcase Video- 3500 thb
Please Note
The video editing process may take up to 14 days. If you leave the camp before this time your showcase can be uploaded to a secure database for you to retrieve.
All videos will be uploaded to the Sumalee Boxing Gym YouTube account (subject to copyright laws) and website, unless we receive instruction from you stating otherwise.
You can even pre-book any of the services above along with your stay or chosen training package. If you have any questions or require further information please do not hesitate to contact us.