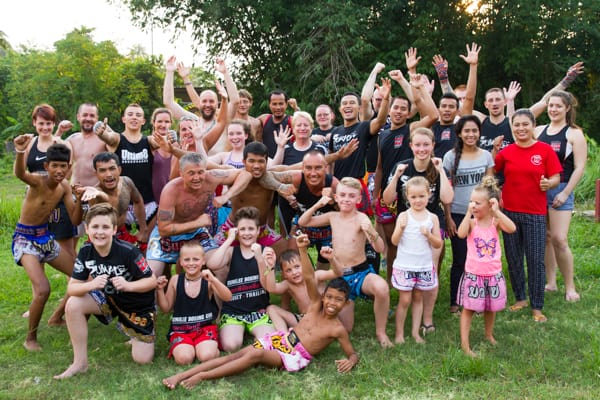 It started with an idea, an idea that our junior Muay Thai fighters could experience just what it's like to live and train in Thailand!
We are a training group from Scotland called the Aberdeen Martial Arts Group (AMAG). Our junior fight team consists of some extremely dedicated kids who train 4-5 times a week with their committed trainers, always pushing themselves and travelling all over Scotland, and sometimes the UK to attend fights. My name is Bev Wilson and I along with Wendy Smith own Granite Fight Factory, a martial arts stockist for equipment and fight wear in Aberdeen. Our kids are part of this fight team and we knew this would be an experience the kids would never forget.
In practice taking a group of 25 children and adults half way around the world was going to be no mean feat. Getting from Aberdeen to Phuket and home again with everyone still in one piece financially, physically and mentally was going to be a challenge. To add to this we had decided to fundraise all the costs of our training and accommodation. No challenge too big!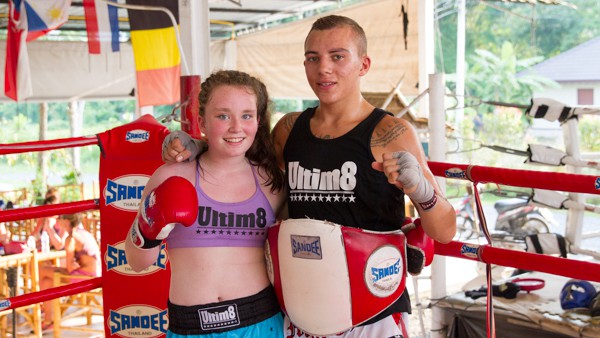 One thing we were in no doubt about was where we wanted to stay and train. We had heard so much about Sumalee Boxing Gym from friends within the martial arts community we knew this was where we wanted to go. One of their sponsored fighters Jordon Coe has always been a big supporter of our juniors and anytime he is in the UK always visits to train the kids, they claim to be his biggest fans.
We made contact with Lynne from Sumalee and from the start nothing was too much trouble. Our group was made up of junior fighters ranging from 4 to 16, their parents and a couple of adult fighters. We knew we were not their normal type of group booking and had various requests regarding sleeping arrangements, room layouts, and specialist food requests. We wanted to know about trips we could access, where the nearest banks and chemists were, everything! Her head must have been spinning and it only got worse as we got closer to our arrival date, but Lynne and her team always had an answer.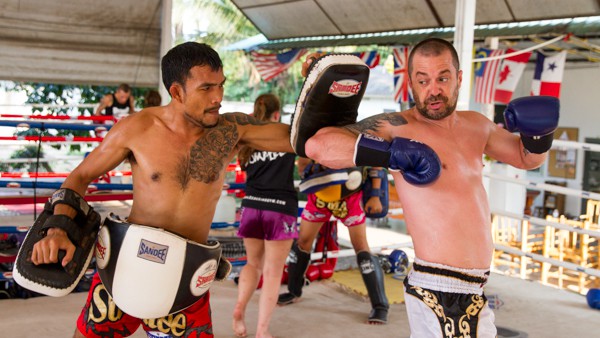 One big thing for us was that we were fundraising our stay at Sumalee but even this was handled with thought and care from the Sumalee team, making our payments to them as simple for us as possible. We fundraised over £6,000 through various methods including a sponsored fun run completed by the kids, the junior's parents ran coffee mornings, ragbag donations, car boot sales, a race night and Granite Fight Factory ran a seminar taken by Jordan Coe where all funds raised went towards the juniors Thailand trip.
Finally the day arrived 15th July 2015; we travelled from Aberdeen to Glasgow by bus and flew to Phuket via Dubai. We arrived in Phuket international airport to be met by our transfer minibuses as soon as we exited the building. The transfers had been arranged by Sumalee in advance, as were all of our transfers throughout our stay. On arrival to Sumalee we were greeted by the friendly staff and Rhian (more about this little star later!). We were shown to our rooms and suites and left to settle in with the knowledge that should we need anything there was staff on site.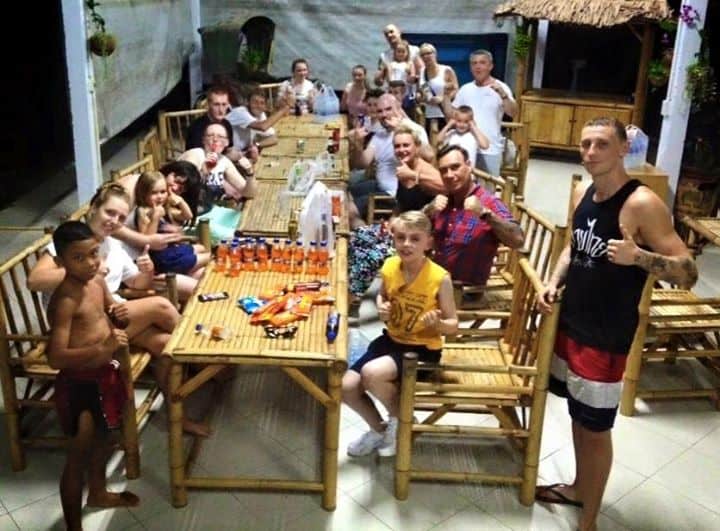 Our rooms were everything we needed, comfortable beds, clean bathrooms, dressing area with cupboards, TV/DVD players, fridges and, most importantly, cool air conditioning! The suites were extremely large with facilities that would rival many UK hotels. On arrival we also had water and fresh fruit in our fridges which was certainly appreciated after such a long journey.
Training started the next morning at 7am with a run, followed by a 2 hour Muay Thai class with the fantastic Sumalee trainers. These guys are something else. Hard as granite with hearts of gold and a whistle; you develop a love/hate relationship with the whistle which signals the start of each training session! The training was open to everyone so children and adults alike joined in, fighters and non fighters, everyone. Each individual was observed and pushed to the limits of their own capabilities.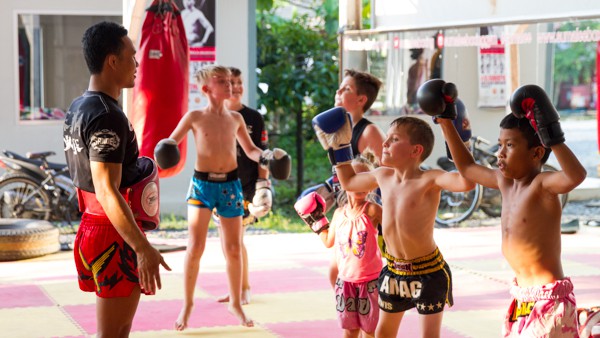 Personally it has been over 15 years since I have done any consistent martial arts training yet I felt able to complete the couple of training sessions I attended (with my 4 year old daughter in tow who was also training!) and felt I learned so much in such a short time. The knowledge and experience of the sport these guys bring is incomparable. Training resumed again at 4:30pm for another 2 hours of gruelling cardio work and sparring. There is also a well equipped fitness studio on-site with free weights and cardio equipment. Myself and other members of our group used this area on a few occasions and found it fully equipped for full upper and lower training sessions.
Our group had requested a personalised breakfast and dinner plan; this is where the fantastic Rhian and her culinary skills stepped in. As we had a diverse range of ages (and palates) within our group we tasked Rhian to create a menu that would suit everyone. She did this and more. She created a menu with both Thai and Western options available to everyone, and also a children's menu for the younger ones. Any special request over and above these menus was also no hassle for her and she tended to our every need, which even included cups of Tetley tea!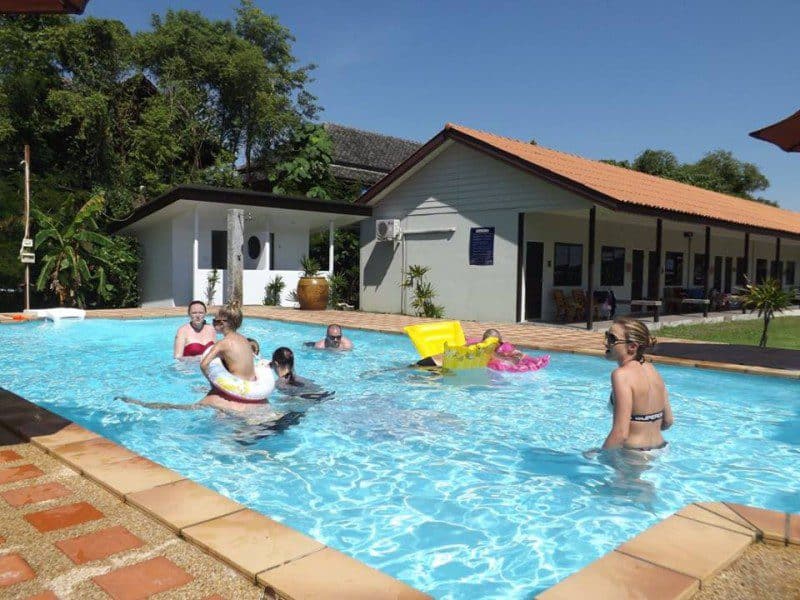 Every Sunday is chill time at Sumalee, a time when you can relax and enjoy the on-site swimming pool or go see the beautiful sights of Thailand. The staff at Sumalee advised us on places to visit and best days and times to do so. We did lots of different trips and visits during the week individually or as small groups after or in between training sessions such as visits to waterfalls, temples and markets but we chose to have a large group trip on one of the Sundays. We took a boat trip to Maya Beach (where the film 'The Beach' was made) and the surrounding islands, it was something else, crystal clear blue seas and white sandy beaches; Thailand really is a magical paradise!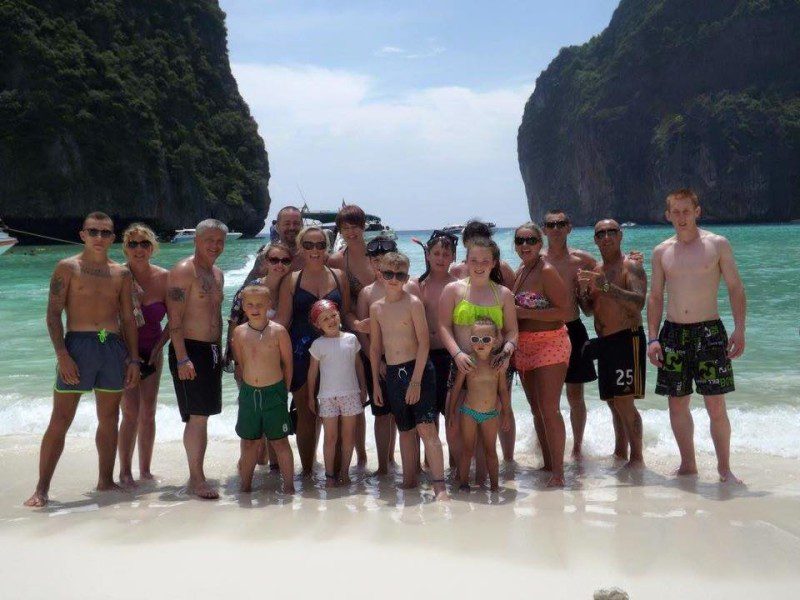 Another group trip we'd wanted to arrange was to go to Bangla Boxing Stadium in Patong, though this was more personal as one of the Sumalee sponsored fighters and a visiting fighter were in the ring that night, so again the Sumalee team arranged for us to all go along to support them. What an experience, I have attended many fights in the UK but nothing like this, the atmosphere makes it a must do when in Thailand!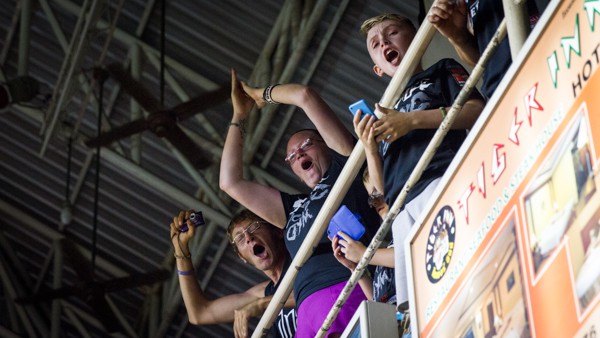 Some of our group had never stepped on the mats of a boxing gym before they arrived at Sumalee, so they were without any suitable training attire. This was no problem as Sumalee have kit which can be hired for an extremely small fee and they also have a fully stocked shop where you can purchase both kit and equipment. This is when Wendy and I discovered the fantastic Ultim8 fight wear range they stock. Ultim8 are based in Hong Kong and are sponsors of Sumalee Boxing Gym. They supply them with unbelievably fashionable customised fight wear- when you're going to fight you should always fight with style! Ultim8 wasn't available in the UK but after discussions with them, arranged by Lynne, we are now proud to say Granite Fight Factory are UK stockist for this amazing range and all their products will be available to purchase from Autumn 2015 when we go live with our website and open our Aberdeen store.

We stayed at Sumalee for two weeks and on the evening of our flight home we all felt that we left a piece of ourselves behind, as we were no longer leaving just a place, we were leaving people who had become our friends and found a place in our hearts. Our goodbyes were emotional thanks to a lovely floral send off from all the team (thanks for that guys, lots of tears on the way to the airport!) but we knew deep down it was only farewell and not goodbye as we would be back, and so we shall be in 2016.
Thank you Team Sumalee for everything, you made our Thailand experience everything we could have wished for and more!
Bev Wilson & The Aberdeen Crew
Visit AMAG and Granite Fight Factory on Facebook!
Twitter: @granitefight
Instagram: @granitefightfactory