Sumalee Boxing Gym is particularly pleased to welcome Ajarn Peng to our team of trainers.  In common with our Head Trainer Oron (fighting name Deachkalon), Peng also comes from Sor Sumalee Gym in Ubon Ratchathani.  In fact, Peng trained Oron when he was a young fighter.
Peng actually originates from Udon Thani where he started his fight career at the age of 11. Peng's credentials as a trainer far outweigh those of most other trainers.  Whilst Peng was a trainer at Sor Sumalee Gym he trained some of the best fighters of the time including Lamnammoon, Jompohlek, Superlek,  and of course Deachkalon.
After spending approximately 5 years at Sor Sumalee Gym, Peng went back to his birthplace Udon Thani to get married and start a family.  He has a ten year old son whom he would love train at the new Sumalee Boxing Gym.
Approximately six years ago Peng joined Fairtex Gym in Pattaya, working as a trainer there.  It was at Fairtex that the list of Muay Thai  superstars he was responsible for training grew to include champions such as: Yodsaenglai (shown in first photo below); Keaw (shown in second photo below); Dteelek; Attachai; Naruepol; and Dekbungjong.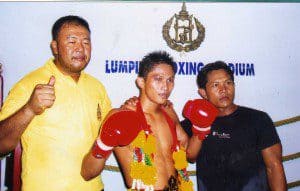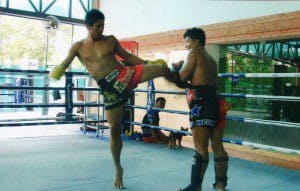 One interesting person Peng was responsible for training was Nong Toom who subsequently reached celebrity status as one of Thailand's most well known kathoeys.  In 1998 she fought and won at Bangkok's Lumpinee Stadium and intrigued the media by the novelty and incongruity of a make-up wearing 16-year-old katheoy or "lady boy", defeating and then kissing a larger, more muscular opponent.  A year later Nong Toom caused considerable publicity by announcing her retirement from Muay Thai, her intention to become a singer, and her plan to undergo sex reassignment surgery.  In February 26, 2006, Nong Tum made a comeback as a female boxer and went on to have several fights worldwide against female fighters.
A notable 'farang' Peng trained is Steven Wakeling, who is an English Middleweight Muay Thai fighter.  He is former British, European and four times world champion.
During his time at Fairtex, Peng went to work as a trainer in the United States on two occasions, each for six months. He was a trainer at the Fairtex Gym in San Francisco and in Mountain View.  He also worked as a trainer for short periods in Hong Kong and in China.  As a result of these secondments, Peng speaks reasonably good English.
The wealth of experience Peng has in training Muay Thai Champions will be put to good use at Sumalee Boxing Gym where he will be mainly responsible for fight preparation and assessing preparedness for fighting.