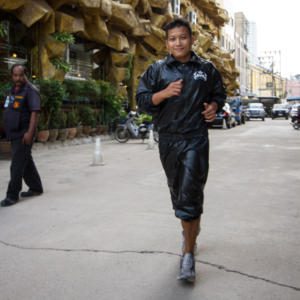 Muay Thai's nebulous scoring system leaves many Western spectators feeling as though they have missed something fundamental, and indeed much of the time they have. Deachkalon Sor Sumalee, Thanom Wiangkham, Oron – however one refers to Sumalee Boxing Gym's business partner, Head Trainer and showman, none can deny his skill and precision in the ring.
Aggression alone simply will not suffice as a guarantee of victory in Muay Thai; a display of technical ability and economy of motion which borders on pedantic is required. One slip, one stumble, and the round is lost – perhaps even the fight. In his recent fight with Irishman Stephen Meleady, 34-year-old Oron was the manifestation of composure so keenly sought by the scoring system in Thai Boxing.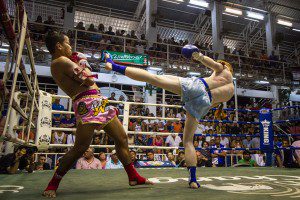 Such is Oron's defensive skill and ability to avoid taking damage, that after most fights he appears virtually unscathed. This most recent fight was no exception.  No mean feat for a man of his age and who prepares, in classic Thai style, economically. This being said, his preparation, with the intuitive understanding of fighting that he has, is sufficient for each opponent he faces. For this particular fight there was an air of expectation, the feeling that perhaps some training would be required after all.  He did what was required.
Cutting 5kg over several days whilst working in the gym and doing his own fight conditioning was an arduous process and one that had a visible effect. Nicholas Lehmanns, visiting German physiotherapist, was on hand to help out with the process, giving massages to relieve Oron's overworked and undernourished muscles.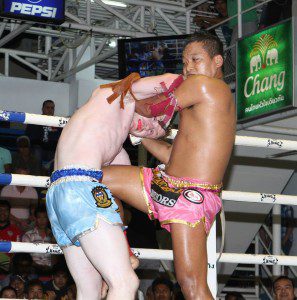 The fight itself progressed much as many of Oron's fights do; the early rounds spent in tight defensive pattern allowing Meleady to wear himself out, before scoring highly with unbalancing techniques and decisive knees in the later rounds. Oron's greatest skill lies in a masterful eye for timing counter-attacks, and what must be an infuriating ability to give nothing away in defense.
With Lambang in his corner, it was exhilarating to see Oron silence his critics and doubters. Many comment that Oron's fights are "close", however the beauty of his style is his innate knowledge of the scoring system – the ease and fluidity with which he uses it to his advantage. Such was his ostensible effortlessness, that a French student compared his performances to that of "a magician". Oron is staging a comeback late in his career that deserves respect and admiration. The early indication is that Oron has an interesting fight schedule ahead of him this year, including another trip to the UK in June.
By Craig Dickson