December 10th 2013 marked the second year anniversary of the opening of Sumalee Boxing Gym and as such offered an opportunity to reflect on what we have achieved so far, and where we are heading over the next two years.
Sumalee Boxing Gym was constructed from scratch providing a brand new facility with a distinctly different approach to the Muay Thai training offer in Phuket – Pushing the boundaries.  In December 2010 we had two trainers, eleven rooms, a swimming pool and very few customers. As a testament to the appeal of what we have to offer, Sumalee Boxing now has 8 trainers, 15 rooms, an air conditioned weights room, a mini games pitch and a restaurant.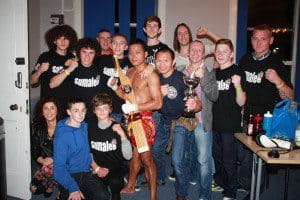 Our fight record is equally impressive. Over the last two years as well as having a wide array of fighters from all over the world represent us in Phuket, we have sent fighters to Esaan, Koh Samui, Ranong, Bangkok, Kalentin (Malaysia), Langkawi (Malysia), China, the UK, Panama in Central America and local events in southern Thailand.  Many of our visiting fighters have represented our gym in countries all over the world.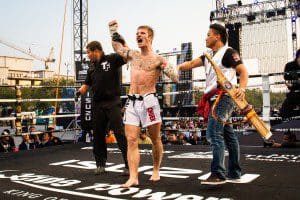 We achieved our first Championship belt only a year after opening when Amy Sharp won her WMPF title at the King's Birthday celebrations in Bangkok in December 2012.  Our second anniversary saw significant achievements by our sponsored fighter Craig Dickson on the Bangkok stage. In early December 2013 Craig fought on the King's birthday show against Ratchadermneon Champion, the Brazilian Joss Mendosa.  Although Craig didn't win the fight, he earned himself a reputation and a lot of followers.  It was as a result of this fight that Craig was invited to fight on the Thai Fight Final in Bangkok on December 22nd.  This was a high profile fight for Craig with maximum exposure.  He is the first Scottish fighter to appear on Thai Fight in a Kard Chuek match up against Pravit Aor Piriyapinyo He won the fight and the opportunity to appear on Thai Fight again in 2014.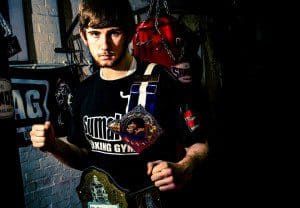 Two of the three students who attended our scholarship programme during July and August 2012 have gone on to win championship belts in their home countries. We currently have Korean fighter Okbae Moon training at the gym on a scholarship programme.  Later this year Martin Avery from the UK will be joining us for two months (Martin recently won ICO European Champion) and once again we are running a competition to win a place on a scholarship this year.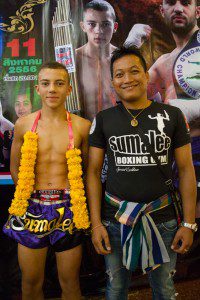 Later this year we will be welcoming Jordan Coe to the gym as a sponsored fighter.  Jordan is currently ranked number 4 in the UK in his weight class. At only 17 years old he is an exciting fighter and we are very sure he will be one of the next generation's most talked about fighters.During the last two years we have been focusing on the construction of the gym, promoting the gym through marketing and social media, fine tuning what we have to offer, and building Sumalee's reputation as a place where serious fight training is combined with a high quality training and living environment.
For the future, in the immediate short term, we are focusing on refining our restaurant service (Sumalee Ringside Restaurant) with the intention of ensuring that the nutritional requirements of people undergoing high intensity training are supported.  Our longer term aim is for Sumalee to be recognized as leading experts in the field of sports nutrition.  We have recently developed a new logo for the restaurant and overhauled all of the menus.  This effort is being supported by the provision of nutritional advice and information.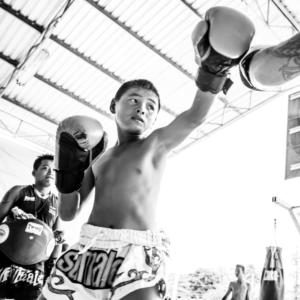 We currently have a number of local Thai children training at the gym and one of them in particular has been ear marked for great things in the future.  During the next couple of years we will be placing more emphasis on the Thai fighter programme and hope to be able to make a significant acquisition in the not too distant future.
To celebrate everything we have achieved, we have recently relaunched our website which you can check out on www.sumaleeboxinggym.com.  Our aim has been to give the website a cleaner more professional look, whilst at the same time making it easier to navigate and find essential information.
Our slogan is 'Pushing the Boundaries' and we certainly feel we have pushed a fair few of those over the last two years.  We have a great team all of whom are dedicated to seeing the gym go from strength to strength.
By Dr Lynne Miller