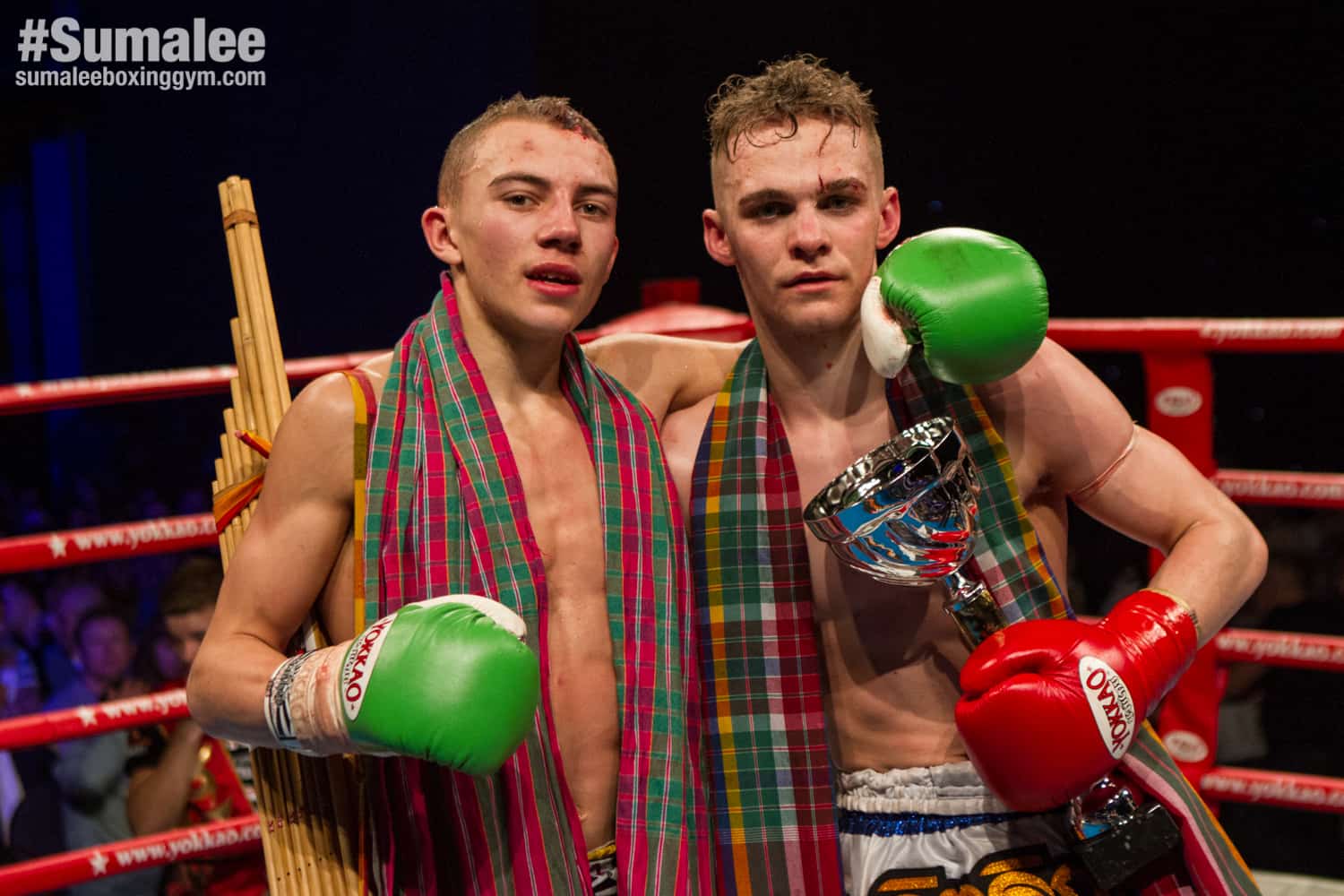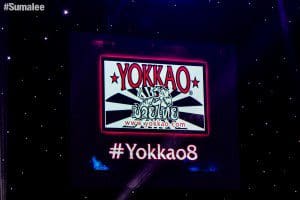 Saturday the 8th of March 2013 will be forever be remembered as a landmark event in the history of British Muay Thai. Supershowdown in co-promotion with Yokkao Boxing presented 'Yokkao 8' at The Reebok, Bolton; possibly the biggest Muay Thai show the UK has ever seen.
Seventeen year old Scottish fighter Jordan 'Deachkalek 'Coe, the protégé of Oron 'Deachkalon' Sumalee (head trainer at Sumalee Boxing Gym), was invited to appear on the main card at 54kg. He faced Daniel McGowan from Bedford in England. Daniel is another promising young talent tipped for great success on the British scene. Also 17, he has already competed at the highest level at the legendary Lumpinee Stadium in Bangkok, defeating respectable Thai opponents such as Fathai Mor Watanachai and Masimok Sitkrupak.
Jordan knew this would be a tough fight for him. Despite visiting our camp in Phuket twice since 2012, and fighting at a professional level since his first visit, he is relatively inexperienced in comparison to Daniel. Jordan has shown great heart and determination in the past regardless of what lies in front of him and this fight was no exception. As soon as the match was confirmed, he commenced his training at Carnage Muay Thai in Grangemouth with firm resolution. Jordan is still in school and works hard to maintain a balance between his education and training.  He achieves this with the constant support of his mother, Lisa Coe.
Fight night quickly approached. Jordan and his trainers from Carnage Muay Thai arrived on Friday for the weigh in; he had adjusted his diet for the previous few weeks to be in the best shape possible and he shaved those last few pounds in the sauna at the hotel. Both fighters reached the required weight, Jordan coming in slightly under at 53.2kg and Daniel at 53.9kg.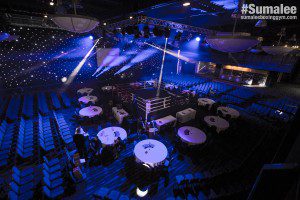 The young Scot woke early on Saturday morning, unable to contain his excitement for the impending battle. After a hearty breakfast, we headed down to The Reebok event hall to check out the venue. The hall was a hive of activity. The ring was erected and light and sound technicians were making tests whilst fighters milled around the changing rooms, waiting for their mandatory pre-fight medical check. Jordan passed with flying colours and headed back to relax before the show.
Yokkao 8 at The Reebok started late in the afternoon and the queue wrapped around the stadium and was 3 people deep! Tickets sold out within an hour, which was unprecedented for this kind of event, and reflective of the growing Muay Thai scene in the UK. Drinks were flowing as the punters flooded into the hall and MC Douglas McAdam took the stage to kick off the show with his distinct style. A stellar line-up of British & International talent graced the stage; Liam Harrison, Dean James, Houcine Bennoui, Rittajak Kaewsamrit, Rungravee Sasiprapa; to name a few. Jordan, however, was oblivious to the wars being waged around him. The team from Carnage Muay Thai were making final preparations as they got the 2 minute call. Adorned in Yokkao brand fight gear, Jordan's Sumalee cape flowed behind him as he threw his Kaen over his shoulder and made his way down to the arena.
The fight started as it always does for Jordan ever since his first trip to Sumalee Boxing Gym in 2012, with an Esaan dance! Passed down to him from Oron (Deachkalon Sor Sumalee), this traditional Esaan (the North-Eastern region of Thailand) dance is always a crowd pleaser and a great way to start the show. As they finished the Wai Khru Ram Muay shouts of "Come on Jordan!" could be heard all around the ring. The fighters meet in the middle, and the bell signaled the start of Round 1.
Both young athletes started as they meant to go on, with power and precision. Kicks were thrown without thought to the possible consequences. The all too familiar feeling of bone clashing with bone, shrugged off, adrenalin coursing through their bodies. Both fighters seemed on even ground until the end of Round 2 when Daniel evades a body kick, moves inside Jordan's guard, and lands a decisive elbow to the top of Jordan's forehead.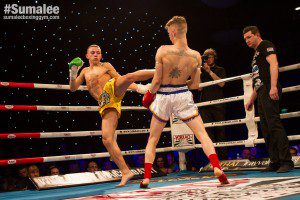 Jordan was dazed for a second as blood streamed down his face, but continued moving forward until the end of the round. Team Carnage moved quickly to alleviate the wound with Vaseline in the short time available between rounds. It was not long before Jordan stood to face his foe once again, knowing full well that Daniel's elbow would have scored highly against him. Round 3 began. As the match progressed the roar of the crowd was more apparent. By the end of Round 3 Jordan appeared unphased by his injury, unleashing kick after kick, knee after knee, many of which were blocked and countered by a confident looking Daniel. Rounds 4 and 5 saw more clinching; and the fighters were tired. Jordan knew it was close and he had some catching up to do. He scored at every opportunity, leveling up the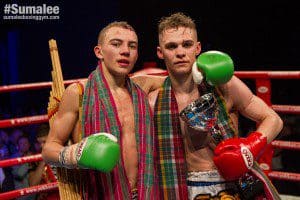 points by landing some significant elbows and cutting Daniel twice. The final bell rang and the fighters embraced with an unspoken respect for the other's efforts. The battle was over and Daniel McGowan's hand is raised in victory, taking the majority decision.
Speaking to Jordan afterwards he was happy with his performance, unperturbed by the loss, and ecstatic that he had the opportunity to compete at this level. It is his quiet modesty and unending confidence that will take him far in the sport. It is also for these reasons that Sumalee Boxing Gym has offered Jordan full sponsorship at our camp in Phuket. He will be arriving in June and joining our fight team for at least a year alongside fellow Scottish young gun, Craig Dickson. We've yet to see what the future holds for Jordan but we're sure whatever happens, it's going to be a hell of a journey.
By Michael Davis
Full results:
– Liam Harrison won by points vs Houcine Bennoui (65 kg)
– Dean James won by TKO (round 2) vs Rungravee Sasiprapa (57kg)
– Panicos Yusuf won by points vs Rittuak Kaewsamrit (60,5kg)
– Reece McAllister won by points vs Tim Thomas (67kg)
– Steve Long lost by points vs Josh Turbill (72kg)
– Brad Stanton won by KO (round 1) Wayne Fisher (66kg)
– Daniel McGowan won by points vs Jordan Coe (54kg)
– Chris Whittle won by points vs Daniel Crompton (62kg)
—UNDERCARD—
– Sebastian Fraczyk lost by points vs Nathan Epps (72kg)
– Pindi Singh Madahar lots by points vs Federico Beaka Alfaro(69kg)
Check out the Muay Thai Combat Blog for a full rundown of Yokkao 8.
Make sure you like Sumalee Boxing Gym on Facebook or follow us on Twitter @sumaleeboxing to keep up to date with all the latest from the camp and around the world!