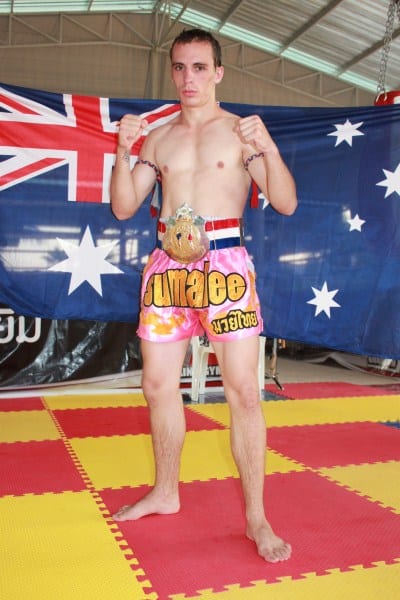 At only 21 years of age, Daniel Ketley has already had a remarkable Muay Thai journey and it's by no means over yet!
Daniel is from the Gold Coast in Australia and started training Muay Thai at 17 years old in John Wayne Parr's Gym, Boonchu. It was whilst he was there that he met Nueng Tragan. Nueng Tragan was Orono's training partner at Por Muang Ubon Gym. Nueng had fought John Pawn Wayne Parr four times and won on three occasions. Nueng went to Australia to help John Wayne Parr prepare for the Contender Asia Final. Nueng is South Paw like Yodsaenglai who Parr was to fight in the final.
Nueng took a great deal of interest in Daniel, identifying him as having considerable potential. Daniel found Nueng's approach as a trainer highly motivating and he deeply respects him. Nueng told Daniel that if he trained in Thailand within two years he could become a champion. Daniel needed no further encouragement and at only 18 years old Daniel left his family and went alone to train with Nueng at a gym called Sitnueng Ubon. This gym is owned by Nueng Ubon Sitlemai who once fought Saenchai and won. It was during this time that Daniel learnt to speak Thai, having no other option as there were no other 'farangs' around to communicate with. During this time in Esaan, Daniel had nine fights and won six.
Daniel came to Phuket in 2009 and at that time met and trained briefly with Oron who was working at a small gym in Patong. He quickly formed a close bond with Oron who, in common with his first Thai trainer Nueng, is also from Ubon Ratchathani. Oron and Nueng have one very close friend in common, Lamnamoon Sor Sumalee so Daniel was very aware of the gym Oron originated from.
Between late 2009 and June 2010 Daniel was a sponsored fighter at Tiger Muay Thai and during that time he had nine fights and won eight. He also went back to Australia to compete for and win the WKBF Australian Lightweight title, beating Chris Kearney.
In late 2010, Daniel went to train with Oron again for a couple of months but decided that he wanted to go back to Esaan where he could concentrate on his training without any of the distractions associated with the more touristy areas in the south of Phuket. He spent another six months training with Nueng and during that time had six fights which he won.
When he came back to Phuket he was sponsored by Phuket Top Team and had four fights under that gym. Whilst he enjoyed his time there, he felt he needed a gym in a quieter location where he could concentrate solely on his training.
Daniel came to Sumalee Boxing Gym at the beginning of February and has been training extremely hard for his first fight under our gym's name.
Daniel says he loves it at Sumalee Boxing Gym because the location, environment and ambiance at the gym means that he can focus on his training goals without distractions. He is aiming to fight at one of the famous venues in Bangkok this year and there is already a possibility of a fight at Rajadermnon on the horizon.
We are very pleased to have Daniel represent our gym and he will have a good group of supporters to see him fight at Bangla Stadium on Friday 2nd March. To make it even more exciting, he is on the same fight card as (Oron) Deachkalon Sumalee.