Kaenchai first Joined Sumalee Boxing Gym early in 2015.  However, due to some family concerns he had to return to his home province in Nakornsitthamerat.  He rejoined us in 2017 staying with us for a year before taking up a position in China.
Kaenchai was one of the superstars of Muay Thai,  He was at his peak during a period when some of the greatest fighters ever known were produced.  Unfortunately for him, the time when he was at his peak largely preceded the internet and social media revolution.  In consequence, he did not achieve the international renown in the same was as latter day fighters have.
Kaenchai started training at 9 years old with the encouragement of his father, although his father was not a fighter himself.  He was trained first of all in a gym belonging to his family, Sakrachen Gym in Nakorn Sithamerat.  His trainer was his uncle, actually the father of Naa one of the other trainers at our gym.  His had his first fight at 9 years old with a fight purse of 150 Thai Baht (at his peak he was earning fight purses of several hundred thousand baht).  His potential soon became apparent and he went up to the following gyms in Bangkok when he was 10 years old: Kiatipat and Kor Bangruai.  It was when he was at Kor Bangruai Gym that he won most of his championship titles:
Tiger Cement 118 lbs (54 kg)
Channel 7 122 (55 kg)
Lumpinee 107 lbs (49 kg)
Lumpinee 112 lbs (51 kg)
Thailand Champion 112 lbs (51kg)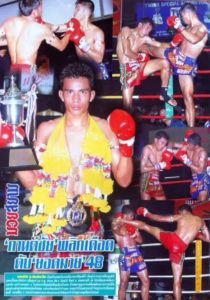 He became so attractive after his run of success that Fairtex bought him from Kor Bangruai Gym for 1m Thai baht, a very sizeable amount for such a purchase.
Kaenchai fought and beat some of the best fighters around at the time of his peak: Porsanee, Sam A, Nong O, Saenchai Noi, Pinsayam, Petchbonchu, and Wotidate.
Kaenchai's main strengths are his clinch and his left kick, and was regarded as one of the best kickers of his generation.  In fact his left kick is so strong that when he fought Porsanee the fight was finished in Round 3 when Kaenchai broke his arm with a kick.
Very sadly, Kaenchai passed away suddenly at his home on May 9th 2021.  He leaves a daughter and a son of 3 years old.  He was the sole carer of his son.
________________________________________________________________________________________
After 11 years of living in Phuket, Thailand and being involved in the Muay Thai community for all of this time, Lynne Miller has written a book about her personal journey to and experiences of owning a Muay Thai gym in her book "Fighting for Success'.  You can find out more about the book here.  It is available to purchase on Amazon.
If you have any specific questions you would like to ask, please do not hesitate to contact us: info@sumaleeboxinggym.com
Blog post updated: 4/11/21