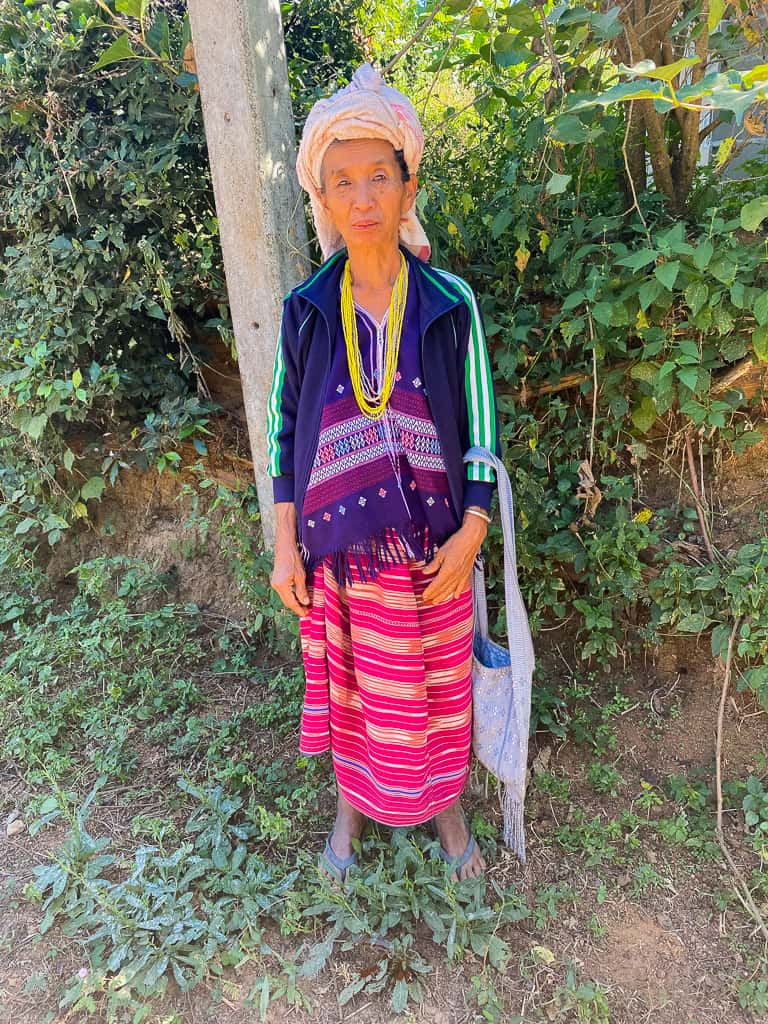 Following the Chiang Mai-Mae Hong Son Loop
The closure of Thailand's borders has given a unique opportunity for those of us who remain here to visit and enjoy areas of outstanding natural beauty, crowd free.  Following the Chiang Mai-Mae Hong Son Loop was one such opportunity.
There are various government schemes to encourage domestic tourism.  Many Thais are taking advantage of the reduced airfares and hotel accommodation subsidies.  The number of domestic tourists, however, doesn't match pre-covid international tourist volumes.  We feel very privileged to be able enjoy this period of scaled down tourist numbers and we try to take a domestic trip at least once a month (https://sumaleeboxinggym.com/kanchanaburi-thailand-bridge-over-the-river-kwai-province/, https://sumaleeboxinggym.com/thailand-guide-bangkok-to-phuket-road-trip/)
Our recent trip following Chiang Mai-Mae Hong Son Loop in the northern provinces was spectacular.  My daughter Rhian and I travelled across these provinces about 11 years ago.  At that time, we did not possess a smart phone.  Having smartphones with us on this occasion enabled us to get so much more out of the trip. We were able to research places of interest, guest houses, and restaurants along the way.  GPS enabled us to access areas/routes that would have been inaccessible to us 11 years ago.
There are direct flights from Phuket to Chiang Mai daily.  We used Air Asia on this occasion.  The flight duration is approximately one hour thirty minutes outward and one hour forty-five minutes on the return journey.
We arrived in Chiang Mai at lunchtime so the first stop was to a highly recommended Khao Soi restaurant on the outskirts of the city.  Khao Soi is a traditional dish common in northern Thailand, Laos and Myanmar.  Khao Soi literally means 'cut noodles', referring to the traditional egg noodles used.  It tastes like red curry but it is a soup and usually has more spice added to it.  Although it can be found elsewhere in Thailand, it's the signature dish of Chiang Mai and surrounding area.  We were recommended to Khao Soi Samer Jai by a local resident and we were not disappointed.  The service was prompt, the food delicious and incredibly cheap.
The relatively low cost of everything compared to Phuket was very evident throughout the trip.  It was possible to have a feast in many of the restaurants we visited for 600 thb or less.
Chiang Dao to Pai
After our lunch we proceeded to Chiang Dao where we had booked a stay at a favorite of ours, The Nest.  The Nest sits at the base of Doi Chiang Dao, which is the third highest mountain in Thailand.  Usually during high season getting accommodation at The Nest, which is renowned for its western/fusion food, needs careful planning well in advance.  This time we were able to book with only a week's notice.
Chiang Dao usually attracts a healthy tourist crowd because it has a number of things to see there such as Chiang Dao Cave, Wat Tham Pha Plong Chiang Dao and Doi Chiang Dao.  On this occasion, we skipped the first two as we've seen them before and time was limited.  With the time we had available, we opted to go to a viewpoint to enjoy the breathtaking backdrop of Doi Chiang Doi.  Although there were a few other sight seers there, it felt remote and we were able to walk around a hillside village.  I daresay that under normal circumstances it would be overrun by tourists.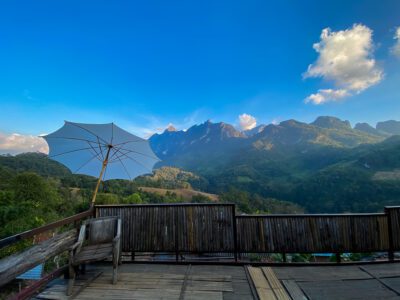 Accommodation at The Nest consists of individual bamboo huts which are very substantial.  Overall the style is artsy and chilled.  At night, there is no traffic noise so it's extremely peaceful.  A sound night's sleep followed an excellent dinner and this in turn was followed by a hearty but healthy breakfast.
Well rested and fed, we continued our journey first thing in the morning to our next destination which was Pai.  We were following a circuit known as the Chiang Mai-Mae Hong Son loop (600 km).  It's well documented and is very popular with bikers because of the breathtaking views and exhilarating twists and turns across the mountainous roads.  Despite the area being very rural and remote, the road conditions are good.
In order to complete the journey, we hired a saloon car at the airport. Whilst the saloon car was satisfactory for most purposes, it limited us as we wanted to explore the mountain villages hoping for a chance to meet the hill tribe people in their own environment.  The villages are difficult to get to as the access roads are unmade.  On our next trip ,we will hire a four wheel drive so we can get off the beaten track.
Pai to Soppong
Pai is a well-known destination for 'conscious' travelers and over recent years has become somewhat overrun by them.  Most of the shops, bars, and restaurants cater for this group so in many respects the town doesn't feel very Thai any more.  The streets are narrow and, even during this quiet period, the noise from large motorbikes roaring through as they traverse the loop was deafening.  Nevertheless, the atmosphere is very chilled and although we decided not to stay there overnight, we did find an excellent vegan restaurant called Earth Tone.  The menu was innovative, portion sizes were generous, food was creative and also incredibly reasonably priced.
Our decision not to stay in Pai was as much dictated by the amount of time we had available to do the loop and nothing else.  We had only allocated three days.  This was a mistake.  I thought 600 kms would be easily manageable in this timescale but I had failed to take into account the nature of the roads.  Throughout the journey we were crossing extremely mountainous areas (including the highest mountain in Thailand, Doi Inthanon, in the final leg of the loop).  The roads were either steeply ascending or descending and littered with hairpin bends.  This was not a journey that could be hurried.  Apart from anything else, there was so many viewpoints along the way with jaw dropping views of this mountainous region that it would have been a sin not to stop frequently.  These photos were taken at Huai Nam Dang National Park and Pang Mapha Viewpoint.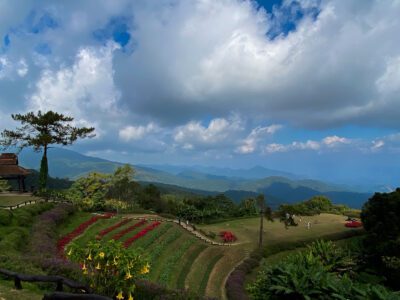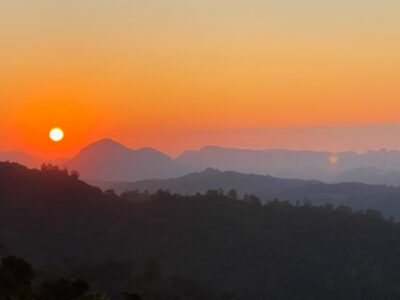 Soppong to Mae Hong Son
We stayed overnight in Soppong, which was a decision dictated as much by a need to dissect the journey into even segments as by anything else.  We got there late in the evening and left early in the morning.  We stayed at The River Inn, which didn't look particularly attractive from the outside but had a stamp of approval from Lonely Planet.  Inside the room, however, it was extremely clean, comfortable, and well-appointed with the added bonus that the cost was reasonable.  The River Inn, as the name suggests, sat on the side of a river, but our room did not have a view of the river.  Nevertheless, the accommodation served its purpose providing us with a place to stay for the night.
By the way, it is worth mentioning that the time when we visited, early December, is 'winter' in northern Thailand.  This is a great time to go as the cooler climate makes sightseeing more pleasurable.  Although the climate in the early months of the year is still  'wintery', pollution levels are high.  The pollution levels are caused by burning of the forest and of other waste.  Sometimes the level of pollution is intolerably high, reducing the visibility of the scenic landscape.
It is also worth noting that during the 'winter' months in Thailand's northern areas, temperatures can drop markedly during the night.  Evenings are chilly and so are early mornings.  Warm jumpers and even coats are the norm in these areas.
Mae Hong Son – Ban Surin
The next extended stop, after Soppong ,was the town of Mae Hong Son.  When we visited 11 years ago we were not overly impressed with the town.  On this occasion, however, our smartphones enabled us to find a quaint area around Jom Kham Lake.  The twin temples Wat Jong Klang and Wat Jong Kham are located there.  These temples date back to the early 19th century and are built in Burmese Chan style. They look very different from the temples elsewhere in Thailand.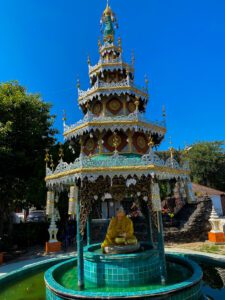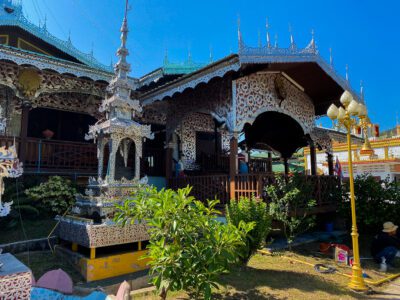 The town of Mae Hong Son borders Myamar and consequently there is considerable Burmese influence there.  As well as temple architecture, the Burmese influence can be found in the cuisine too.  We ate at the Salween River Restaurant, a hip little place with northern Thailand favorites, such as Khao Soi, as well as a strong Burmese influence on the menu options. We sampled a range of items including Green Tea Salad which could not be faulted.  Another successful culinary adventure, again at a great price too.
The section of the journey from Soppong all the way through to Doi Inthanon was the most scenically beautiful.  The mountainous landscape resembles scenes from the movie, Jurassic Park.  Some of the views were very reminiscent of Tuscany.  In common with Tuscany, the Ban Surin area between Mae Hong Son and Khun Yuam is known for its fields of golden flowers.  Tuscany has Sunflowers whereas here in Thailand they are known as Mexican Sunflowers or Golden Marigolds.   They are not sunflowers as such but they closely resemble them, especially when looked at from a distance.  When in full bloom (unfortunately we caught them a bit late) they create a magnificent sight and attract thousands of tourists.  Visiting during this period of border closure meant we were able to avoid the crowds.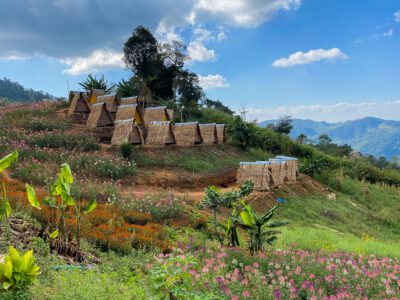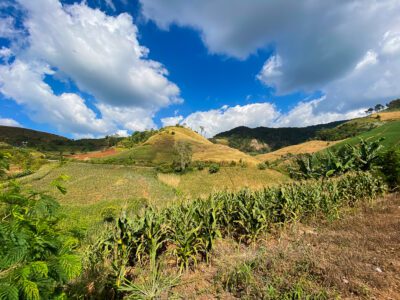 Travelling into this area brought us closer to the Karen hill tribe people.  They still wear traditional dress and they make their money from slash and burn farming (hence the pollution problems in the province), much of which is still done by hand due to the very steep mountainous slopes.  The look of the people, the way they dress and the nature of the landscape gave an altogether different feel to the Thailand we are more familiar with.  As many of the hill tribes originated in China, this is perhaps not surprising.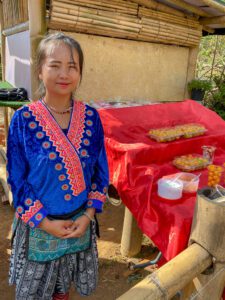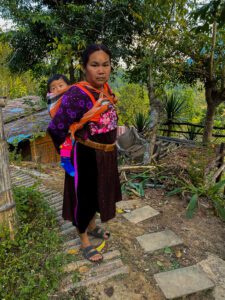 Ban Surin – Hang Dong
Ban Surin was the final extended stop of the journey and after this we returned to the Hang Dong area of Chiang Mai in preparation for our flight the next day.  Hang Dong is on the outskirts of Chiang Mai city and has a very rural feel to it.  It was here that we made the final 'find' of the trip.  We stayed at The Rice Barn and Rooms which is owned and run by an English man and his Thai wife.  This was an amazing find. The rooms are very tastefully furnished and exceptionally well presented.  The thing that stood out for me was the smell of the sheets, so fresh and clean.  Alistair the owner used to have a furniture business in Chiang Mai.  He told me the chairs they made required old wood.  The company reclaimed rice barns to provide the supply of wood.  Most of their furniture was exported. When the strength of the baht escalated, there was less and less interest from overseas buyers as the prices were no longer competitive.  Alistair had the foresight to realise the days of profitability were over.  He decided to change course by relocating a couple of the rice barns onto his own spacious land where he lives.  He offered the accommodation on Air B and B and it was an instant success.  Prior to the closure of international borders his accommodation was always full well in advance.  Once again then, we were very privileged to be able to stay there at short notice.  If you are thinking of going to Chiang Mai, I strongly recommend you look this place up.
Our Chiang Mai-Mae Hong Son loop completed, we returned to Phuket the following day.  Our only regrets were that we didn't have a four-wheel drive to enable to access mountain villages and that we didn't allocate enough time to the trip.  I recommend an absolute minimum of four days.  We definitely plan to return to do more exploring in this very beautiful, inexpensive and interesting area of Thailand.
If you have any questions about Thailand or if you need more information please contact us on info@sumaleeboxingboxinggym.com.  For updates on and information from Sumalee Boxing Gym please either subscribe to our mailing list via the home page of the website.  ________________________________________________________________________________________
After 11 years of living in Phuket, Thailand and being involved in the Muay Thai community for all of this time, Lynne Miller has written a book about her personal journey to and experiences of owning a Muay Thai gym in her book "Fighting for Success'.  You can find out more about the book here.  It is available to purchase on Amazon.
If you have any specific questions you would like to ask, please do not hesitate to contact us: info@sumaleeboxinggym.com
Blog post updated: 08/04/22