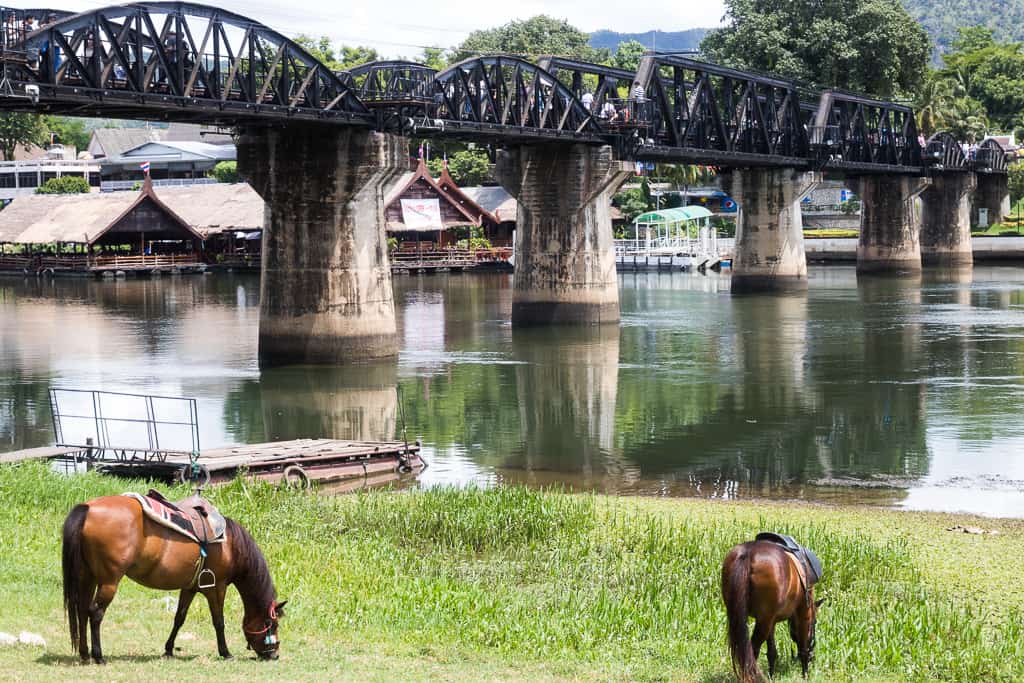 Whilst the closure of Thailand's international borders has resulted in extreme hardship for many people and a tough ride for businesses, it has provided a number of very pleasurable opportunities too.  Principally it has given us more time to explore other well known provinces within Thailand, on this occasion Kanchanaburi, with the added bonus that the main tourist attractions are almost crowd free. During this period of international border closure we have made a number of trips to points of interest in Thailand.
Thailand has 77 provinces and during my time in Thailand we have visited almost half of these.  We have travelled all over the south of Thailand, primarily to take fighters to both local and well known promotions such as Thai Fight and Top King.  We have visited many provinces north and north east of Bangkok but there's still a lot e haven't seen.  The long term aim is to cover all of Thailand's provinces.
Most recently we visited Kanchanaburi which is slightly north west of Bangkok.  The very famous landmark, the bridge over the River Kwai, is located here.  The story of the construction of this  bridge was captured in the book by French novelist Pierre Boulle.  It was later adapted to film 'The Bridge over the River Kwai' featuring Alec Guinness and released in 1957.  The film won 7 academy awards and in 1999 the British Film Institute voted it the 11th greatest British film of the 20th Century  because of its cultural, historical and aesthetic significance.  It is undoubtedly because of this film that the Bridge over the River Kwai is probably one of the most famous landmarks in Thailand.
Realistically, for the majority of travellers to Phuket, a side trip to Kanchanaburi is not a viable option unless your stay in Thailand is a long one.  However, if you have the time, it's definitely worth the journey as the province is in sharp contrast to Phuket.  It's relatively undeveloped and tourism, where it exists, centres around nature and activity holidays.  Kanchanaburi does not have a coastline so this is not a destination for beach lovers.
We flew up to Bangkok from Phuket where we hired a car for the two and a half hour drive from Bangkok to just outside Kanchanaburi town.  The drive is straight forward and the scenery varied with a backdrop of mountains and rice paddies scattered along the foreground.
In 1942 Kanchanaburi was under Japanese control.  Asian labourers and Prisoners of War constructed, under force, a bridge across the River Kwai to facilitate access to Burma, which Kanchanaburi province borders.  The conditions were cruel and harsh and almost half of those working on the project died from disease, maltreatment or accidents.
There are two museums to commemorate the dead, which unfortunately were closed at the time we visited because of Covid.  The city is also home to the Kanchanaburi War Memorial.  These World War 11 sites attract many visitors to the area.  Around the base of the River Kwai bridge, there's some World War 11 memorabilia and themed tourist amenities such as restaurants, bars and souvenir stalls.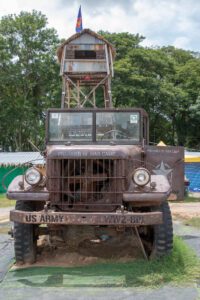 Even though there were very few foreigners in the area during this time, the bridge itself was still fairly crowded with local Thai tourists.  It is likely that when international borders are fully open again, this would be a very busy site.  It is therefore recommended to choose your visiting time carefully.  We visited on a Saturday but a weekday would probably be much better.
As Kanchanaburi is considerably further north than Phuket, we expected the temperatures to be slightly lower.  This was not the case at all.  We found it extremely hot, even though it was rainy season, and made the mistake of visiting in the middle of the day.
In order to avoid the crowds and to enjoy cooler temperatures, I recommend visiting either first thing in the morning or in the early evening.  Apparently watching the sunset over the bridge is a magical experience.  Regardless of where you are in the north of Thailand, we have found the sunsets particularly enchanting.
No visit to anywhere in Thailand would be complete without a temple tour.  They are always spectacular and provide an opportunity for calm and reflection as well as lots of beautiful images to photograph.  There are many to choose from in Kanchanaburi province.  We chose a complex on the outskirts of Kanchanaburi town.  There were two main temples, Wat Thawornwararam (a less commonly found pagoda shaped Chinese Temple) and Wat Mongkol Theparam (a Thai buddhist temple).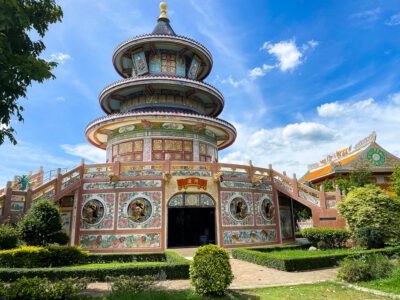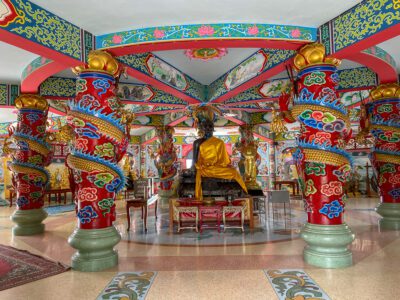 Apart from the abundance of temples in the vicinity and the World War 11 memorabilia/sites, Kanchanaburi is a typical Thai town whose economy is not based on tourism.  As such, you certainly won't find the variety of restaurants and bars you are used to in more touristy areas.  We did find one area of the town (Mae Nam Kwae Road) with a number of Thai style bars/eateries designed to appeal to foreigners.  Other than this, be prepared for a completely Thai experience.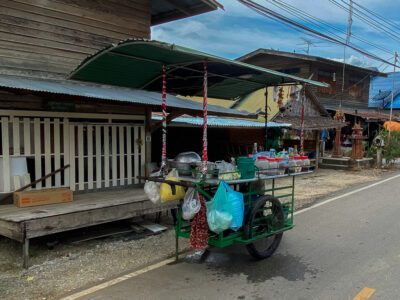 As usual, we like to get off the beaten track and we did some exploring around the surrounding lanes and klongs (canals).  There are many farming communities.  Deciduous trees are much more prevalent than in places further south giving the country lanes a semblance of the countryside in Europe. Rice paddies scattered here and there added stunning fresh green contrast.  There were water lily lakes and ponds in abundance.  So much unspoiled natural beauty to take in.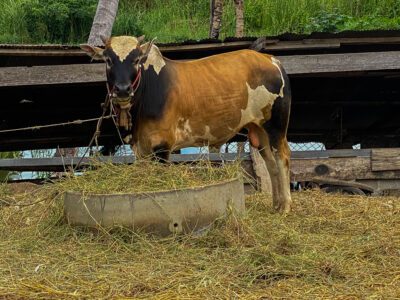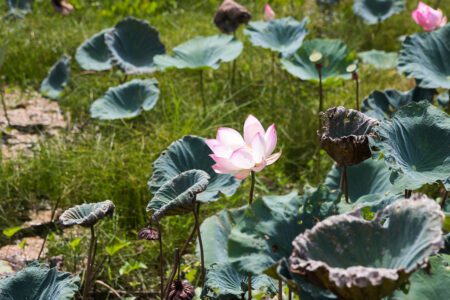 There are plenty of options for enjoying the wonders of nature in Kanchanaburi. Perhaps the most famous and frequently visited natural attraction is the Erawan Waterfall.  As we had based ourselves near Kanchanaburi town, this was an approximately 60 kms drive. It was certainly well worth it though.
Erawan waterfall is on seven levels and is regarded as one of the most scenic waterfalls in Thailand. It is located in a national park of the same name. The particularly stunning feature of this waterfall is the emerald pools at the base of each level. The water is crystal clear but unfortunately, because of Covid, visitors were not allowed to enter the water at the time we visited. This period did, however, afford the significant advantage in that the park was not busy. Apparently it can get very busy there, especially on the weekends. The cost of entering the National Park is 300 thb for foreigners.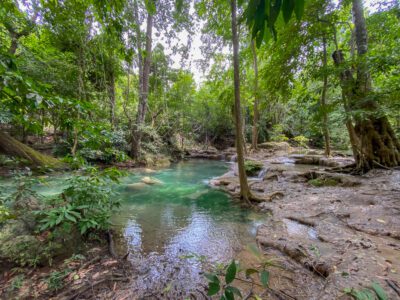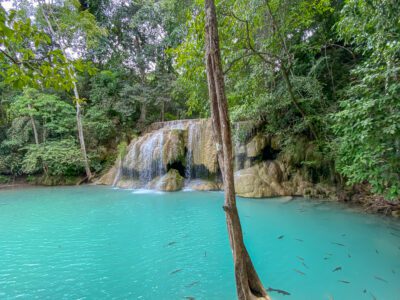 The climb up the different tiers is steep, particularly after level 3. Once again, therefore, it is best to visit early in the morning as the park closes in the early evening. Robust walking shoes and cool/breathable clothing are strongly recommended as is water to drink along the way. Other than that, go as light as possible. You will be grateful for this advice, the higher up you go. The higher you go, the more likely you are to encounter monkeys playing in the trees above you. There are a considerable number of them.
There are plenty of places to stay in the Erawan National Park area especially along the Kwae Yai River.  The standard is basic and most offer river based outdoor activities.
On the final day of our trip to Kanchanaburi we visited the very well known Sitmonchai Gym.  This gym was established in the early eighties and is a very traditional Thai gym.  Over the years this gym has produced some very well known Thai fighters.  I had met the owner of the gym 'Pee A' several years ago when I took Jordan Coe to fight on a show in Koh Samui.  Pee A remembered me and Sumalee gym and treated us to his very warm hospitality.  I also had the pleasure of meeting Abigail, their foreign student co-ordinator.  I had heard much about her over the years and it was a real pleasure to finally put a face to the name.  If you are in Kanchanaburi, I would definitely recommend this gym as you will be well looked after.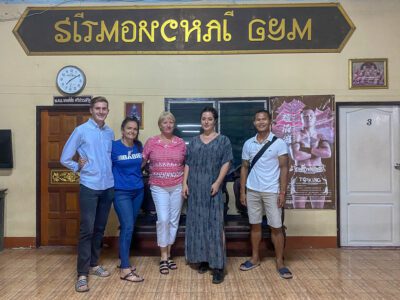 If you have any questions about Thailand or if you need more information please contact us on info@sumaleeboxingboxinggym.com.  For updates on and information from Sumalee Boxing Gym please either subscribe to our mailing list via the home page of the website.  You can also subscribe to our online membership platform for more comprehensive and regular features on a variety of topics including: nutrition, Muay Thai, Thailand, running a business in Thailand, technique tips from well known guest fighters and more.
_______________________________________________________________________________________________________
After 11 years of living in Phuket, Thailand and being involved in the Muay Thai community for all of this time, Lynne Miller has written a book about her personal journey to and experiences of owning a Muay Thai gym in her book "Fighting for Success'.  You can find out more about the book here.  It is available to purchase on Amazon.
If you have any specific questions you would like to ask, please do not hesitate to contact us: info@sumaleeboxinggym.com
Blog post updated: 4/11/21