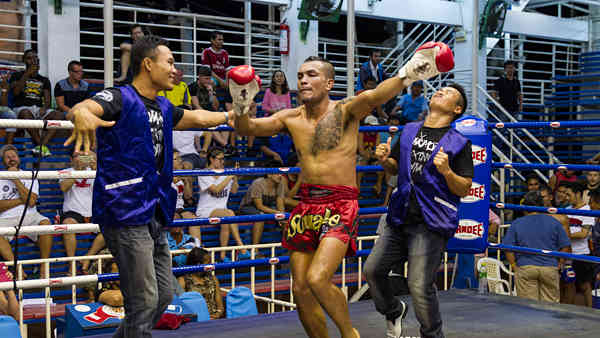 By Mike Davis for Sumalee Media
Our fighters Kengkla Sumalee and Martin Avery faced some challenging opponents on Wednesday night at Bangla Boxing Stadium. Kengkla Sumalee was the penultimate match on the card facing Chuchai Patong MK who is a seasoned local nak mauy. Kaengkla displayed some lightning fast kicks and vicious elbows, cutting Chuchai at the end of the third round. Our Thai fighter looked to be in excellent form throughout all 5 rounds leading to a comfortable decision victory.
Martin faced a experienced Russian opponent out of Elite Fight Club. He seemed to have trouble finding his rhythm in the early Rounds but managed to pick up some good points in Rd 3. After some stern words from the corner Martin adjusted his tactics going into Rd 4, concentrating on the clinch, but it wasn't enough to impress the judges and the blue corner was awarded the decision.
Kaengkla Sumalee (Thailand) VS Chuchai Patong MK (Thailand) – Kaengkla WINS via decision
Martin Avery Sumalee (Thailand) VS Ross Elite Fight Club (Thailand) – Ross WINS via decision
Check out the photo album from Mike Davis Photography on our Facebook Page here, or watch the full fight videos below.