Team Sumalee had some exciting fights this week with back to back Muay Thai action at Bangla Boxing Stadium (24/08/2016) and Patong Boxing Stadium (25/08/2016).  Our team faced opponents from Keawpitak Muay Thai and Sutai Gym.  (Due to a late change in opponent, we do not have any information on the name and the gym of Joe's opponent.)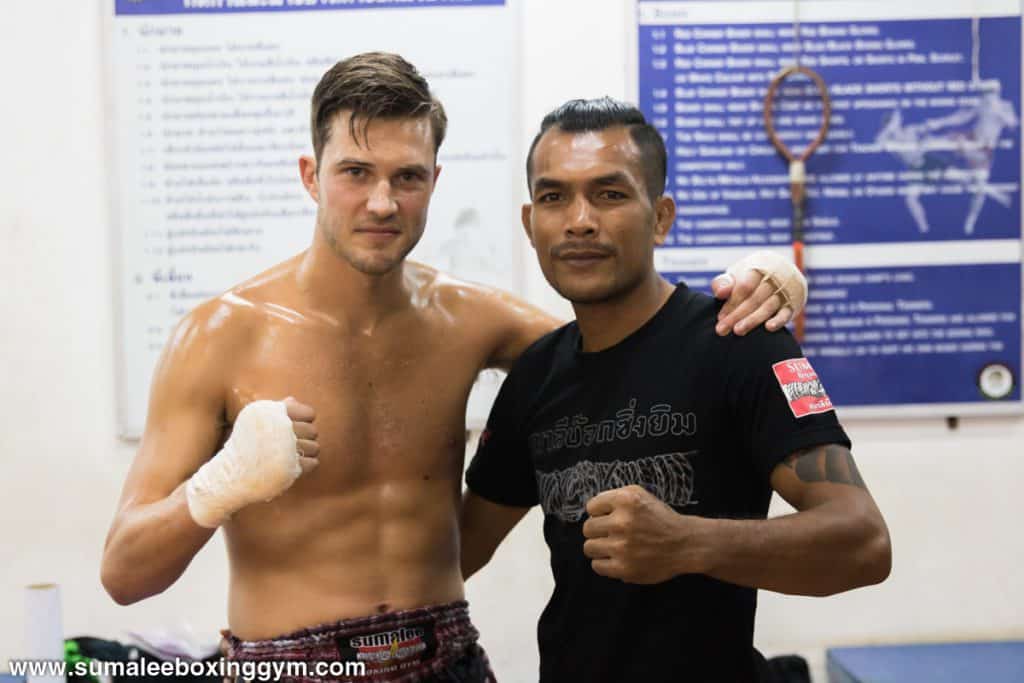 In the first match-up at Bangla Boxing Stadium on the 24th, visiting fighter Matthew Butcher from the UK made his debut fight in Thailand.  Despite his opponent being considerably bigger, Matthew decided to take the fight.  He had trained hard and felt confident he could at least put on a good performance.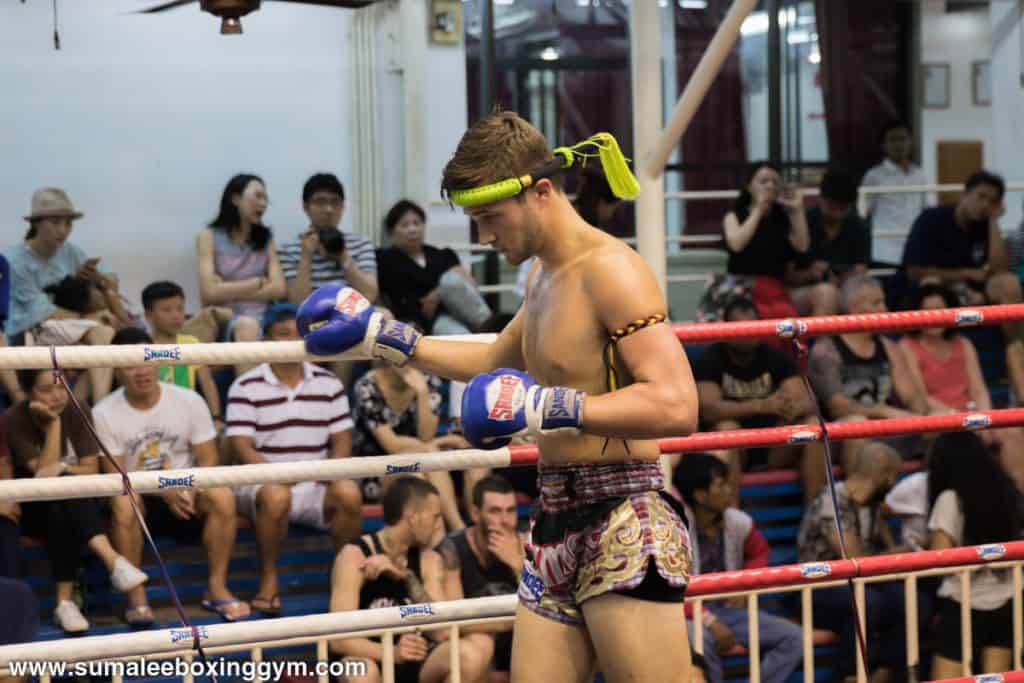 The fight started slowly, with both fighters getting the measure of each other.  They consistently worked their teeps. However, Matthew's opponent rushed in with some big elbows and threw Matthew off his rhythm.  This unsettled him but the young fighter kept his composure and countered back with beautiful low kicks and punches.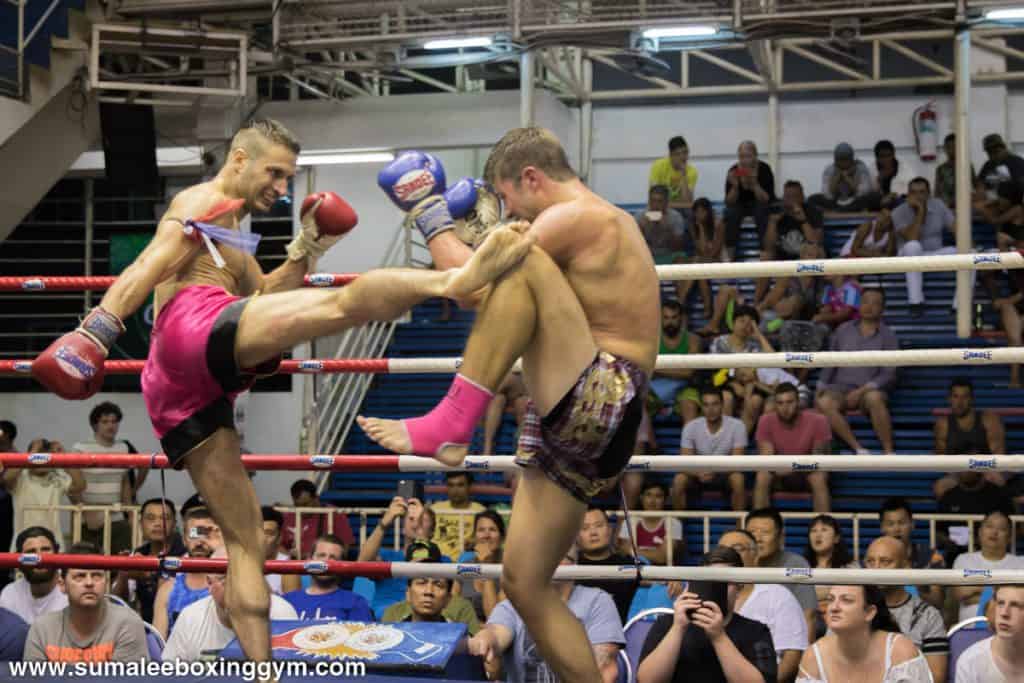 As the round went on, the size difference became too much and Matthew was overwhelmed even though he managed to land an impressive swipe in the third round taking his opponent's legs from under him.   The corner decided to stop the fight towards the end of the third round to prevent Matthew, already cut by an elbow to the head, sustaining serious injury.  It was a great display of heart and skills by Matthew Butcher.  We are proud to have him represent the gym and hope that the mismatch by the promoters doesn't discourage him from fighting in Thailand again in the future.
Fighting on the 25th at Patong Boxing Stadium was our sponsored fighter, Joe Le Maire and our trainer Phunkorn Sumalee (Khru Max), previously known as Yodkhuntup.  Both fighters were anxious to make a good impression at what was a new stadium for them and both put on an amazing display of Muay Thai action.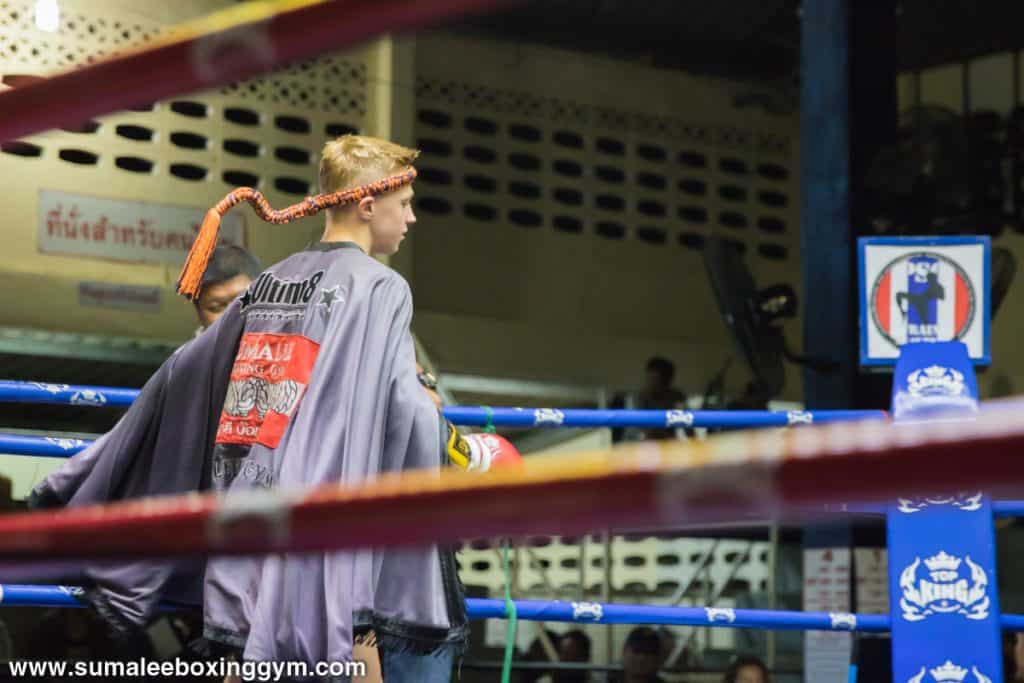 It was a shaky start for young Joe as the proposed opponent was 15kg over the fight weight.  Having been placed in this position on several occasions in the recent past, the gym refused to take the fight.  Fortunately, there was another young Thai with a fight history of over 100 fights who was prepared to take the fight with Joe at short notice.  This was a tough challenge for Joe as he had never fought a Thai before, let alone one with so much experience.  We believed in our sponsored fighter and we knew he could rise to the occasion.  He did not disappoint.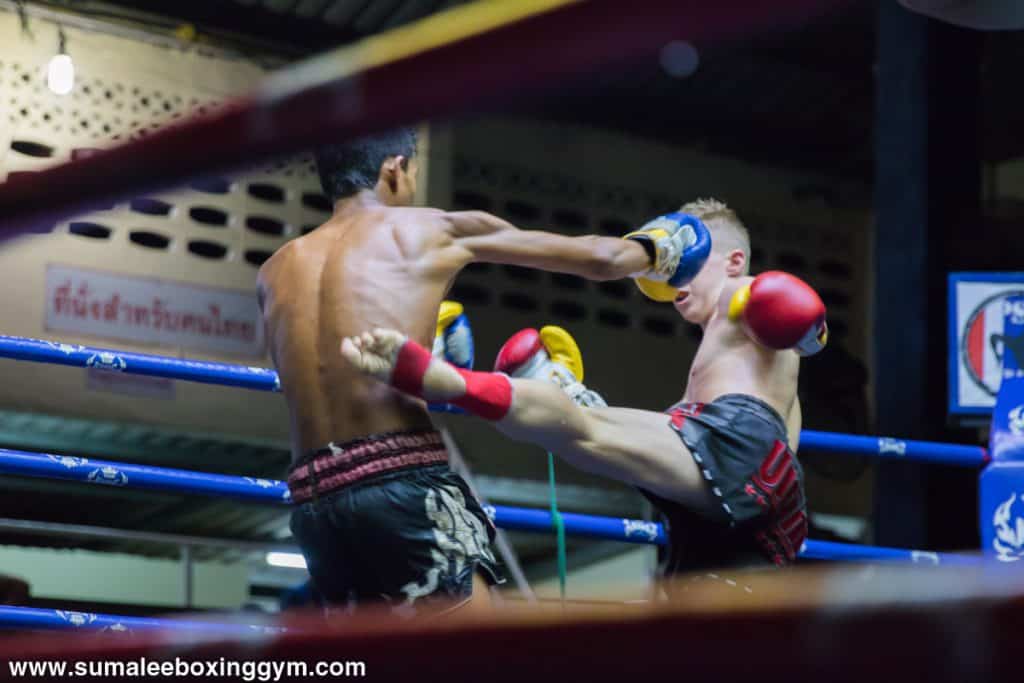 Joe showcased his new style taught to him my Khru Lip.  It was get-go, using his teeps effectively and landing hard leg kicks.  This threw his opponent off guard as he clearly didn't expect Joe to be as talented.  Since his last fight, Yodbuangam (Khru Lib) has spent a lot of time training Joe, developing his defensive skills and Muay Thai IQ.  The effort put in was well worth it as it was clear how much Joe had improved as a fighter.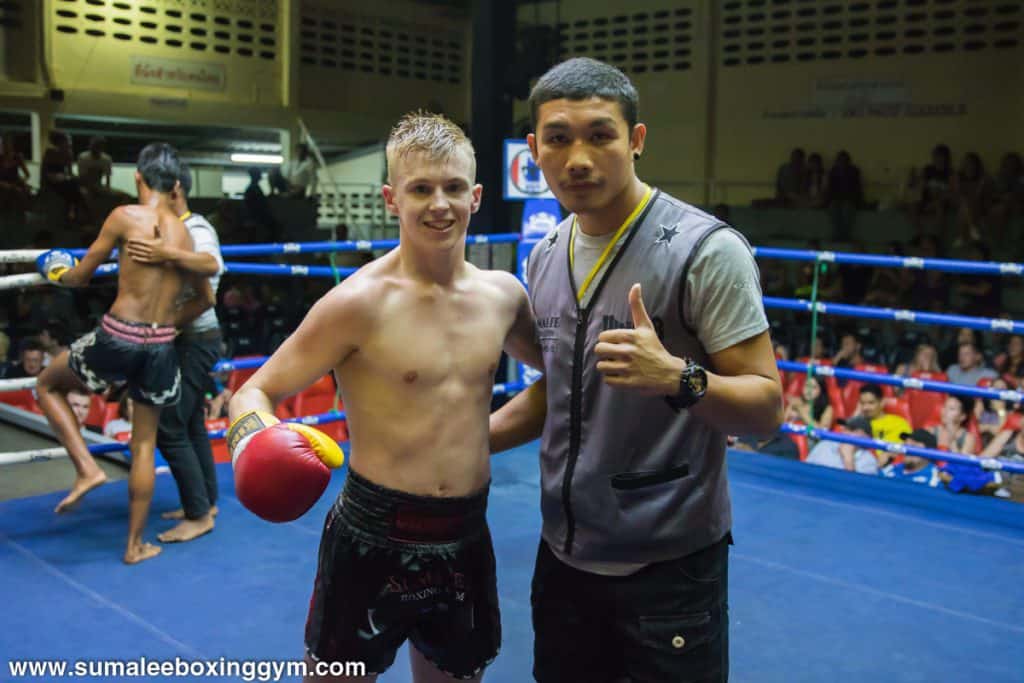 In round three, Joe applied constant pressure and managed to lock his opponent up in a strong clinch and dealt 3 clean knee strikes to the stomach forcing the referee to stop the fight. Great start for our team.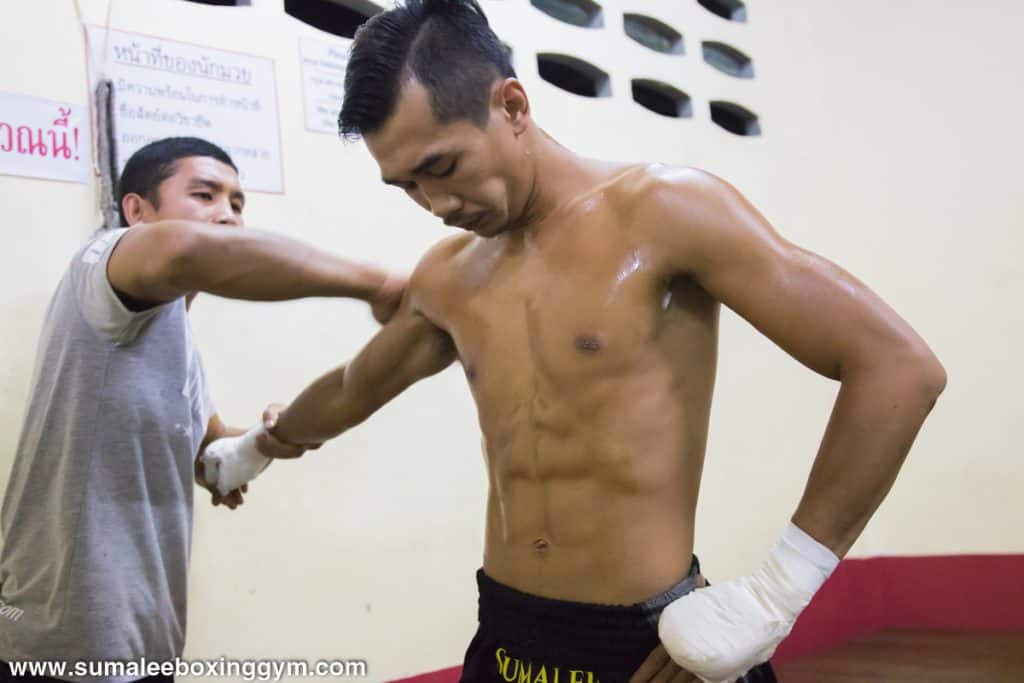 Next up was Phunkorn (Khru Max) who faced a very talented fighter from Sutai Muay Thai, Daraeak.   Max knew he would have to fight smart and avoid getting into big exchanges with his opponent who was heavier and chunkier.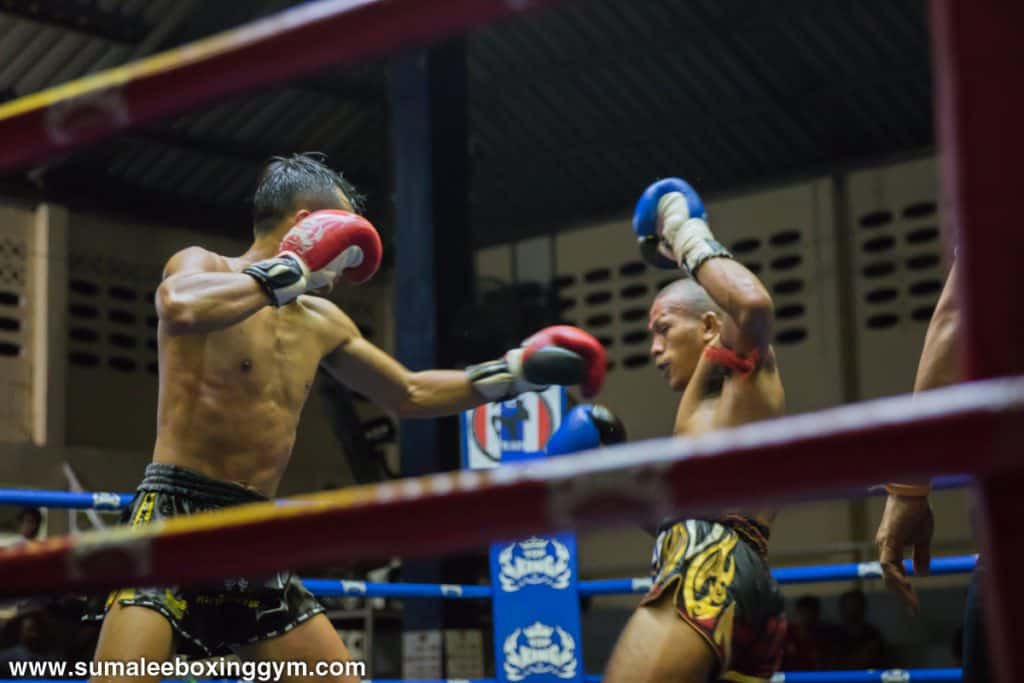 Max started the fight with sharp boxing skills and kept Daraeak at bay with his jabs and as the round went on Max was piling up left body kicks.  Daraeak's strategy was to attack Max's lead leg and try to get inside to clinch.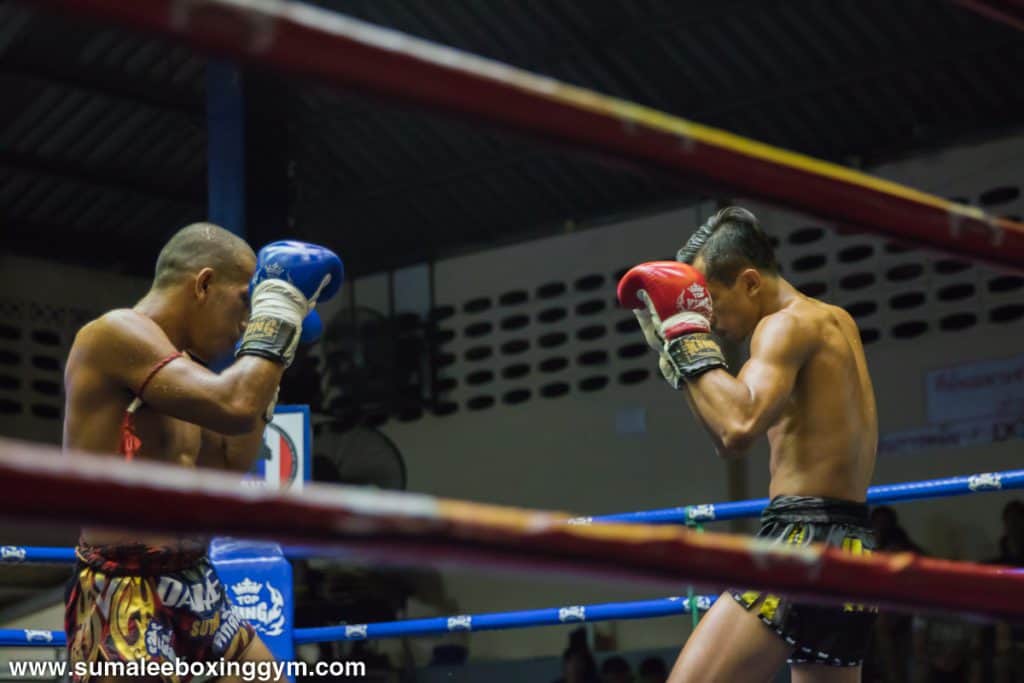 Max fought intelligently in view of the weight difference, keeping the fight long and dictating thea pace.  Max cut Daraeak on the top of his head with a precise elbow strike, making Daraeak think twice about clinching up with our fighter.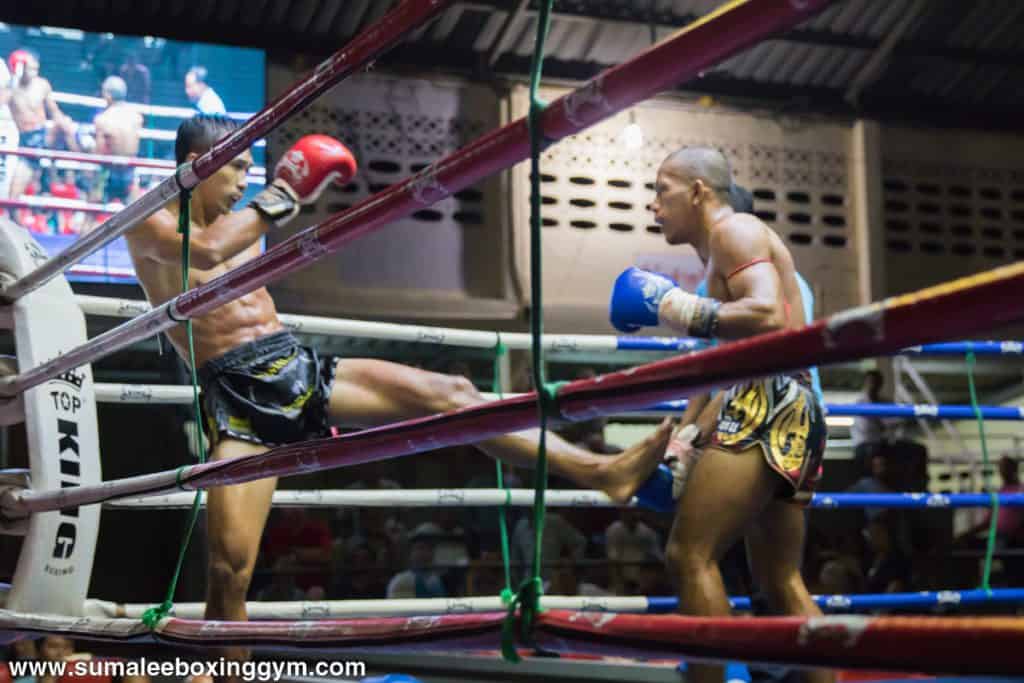 Going into Round 5, Max our fighter showed no signs of relenting and kept scoring at will with beautiful body kicks and precise boxing.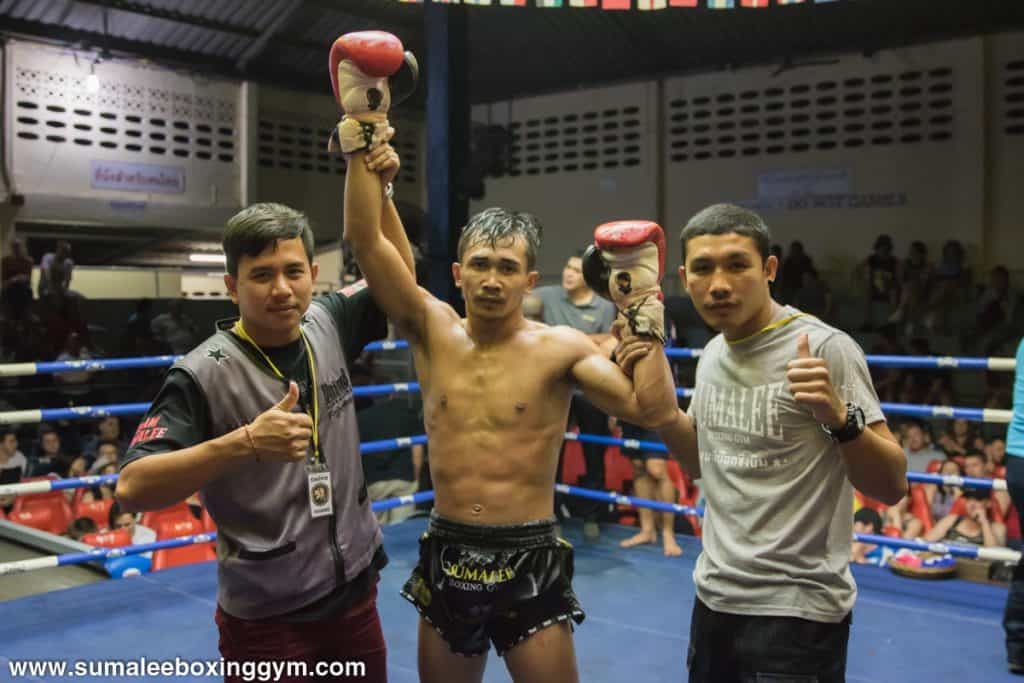 After 5 rounds of Muay Thai action, Max was declared the winner.  In terms of style and technique it was the fight of the night.  Both fighters gave it their all and showed the crowd true Muay Thai style.
Check out all 3 fight videos at the bottom of the page.