After two fantastic regional heats in Manchester and Watford last month, the 2015 SANDEE UK Junior Championships came to an end last weekend at the grand final in Stoke-On-Trent. This competition was the first of it's kind in the UK, and was created to support the development of British junior fighters. With over 500 competitors taking part it will not be forgotten for many years to come.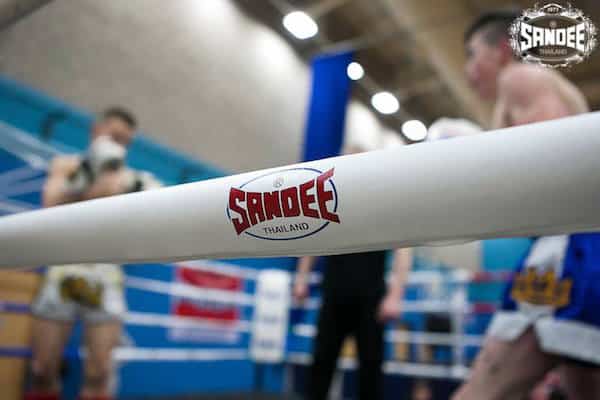 Sumalee Boxing Gym were privileged to be named the primary sponsors for the Championships and donated three grand prizes of all expenses paid trips to our camp in Phuket, Thailand. Our winners for the categories of 'Outstanding Female Fighter', 'Outstanding Male Fighter' and 'Outstanding Technical Performance were chosen by the IBMTO, who were the independent officiating body overseeing the SANDEE UK Junior Championships. Congratulations to all the junior fighters who made the shortlist below, what a fantastic achievement!
Outstanding Male Fighter (shortlist)
Ryley Walder – Benfleet Muay Thai
Riley Smith – Double K
Kacper Domiter – UMA Crewe
Harry Fletcher – Peel Scorpions
Muhammad Abu-Bakr – Eight Limbs Muay Thai
Outstanding Female Fighter (shortlist)
Molly Walborn – Nemesis Muay Thai
Alisha Rae – Griphouse
Rachel Traverse – Peel Scorpions
Chantelle Tippett – Chaos Gym
Outstanding Technical Performance (shortlist)
George Rowand – Thaitans
Dara Sheridan – Champion Thai Boxing
Anya Carter – Erawan Muay Thai
Billy O'Sullivan – North Ayrshire Muay Thai
Louis Harper – Majestic Gym
Finally… introducing the three Grand Prize winners of the SANDEE UK Junior Open Championships… Ryley Walder (Benfleet Muay Thai), Alisha Rae (The Griphouse) and Dara Sheridan (Champion Muay Thai)!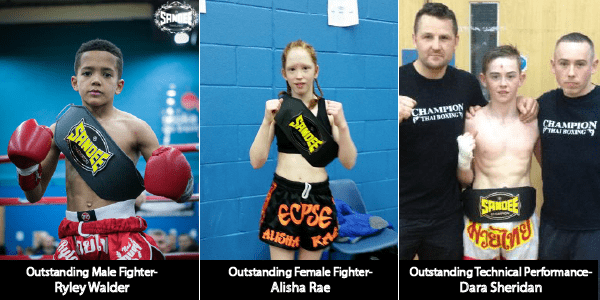 Outstanding Male Fighter
Ryley Walder – Sandee Champion in the 9-10 yrs -28kg category representing Benfleet Muay Thai in England. His instructor's name is Bradley Goldberg and has tipped him as one of the best up & coming junior fighters in the UK. Ryley was chosen for his impressive strength and excellent technique.
Outstanding Female
Alisha Rae – Sandee Champion in the 13-14 yrs -38kg category representing The Griphouse in Scotland. Her instructor is UK ranked #1 fighter and World Champion, Keith McLachlan. Alisha was chosen for her determination and fearless attitude in all her fights.
Outstanding Technical Performance
Dara Sheridan – Sandee Champion in the 13-14 yrs -50kg category representing Champion Muay Thai in Ireland. His instructors name is David O'Sullivan. Dara proved himself to be a very clever fighter and showed fantastic technical ability throughout the finals.
A big congratulations to our 3 winners! Team Sumalee will be in touch to tell you how to claim your prize. In the mean time, please read our Terms & Conditions below and we'll see you soon!
Terms & Conditions
Each prize includes Training/Accommodation/Meals and return travel to Thailand for their chosen length of stay
Duration of stay not to exceed 1 month
Date of stay is subject to availability
Inclusive flights are based on off-peak season with the cheapest available carrier, although it will be possible to change this provided the difference is paid for.
Winners must be accompanied by a responsible adult/guardian
Each accompanying guardian (i.e. one per winner) are also entitled to complimentary accommodation & training (all meals & travel at the expense of guardians)
Winners must redeem their prize by 01.04.2017