By Jordan 'Deachkalek' Coe
Throughout my professional fighting career I have always made weight for my fights. I never seemed to have a problem with weight cutting. A trip to the sauna or an extra hour in the sweat suit would seem to lose that last kilo or so.
When I first arrived in Thailand that is when I discovered a change in my body and weight. I had always been very skinny and had a very muscular core. For the past 2 years (between 2012 – 2014) my fight weight was between 53-55 kilograms, whilst walking around at about 59kg. However after my final fight in Scotland in April 2014 I had begun to put more weight on due to not training as intensely as usual and going up to 62kg walking weight. I didn't see it as much of a problem as I usually cut weight very easily. However, as the months went on and the fights continued I made a decision to fight at a heavier weight in Thailand, competing at 57kg. I had three fights at this weight in the first four months of being here. Fighting at this weight was supposed to help me so I wouldn't wreck my body trying to make ridiculous weight. However due to the methods of weight cutting I used in all three fights It actually made me feel worse both before and during the fights.  I lost all three fights and I felt terrible.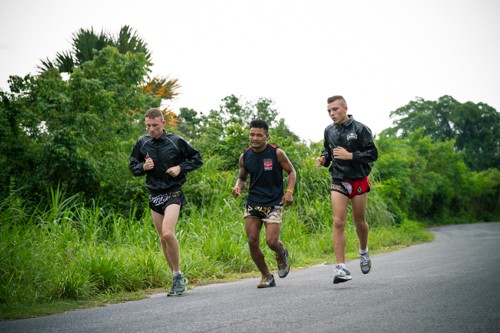 I tried multiple traditional methods such as: sweat suit runs; cutting down portion size and carbohydrates; depriving myself of water; and two days before the weigh in refusing to eat or drink in order to hopefully lose weight more quickly. If I am honest, I did not have a clue what to do. Then I was put in contact with Sam from SBG Performance & Nutrition at my gym, Sumalee Boxing Gym. He runs consultations online from the UK helping fighters like me get into shape using nutrition.
When I first began working with Sam, I was unsure of whether or not he could help me. I had a fight on the televised show Max Muay Thai and had to make 57kg in 3 weeks. We had 9 kilos to lose, I normally would not have so much weight to lose. However, I had lost my previous fight by cut stoppage and I was unable to train for two weeks.
So firstly the coach sat me down. He checked how much we had to lose and we both discussed a meal plan to start the process of weight cutting. I was very shocked when I found out I could eat meals I actually enjoyed and decent sized portions too! We went by a three day rota of changing the meals, so that I would not get bored. When we began the diet I was very impressed at the meals I was given: Fish green curry, BLT Sandwiches, pork stir fry.   This is only some of it! A week went in and I began to trust the diet more, it was working.  The weight was coming off and I was not feeling drained or mentally tired during training.  There was only one problem and I was able to speak with Sam about it. At nights I always seemed to crave more food and felt hungry. He was able to solve this immediately by hooking me up with a chocolate protein shake with peanut butter as a late night snack.
For the final week we had roughly 6 kilograms to lose. This is usually the week I would do endless sweat suit runs and cut down all food and water. However, SBG Nutrition showed me the light when it comes to weight cutting! The final week I was continuing to eat three big meals a day along with a snack at night and we began water loading. This scared me the most as I had not done it before. Five days before the fight I was told to drink about 6 litres of water per day. The amount I was required to consume was reduced day by day thereafter. This was very new to me. The night before the fight was D-Day for me and I was wondering what I would be required to do. I was told to put a pair of jogging bottoms on with a hoodie and go a 30 minute walk in the sun. A walk! Are you mad? How am I going to make weight doing that?! But sure thing I had lost a kilo. One down, one to go…. relax. As I watched my teammates go out running in their sauna suits and deprive themselves of water and food, I felt great! The day of the weigh in was very similar. As my teammates went out running to get the last few kilos off, I was in bed relaxing. The weigh in came and as easy as that, I was 57kg on the dot. All thanks to SBG Nutrition.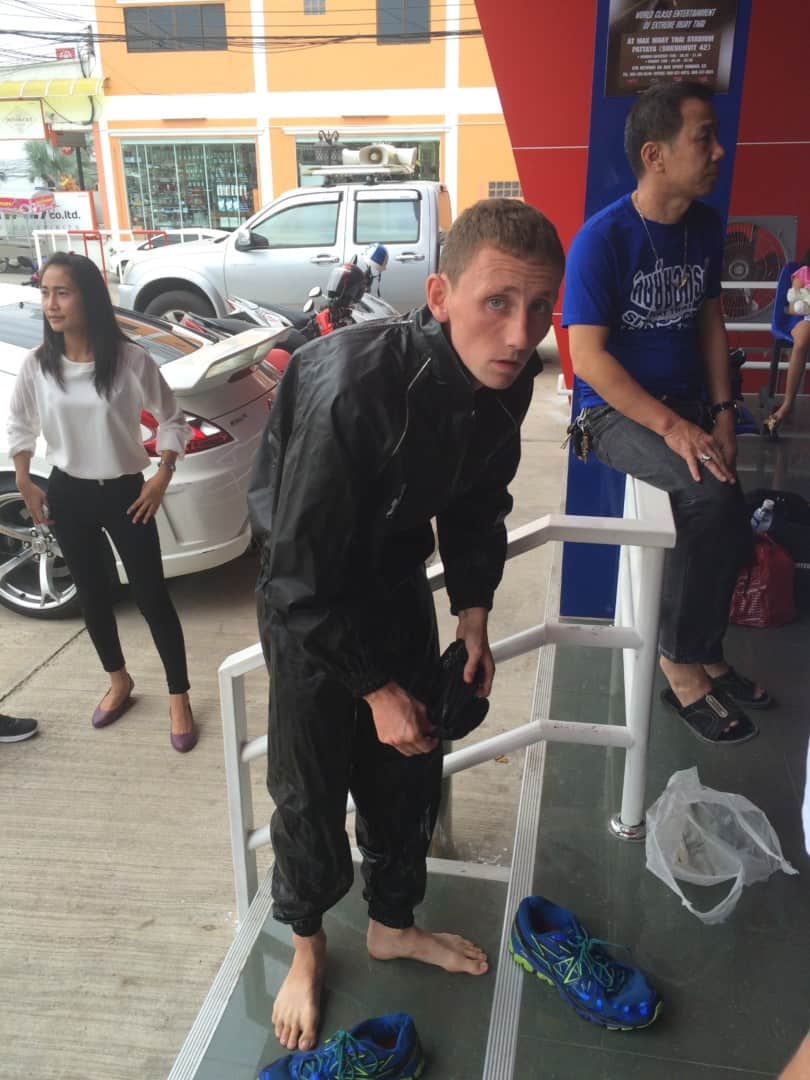 The main thing Sam has done for me is change the way I think about losing weight. I no longer need worry about making weight or not feeling fresh in a fight. Also with the new diet I see a dramatic change in my body shape, becoming more muscular all round.  Also I rarely have a bad training session, as I am never deprived of food in my diet. It is an overall lifestyle change.
A big difference has also been seen in my performance. By using SBG Nutrition's strength and conditioning services in conjunction with their diet plan, I am now beginning to feel a great deal stronger, fitter and sharper. Before beginning the diet plan my manager had noticed in a couple fights that I looked more tired than I should given my age and fitness level. This was certainly not down to the training, as anyone who knows me well will know I give 110% every time I train, leaving no gaps. However, with the change in diet, my manager has noticed how much more comfortable I am now looking during the fights. Clean diet helps a clean mind and body. The results show for themselves. I am now back to winning my fights and feeling very much more confident.
I would personally like to thank my coach at SBG Nutrition for putting so much effort and thought into my diet in order to improve my performance. He is very approachable. I am able to talk to him whenever I would like to change something or have any questions. I am glad to have benefitted from the SBG service as it has helped me for the future.  It has ensured I will always know how to control what I eat and that I am having the right quantities. I would highly recommend their services for anyone wanting to make a lifestyle change or cut weight for fights. It is very much worth it.