By Mike Davis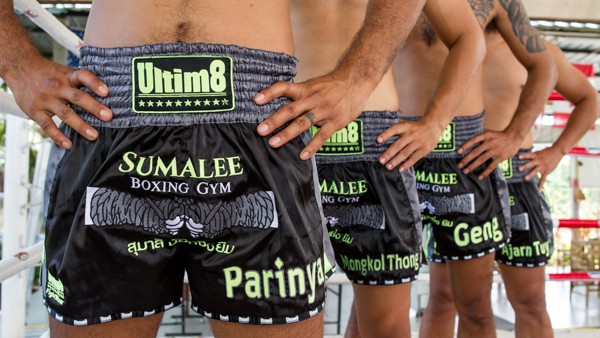 Sumalee Boxing Gym is extremely pleased to announce it's new official sponsor, Ultim8 Fightwear! Ultim8 was created in 2008 by Belgian fashion designer Sunny Coelst. Sunny started training Muay Thai when she relocated to Hong Kong 11 years ago. When she began fighting she found it very hard to find fight wear that fitted female fighters well, and decided to start her own label, Ultim8 Fightwear.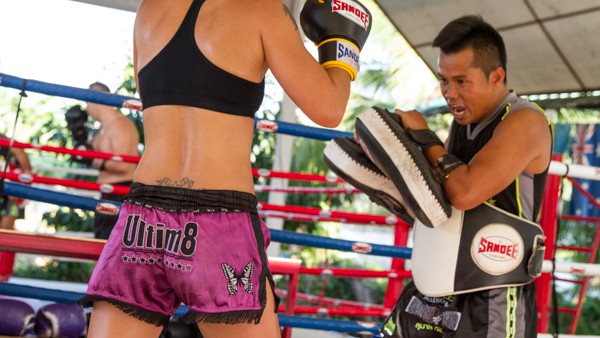 A few years later after starting a family with her husband, Christopher Marchewka, winning 3 title belts (WKN, WMC and WKBC), Sunny has expanded her business internationally. Ultim8 now offers a full range of training gear for a wide range of sports including Muay Thai, Boxing, MMA, and Crossfit, as well as general sports wear. Their products are distributed across the world in HK, New Zealand, France, Turkey and Thailand.
Created by fighters for fighters, Ultim8 is the first Deluxe FightWear brand using only high quality material and directly inspired by the latest fashion trends. It is also the only brand to offer a complete female line, especially designed and developed for ladies. Ultim8's stylish outfits have quickly become popular within the Martial Arts scene and have been spotted on famous fighters such as Buakaw (Muay Thai), Bob Sapp (K-1 & MMA), Dzevad Poturak (K-1), Peter Graham (Kickboxing & MMA), any many Sumalee fighters.
Ultim8 also offers custom designs for fighters and gyms and has created custom items for singer Usher, and for Jemma Parr (the baby daughter of Muay Thai Champion John Wayne Parr & Angie Parr). Ultim8 next step is  to develop its own line of equipment (Gloves & shin guards. Hand wraps, ankle guard, jelly gloves all coming soon!). Offering the perfect mix of comfort, quality and design, Ultim8 has been chosen by the internationally renowned I-1 show to be its fight wear supplier for the past 3 years.
Continually expanding and developing, Ultim8 has started sponsoring gyms and athletes across the globe to increase the brand's visibility worldwide (Muay Thai: Brazilian fighter Jeferson Oliveira, Singapore Muay Thai National Team Kai Chai. MMA: Tianjin K1 Team. BJJ: Black belt Augusto Miranda, Crossfit athlete: Antonio Barrias).
Sunny and her family first visited Sumalee Boxing Gym back in 2012 when the camp had only been open for a few months. Our team felt an immediate affinity with her, and she even had a fight representing Sumalee Boxing Gym during that visit. Since then Sunny, Christopher, and her daughters, Ely and Ness, have visited the camp on numerous occasions.
Now officially sponsoring Team Sumalee, Ultim8 has created a fantastic custom line of shorts for our trainers, fighters and staff. In addition to that we are now the exclusive distributers of their products in Phuket with plans for a custom range in the pipeline! Their very concept follows closely everything that we offer at Sumalee Boxing Gym, traditional values with a modern twist. We guarantee that you will love their products the moment you see them so head to their
website
, 
Facebook
,
Twitter
and
Instagram
accounts to check out their ever expanding range.