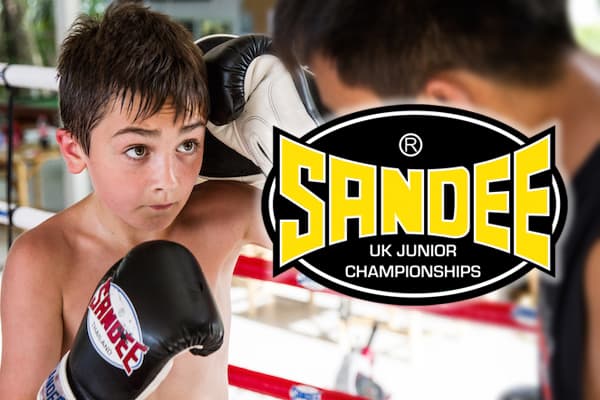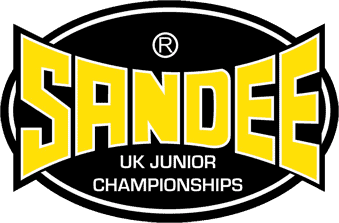 2015 will see the dawn of a new era for Junior Muay Thai in the UK, with the launch of the Sandee UK Junior Open Championships, proudly sponsored by Sumalee Boxing Gym. These series of 3 events will be the biggest junior events ever hosted in the UK, with up to 220 weight/age categories and unbelievable prizes on offer unique to junior Muay Thai.
Sandee UK Junior Open Championships will elevate the sport across the junior ranks, with some significant investment and driven by the following key factors:
Safety
Good & fair competition
Honesty & integrity
All entrants will receive a Sandee Fighters pack including a SANDEE Limited Edition Gym Bag & exclusive membership loyalty card, giving each entrant a unique discount off SANDEE product at www.sandeeboxing.com for the entire 2015 calendar year! The gym bags & loyalty cards will be available for collection at the registration area on the day of the event.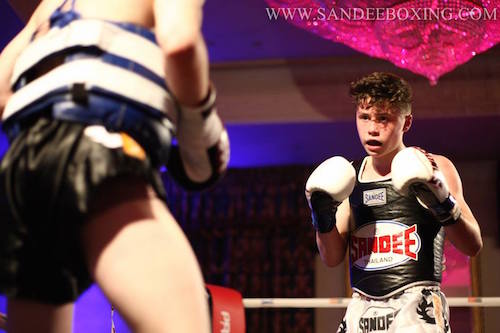 With the officials trained & managed independently by the IBMTO, there will be a series of 3 events to find out who are the true best ranked Juniors across the UK, within their weight & age classification. Sandee's investment means the very best venues have now been secured giving competitors and spectators alike the best possible experience in a safe & fun environment.

The Concept
There will be two regional events. The winners & runners up in each relevant category, from each region will then be invited to compete against each other in the Sandee GRAND FINAL, which will see the best of the North & South compete against each other, to identify who is the true No.1 Junior fighter in the UK within their respective weight & age category.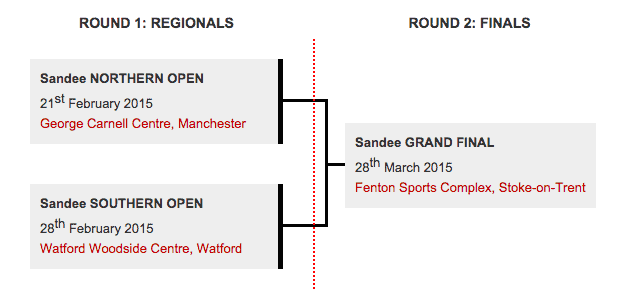 Age Categories: 5 thru 17 years
Weight Categories: in 2kg & 2 year segments (please note: we will be doing weight checks via your instructor 4 / 2 / 1 week before each event. We reserve the right to move fighters up & down in weight category, dependent on the results of the weight checks)
Rounds: 5 x 1 minute rounds
Prizes to be Won
The Finalists at the Regional Events will receive an Exclusive Sandee Regional trophy & medal. There will also be 3 unbelievable prizes on offer at the Grand Finals:
Outstanding Male Fighter
Outstanding Female Fighter
Best Technical Performance
The winners of these titles will win an all-expenses paid one month training camp to Sumalee Boxing Gym, Phuket, Thailand. This will include flight & travel costs, accommodation & training expenses with the Sumalee Coaching Team.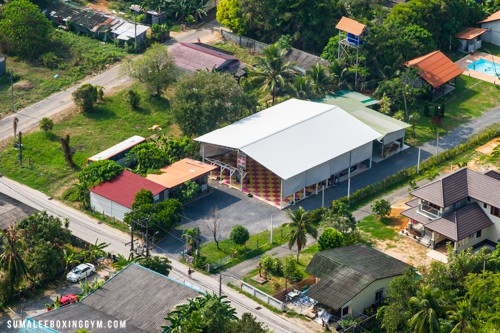 Each winner has to be accompanied by a parent / guardian (over 18 years of age) & their accommodation, training costs will be offered free of charge. (Prizes have to be redeemed by March 2017).
Applications for entry close on December 31st 2014, in order to plan the requirements for the events. 
 Head to the Sandee Website now for more information or click here to make your entry!