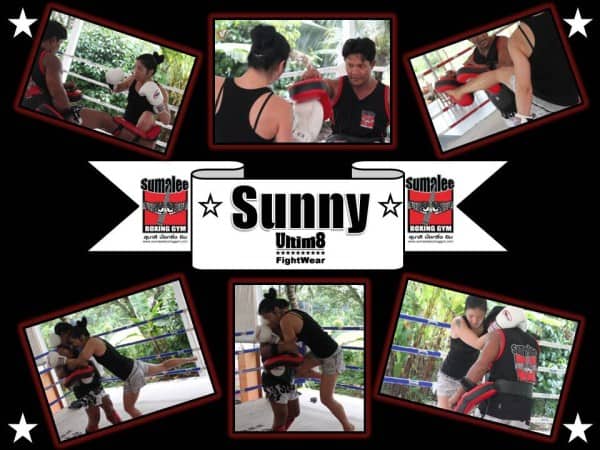 Sunny Coelst was born in Korea but at a very early age moved to Belgium, although she has now lived in Hong Kong for the last nine years.  Sunny is a fashion designer and she originally moved to Hong Kong to design lingerie for a company that supplies to all the of the major lingerie brands.
Sunny loved boxing when she was in Belgium but when she moved to Hong Kong found it difficult to practice western style boxing as there were no clubs around.  She therefore started kickoxing and very quickly graduated to Muay Thai.  She started Muay Thai about four years ago and one of the first things she noticed was a lack of Muay Thai gear specifically designed to suit the female shape.  In recognition of the correlation between looking/feeling good and performance, Sunny (who was bored with designing lingerie anyway) started designing her own Muay Thai gear.  Her products have been very popular and very soon Sunny had her own factory in Hong Kong.
Her brand Ultim8 has grown in popularity and now includes a full collection of gear to suit males and females.  As the pictures in the gallery show, many well known Muay Thai fighters chose to wear her fightwear.  Sunny is constantly refining and redesigning.  She takes feedback from customers very seriously and modifies her designs accordingly.  She has customers from all over the world and has made customized shorts for fights such as Bernueng.
Sunny has had twelve fights so far interspersed between two pregnancies!  She has fought in Thailand, China, Belgium and Hong Kong.  In 2011 Sunny won the WKM European 54 kgs title in Belgium.
Sunny came to Sumalee Boxing Gym on the recommendation of a friend who told her about our trainer Peng.  He specific purpose in coming was to have a 'practice' fight in preparation for a major Muay Thai event she has coming up in Hong Kong soon.  Her husband Chris, who works in the fitness industry in Hong Kong, said of our training camp in Phuket: 'I have been to many Muay Thai gyms before but I have never been to one like this….it is just like a resort'.  They have already recommended Sumalee Boxing Gym to their friends.
We are pleased to have Sunny represent Sumalee Boxing Gym at Bangla Boxing Stadium on Sunday 1st April.  We were also pleased to have all of our fighters wear a selection form the Ultim8 collection for their fights on Friday 30th March.