Ganchai at Sumalee Boxing Gym
Ganchai first joined Sumalee Boxing Gym as a trainer early in 2015. However, due to some family concerns he had to return to his home province in Nakorn Sri Thammarat. We are delighted that Ganchai is now able to join us again and he is more than pleased to be back not least because he is reunited with his cousin Naa, another trainer at our gym.
Ganchai, together with Kengkla Sor Kamsing, will be responsible for overseeing the training program and for arranging fights for our fighters. Customer feedback since Ganchai returned has been extremely positive. He brings with him a wealth of experience and, because of his prestigious Muay Thai career, has many contacts and is well respected throughout Thailand.
At 31 years old Ganchai is a Superstar of the sport. Unfortunately for him, the time when he was at his peak largely preceded the internet and social media revolution.  This has meant that he has not achieved the international recognition he deserved bearing in mind his achievements.  It has been difficult to obtain footage of his best ever fights.  We are still working on this and will bring any footage to you that we are able to find.
We are very proud to have such an accomplished Thai fighter on our team and we are confident that he will be able to pass on a great deal of knowledge to students who train with us. Ganchai has a relaxed and easy-going manner and as a trainer he has a lot to offer.
Ganchai's Career
Ganchai started training at 9 years old with the encouragement of his father, although his father was not a fighter himself. He was trained first of all in a gym belonging to his family, Sakrachen Gym in Nakorn Sri Thammarat. His trainer was his uncle, actually the father of Naa one of the other trainers at our gym. His had his first fight at 9 years old with a fight purse of 150 Thai Baht (at his peak he was earning fight purses of several hundred thousand baht and he used this money to build a home for his family in Nakorn). His potential soon became apparent and he went up to the following gyms in Bangkok when he was 10 years old: Kiatipat and Kor Bangruai. It was when he was at Kor Bangruai Gym that he won most of his championship titles during the period 2004 – 2009:
Tiger Cement 118 lbs (54 kg) (vs Yodchai)
Channel 7 122 (55 kg) (vs Sitisak)
Lumpinee 107 lbs (48 kg) (see photo below) (vs Pinsiam)
Lumpinee 112 lbs (51 kg) (vs Sam-A)
Thailand Champion 112 lbs (51kg) (vs Petchbonchu)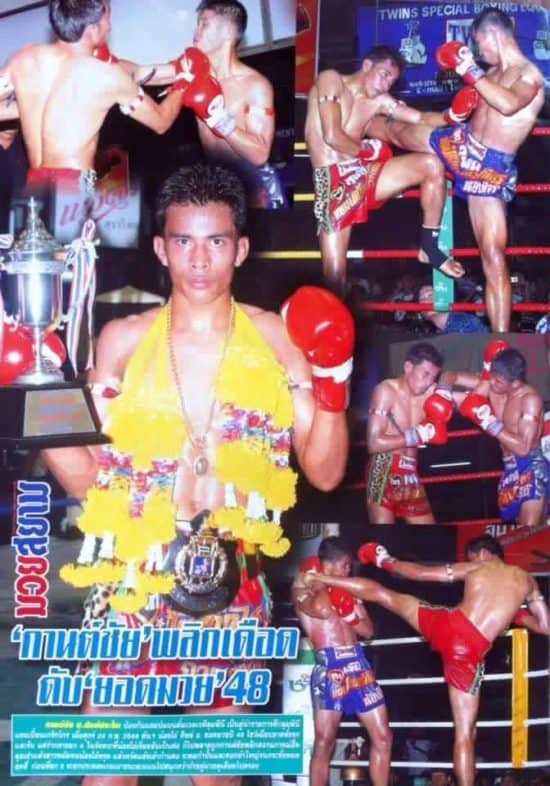 He became so attractive after his run of success that Fairtex bought him from Kor Bangruai Gym for 1m Thai baht, a very sizeable amount for such a purchase.
Ganchai's Past Opponents
Ganchai fought and beat some of the best fighters around at the time of his peak: Porsanee, Sam A, Nong O (see photo below), Saenchai Noi, Pinsiam, Petchbonchu, and Wotidate.  He narrowly missed out on winning Fighter of the Year in 2005 which was given to Nong-O despite the fact that he had only recently beat Nong-O very convincingly.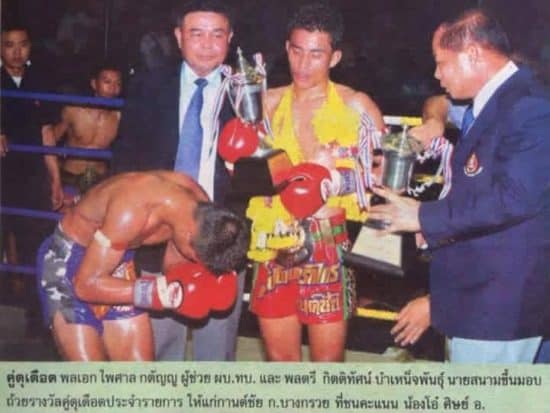 Ganchai's Strengths
Ganchai's main strengths are his clinch and his left kick. He was regarded as one of the best kickers of his generation. In fact his left kick is so strong that when he fought Porsanee the fight was finished in Round 3 when Ganchai broke his arm with a kick.
Ganchai is available for private lessons which can be booked by email: info@sumaleeboxinggym.com . If you are staying at the camp, just pop into the office to schedule a time.