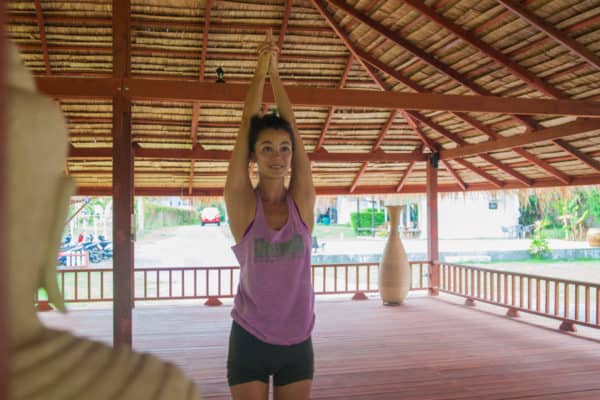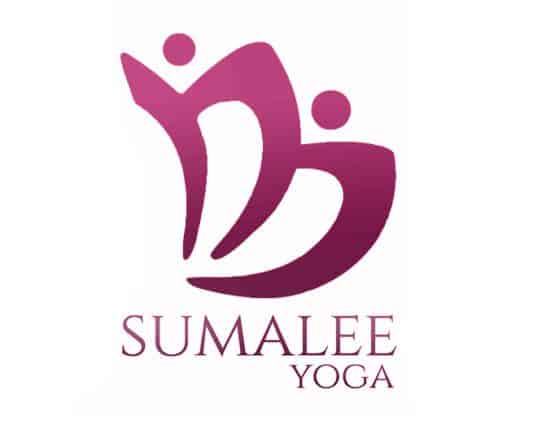 Since we opened in 2011 we have received many enquiries about Yoga.   Opening our own studio seemed a natural direction for us to go in. Many of our female customers like to combine it with their Mauy Thai practice. Our male customers are interested in it often a means of persuading their partners to join them in their Muay Thai training.  We have also noticed that increasing numbers of males have been joining the program we already had in place. They know it benefits their Muay Thai practice,  As our gym is a very popular choice for family groups, having a yoga program will provide more for everyone to do.
Sumalee Yoga Studio
The design of our studio is a traditional Thai style sala.  We were fortunate enough to have Nikki Carter (from New York's 'Yoga to the People' studio) and Parker Hurley (People Magazine's Sexiest Male Model) help us celebrate the opening of the studio (see photos below).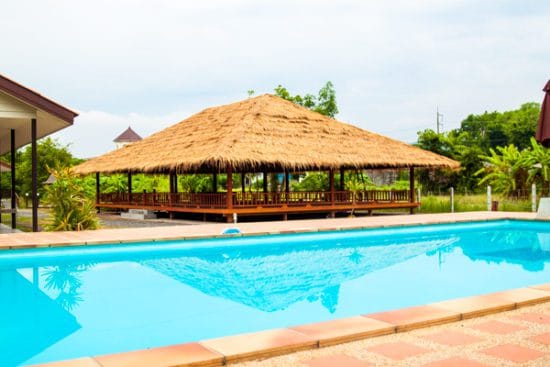 Benefits of Yoga
Yoga does more than burn calories and tone muscles. It's a total mind-body workout that combines strengthening and stretching poses with deep breathing and meditation or relaxation.
The benefits of include:
Increased flexibility.
Increased muscle strength and tone.
Improved respiration, energy and vitality.
Maintaining a balanced metabolism.
Weight reduction.
Cardio and circulatory health.
Improved athletic performance.
Protection from injury.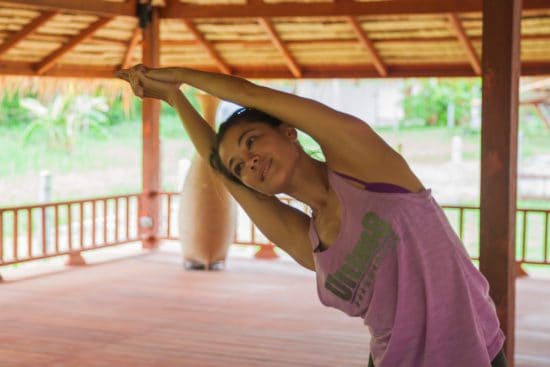 The practice has been around for 5000 years.  It has become increasingly popular over recent years. What has stimulated this? Over the last 100 years, our lives have become very fast paced: cell phones, computers, internet, television. This, along with a strong work ethic, often results in people out of balance. Consequently, there is a strong need to de-stress, to quiet our minds and rejuvenate our bodies. Yoga helps achieve this.
It brings us into the moment. It is very difficult to practice and be thinking about other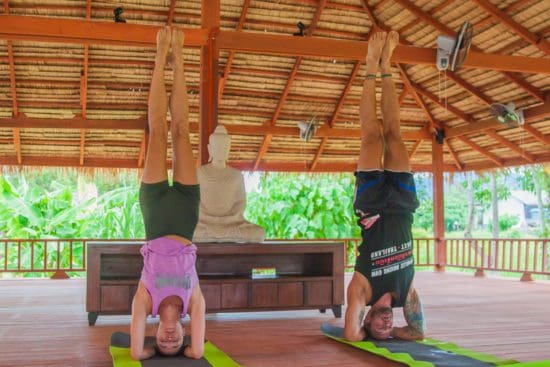 things.  Becoming present in itself is a great release from stress. At its best, yoga meets the student where they are.  It is adjusted to the student's level and capacity. That doesn't mean it is particularly easy or particularly challenging – it can be either or both on any given day.
Sumalee Yoga Program
The program we plan to offer will be on three levels.
Firstly, we will have regular classes in the studio 2/3 times a week.   We are hoping we can increase this as interest in the program builds.
Secondly, we will offer our own week long retreats with invited instructors from around the world.
Thirdly, we will hire out our facilities to instructors so they can hold their own yoga retreats. We will offer a package to instructors including accommodation, use of the studio and meals provided by the Sumalee Ringside Restaurant. Instructors will have the option of adding Muay Thai training if they want it.
If you are interested in the yoga program or if you are an instructor and would like to find out more, please contact us on: info@sumaleeboxinggym.com