By Mike Davis for Sumalee Media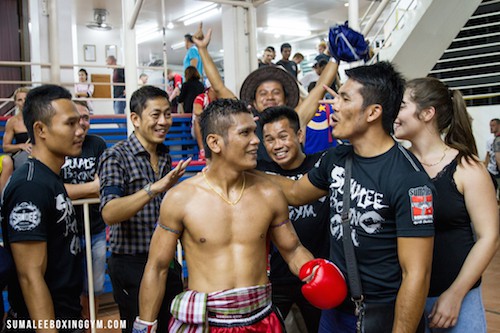 Team Sumalee headed to Bangla Boxing Stadium on the 19th of December for a festive fight night featuring female fighter, Rozi Komlós, from Sydney, Australia, and Nin Wisset Sumalee. This was a particularly exciting event for the team as a win for Nin Wisset would mark 10 undefeated fights in Phuket. To mark this occasion Managing Director, Dr Lynne Miller, offered a 22Kt gold chain as a reward.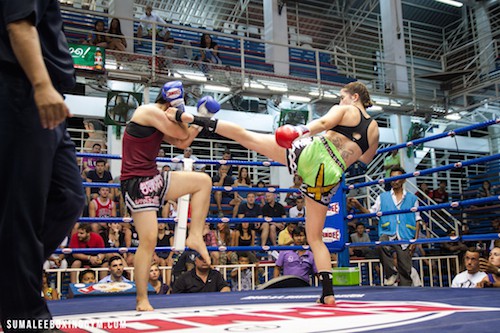 Rozi Komlós was up first facing an experienced local Thai fighter, Yodnampech Bangrong UBC. Her opponent was aggressive but the Aussie kept her cool and defended well with teeps, countering at every opportunity with some huge knees and kicks. After 5 rounds of action Rozi was declared the winner by decision. This was her second fight and win for the camp and she is due to appear at Bangla Stadium once again next Wednesday the 14th of January.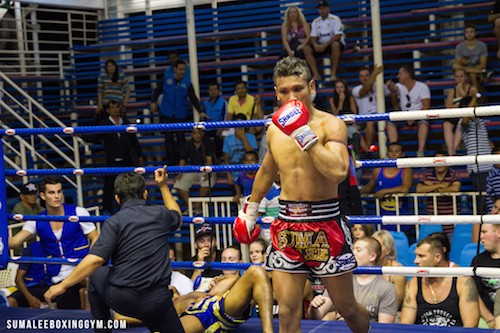 Nin Wisset didn't disappoint in the final and main event. The other corner started out strong, keeping Nin at bay for the most part during the opening round. Nin soon found the opening he was looking for in Round 2 and didn't hesitate to take advantage of it. He slipped the elbow through Jormvo's guard and knocked him to the canvas, receiving a big round of applause from the stadium. True to her word, Dr Lynne Miller presented Nin with a 22Kt gold chain to mark this impressive achievement.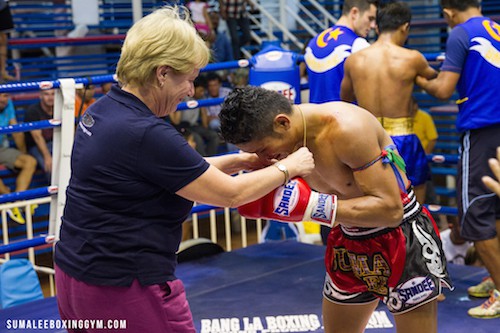 Rozi Komlós Sumalee (Thailand) VS Yodnampech Bangrong UBC (Thailand) – Rozi WINS via decision
Nin Wisset Sumalee (England) VS Jormvo Cherngtalay Muay Thai (Thailand) – Nin Wisset WINS via Round 2 KO
Check out the photo album from Sumalee Media on our Facebook Page here, or watch the full fight videos below.