By Mike Davis for Sumalee Media
Earlier this month Sumalee welcomed Sandee Pro team fighter, Dakota Ditcheva, and her mother and coach, Lisa Howarth, to the camp.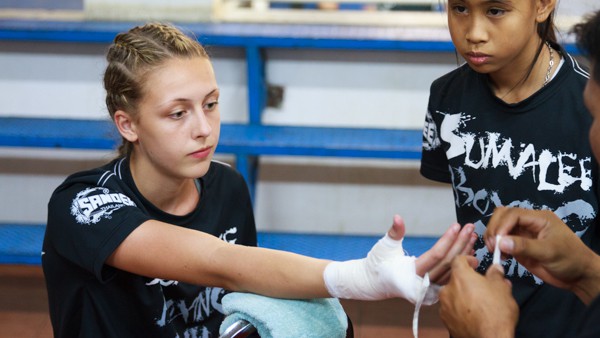 Dakota joined the SANDEE Academy team at aged 15, and quickly progressed within the ranks, defeating many top competitors in her weight class. Her mother, Lisa, is a former WKA Muay Thai World Champion and trains Dakota at Northern Spirit Muay Thai in Sale near Manchester in the UK. Though the young prodigy had already travelled to Thailand last year this was her first time in Phuket.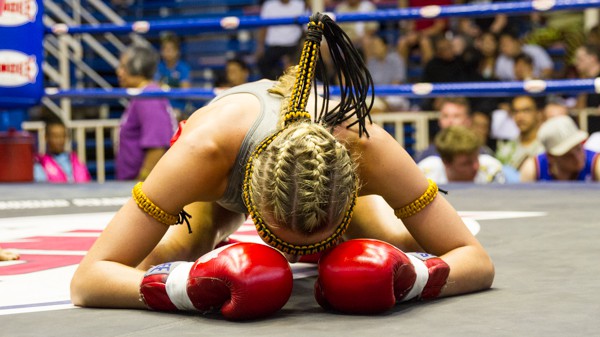 During her last trip Dakota had arranged to fight but fell ill just a few days before the scheduled bout, so she was keen to get in the ring this time round. Khru Jack arranged a match towards the end of her stay in Phuket and on the same night that our newest member, Kaengkla Sumalee (Kaengkla Sor Kamsing), was fighting. This was to be her first full Thai rules fight. Dakota's natural talent and superb technique was evident throughout her training and everyone was looking forward to seeing her in action. Friday night arrived and we piled in the trucks to head to Patong.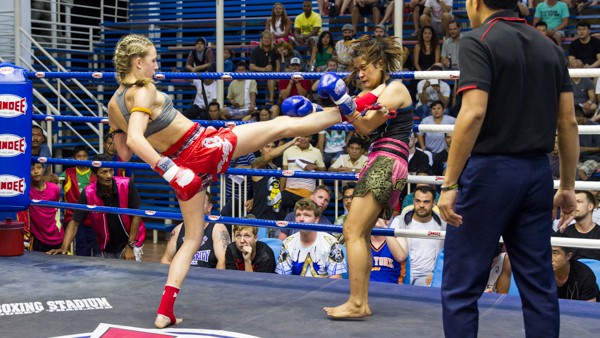 Having already had over 20 fights in the UK you could tell Dakota was in her element when we arrived. Waves of cheers from the audience echoed around the stadium and the smell of Thai oil was in the air. She donned her Sumalee shorts, SANDEE gloves, and headed down with her entourage. Her opponent, Hongfah Kor. Jalanfak, was 19 years old and looked to be much shorter but stockier than Dakota.
The crowd were warmed up with two beautiful performances of the Wai Khru Ram Muay before the bell sounded for Round 1. Dakota made an aggressive start using her long reach to land a couple of early front kicks and a big sweep. Hongfah stuck to the ropes trying to evade but was tracked down every time, and struggled to cope with the relentless combinations of the Brit. A final knee to the torso finished the Thai, dropping her to the canvas almost immediately. Dakota is surely destined for great things in the world of Muay Thai, and we can't wait to see where her journey takes her!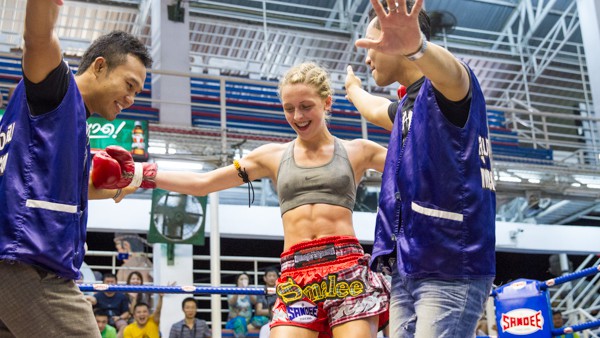 Dakota Ditcheva Sumalee (England) VS Hongfah Kor. Jalanfak (Thailand) – Dakota WINS via Round 1 KO
Check out the photo album from Sumalee Media on our Facebook Page here, or watch Dakota's full fight video below.