By Mike Davis for Sumalee Media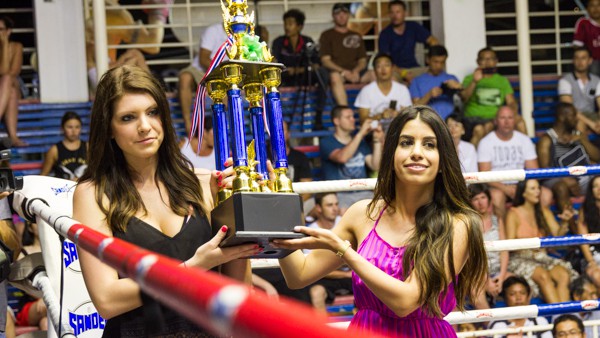 Kicking off an exciting weeks of local fights, Team Sumalee headed to Bangla Boxing Stadium on Wednesday night. Martin Avery was scheduled to appear in his first 4-man tournament but before that, Sumalee Junior, Payakdam, started the evenings undercard facing Yodarwut Orbortor Khrongkanan from Krabi. He landed some solid attacks in the first round, but the confident Yodarwut would not be stopped so easily. Payakdam felt the pressure in Rd 2 and was eventually stopped with a flurry of punches and elbows. Despite this, Yodarwut stopped to help his fellow junior up before celebrating, an amazing display or sportsmanship.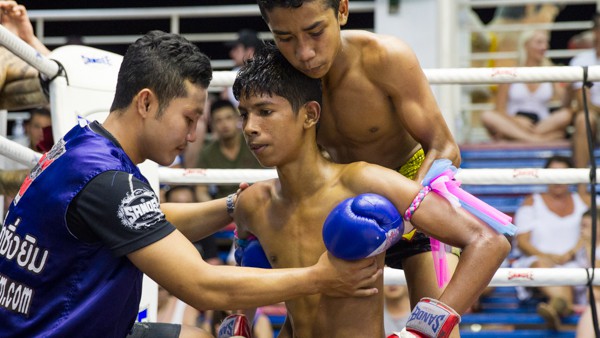 Taking part in the 4-Man tournament were Alex Tiger Muay Thai (Russia), Mark FA Group (Australia), Martin Avery Sumalee (England) and Jacky Dragon Muay Thai, who Martin had already defeated in his last match at Bangla. The grand prize for the tournament was 30,000 THB. After the trophy was presented to the crowd numbers were drawn and the fighters paired off for the preliminary rounds. Alex Tiger Muay Thai VS Mark FA Group were the first fighters to enter the ring. Mark started well with kicks and teeps (front kicks) but Alex was throwing unpredictable elbows. One such elbow caught Mark while he was against the ropes and it was all over within seconds, much to the delight of the Russian members of the crowd.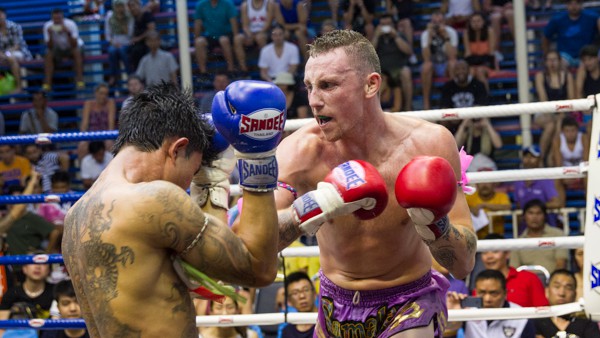 Our sponsored fighter was up next. Martin was confident knowing that he had already defeated Jacky in their last meeting, but knew it would not be a walk in the park. In the past Jacky has proved to be a resilient fighter and tonight was no different. Despite Martin's best efforts resulting in an 8-count in Rd 2, The Thai/Chinese fighter would not stay down and was saved by the bell. Martin kept him at bay in Round 3 and a unanimous decision meant he had made it through to the final, but he had spent a lot of energy.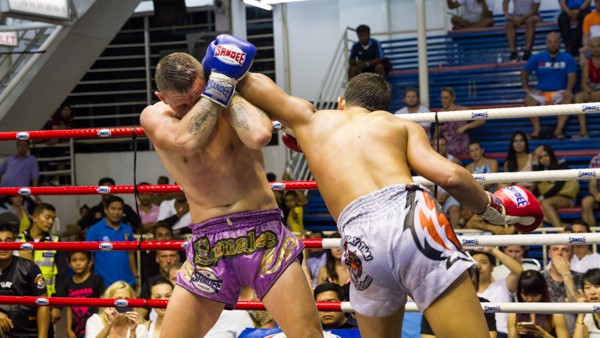 After such an exciting match the crowd were keen to see the outcome and tensions were high with a lot of money being placed on Martin for the win. The undercards finished and the final got underway. Round 1 was scored pretty evenly, Martin opting for kicks and teeps due to his fatigued arms from his first fight. Alex caused an upset in Round 2, knocking Martin to the canvas with elbows that seemed to appear from all angles. Martin was back on his feet straight away but was disconcerted and Alex took full advantage of this. A few more elbows were enough to stop Martin in the other corner and the referee waved to signal the end of the match.
Martin was disappointed but learned some valuable lessons and was happy with his first win. We have no doubt you'll be seeing him in the ring again soon, with a big smile on his face as usual!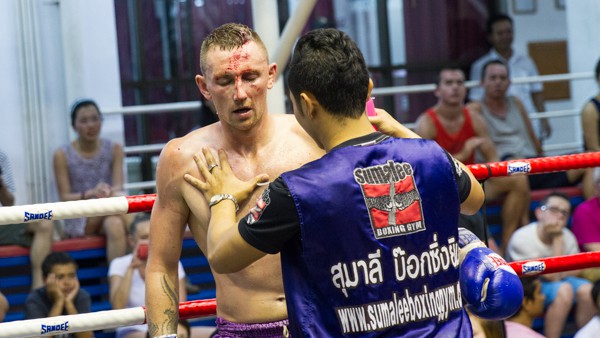 Payakdam Sumalee (Thailand) VS Yodarwut Orbortor Khrongkanan (Thailand) – Yodarwut WINS via Round 2 TKO
4-Man Tournament Semi-final: Alex Tiger Muay Thai (Russia) VS Mark FA Group (Australia) – Alex WINS via Round 1 KO
4-Man Tournament Semi-final: Martin Avery Sumalee (England) VS Jacky Dragon Muay Thai (Thailand) – Martin WINS via decision
4-Man Tournament Final: Martin Avery Sumalee (Thailand) VS Alex Tiger Muay Thai (Thailand) – Alex WINS via Round 2 TKO
Check out the photo album from Sumalee Media on our Facebook Page here, or watch the full fight videos below.