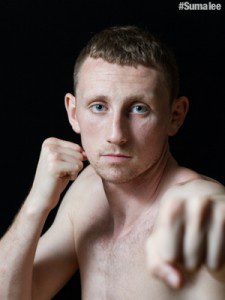 From Southampton in the UK, Martin Avery is our second Sumalee Scholarship winner of 2014. The Scholarship scheme was created to develop up-and-coming international talent from the world of Muay Thai. Our selected students are given two months free training and accommodation at our camp in Phuket, Thailand, as well as the opportunity to fight full rules Muay Thai at least twice during their time here.
Martin is 23 (turning 24 next month) and trains out of Lumpini Muay Thai Gym in Southampton in Hampshire, England. Currently undefeated in his professional career, Martin has had 11 Muay Thai fights winning many of them by knockout. Before joining us at the camp he was not employed and training full time at his home gym. Martin was selected for our Scholarship scheme because of the passion he conveyed in his application, his style in the ring, and his excellent technique.
Martin arrived at the camp mid way through June in great shape. With our team of sponsored fighters present the young Brit had no shortage of sparring and clinching partners to push him during training. He also worked closely with our trainers for a couple of weeks before booking his first fight at Bangla Boxing Stadium in Patong for the 2nd July.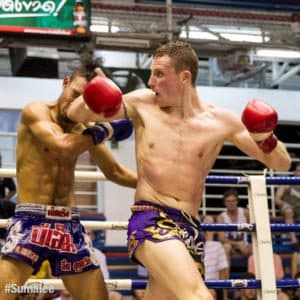 On fight night Martin was matched with his first Thai opponent, Khaosambat Kiat Paison, a local nak muay with over 60 fights under his belt. Unperturbed by the challenge that lay ahead of him and determined to impress the crowd, Martin kicked off Round 1 as the aggressor. Khaosombat scored well with some strong kicks and elbows but our student began to have the edge by the end of the third. By the fourth the Thai seemed to be slowing, unable to respond to Martin's powerful attacks and unrelenting offence.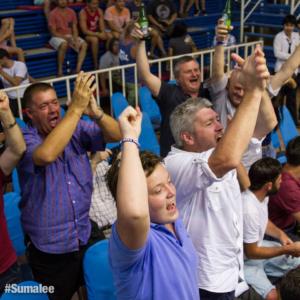 A final knee secured victory for Martin by way of TKO in the fourth round and the crowd replied with a big round of applause, including Martin's father and friends from Hampshire who were in Phuket to support him. Watching the fight video below it's easy to see why Martin was chosen as our Sumalee Scholarship winner and, with the facilities and training to develop his skills, we are certain he has a bright future in the sport.
Like us on Facebook, or follow us on our Twitter and Instagram to track his progress at the camp.