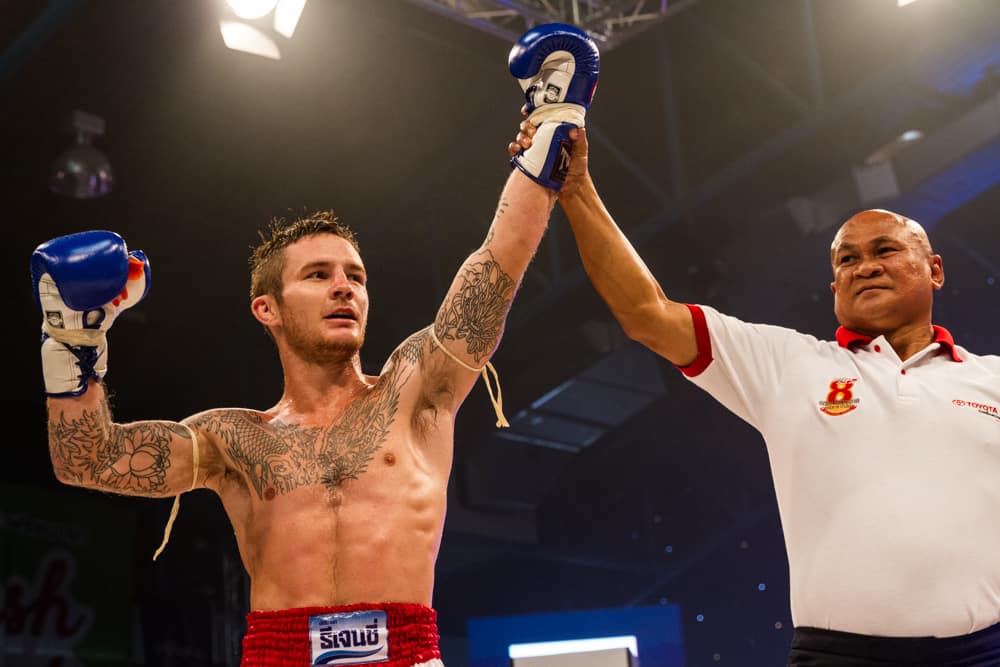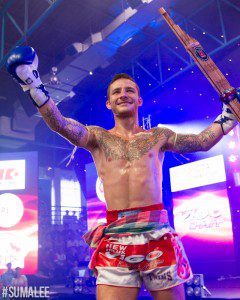 Travelling to fights is one of the lifestyle's great perks. Being on the road prior to, and just following any fight, one becomes more aware of new surroundings and feels greater alertness. Fighting is an emotional as well as a physical challenge. Fear and uncertainty mingle with determination and excitement, a mix which leads in many instances to steely resolve.
Staying our first night in Bangkok at the house of Oron's friend, and the second in a brown hotel in Chonburi – where the fights were to be held – Oron related a few of his own experiences during the peak of his career.
His stories of travels with friend and training partner Lambang are an intriguing insight into the lives of the previous decade's top flight boxers in Thailand. The two would make their way to Bangkok with the express intention of fighting for money, and for the personal pride inherent in Muay Thai. Travel cheap, or, as Oron put it, "No need more.".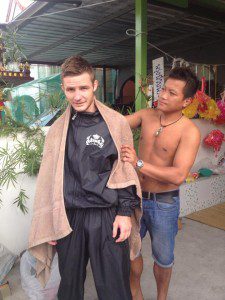 Receiving thirty thousand baht per fight, the promoters would provide the pair two thousand baht expenses. In his prime, he remembers, twelve straight Lumpini match-ups ended in victory. But also remembered are the sleepless nights after a defeat, and the drinking of Lao Khao with M-150 in general. On one occasion Lambang left the fight winnings in a taxi,
"He pay me one thousand baht every month" Oron says with a laugh, simulating the gesture of paying out money with his hands.
On weigh-in day this time, an hour's walk in the midday sun donning a sweat-suit sufficed to strip the last two kilos – an unpleasant experience but a definite part of the fight process.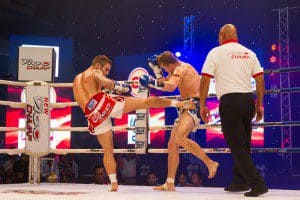 Preparation for these televised shows is exhilarating, big entrances and TV coverage definite fuel for the ego. A mixed performance ensued however; overwhelming my first drawn opponent, the Belorussian Igor Klimivitch, led to an early stoppage in round two. Attempting to stand stoic and clinch with my second opponent, Lumpini champion Chamoekthong, proved a mistake.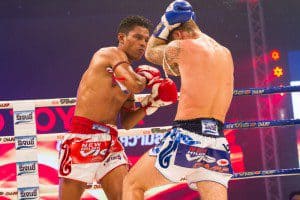 Knowing I would most likely lose on points, I wanted to show I was unafraid in the clinch, however attempts to use strength were outstripped by his timing and natural fluidity, the answer to the implicit question being 'Not strong enough.' The final between Chamuekhong and Petchboonchu was an exhibition in martial prowess and unwavering focus, Petchboonchu victorious in his usual unremitting style."
By Craig Dickson
Watch all the fights here courtesy of our friends at Muay Farang and view the highlight photos from Sumalee Media here.
Next stop for the Sumalee International fighters is Petchbuncha Stadium in Koh Samui on August 9th. Martin Avery and Jordan Coe star as the main events in a 10th anniversary show! Make sure you tune in to our Facebook, Twitter & Instagram for more Muay Thai action.