In Muay Thai, we often deal with situations where it is not always clear what the motives are. It is therefore refreshing to work with the organisers of the Z1 event in Malaysia. It is crystal clear that they have the genuine and primary goal of promoting the art of Muay Thai in Malaysia. They host well managed events in accordance with this. The Z1 crew worked professionally and cohesively, putting on shows to at least equal any of the biggest name productions in Thailand.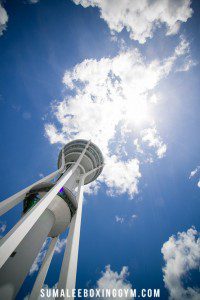 As fighters, Jordan Coe and I felt at ease at the recent Z1 Chief Minister's Cup in Kedah, a northerly province in Malaysia. After a long drive our mood was enhanced by the sightseeing, which promoted a sense of familiarity.  Overall there was a general surplus of good vibes: people enjoying the process.
A Catch-22 exists in fighting. One victory, despite its sweetness, only leads to the next challenge. This is inevitable as the desire to progress is ever present.  An individual experience is not enough.  It can never be 'that one time…'.  With Muay Thai, one win is not enough.  Every fight presents an opportunity to reappraise whilst stimulating a desire to delve deeper, to attain more in a skill, the horizons of which are almost limitless.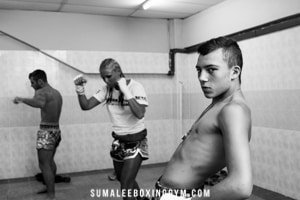 On most trips these days we are accompanied by our media team whose creative capacity expands as its skill grows. The trick is combining skill with the imagination – pursuit of the fresh idea. Of course the Thai trainers are always there and their influence is pervasive. We influence them too, for they too are learning…learning how to teach. Together as a group, the Sumalee team we are building something others wish to be a part of.
Our success stems from a positive mental attitude, being part of a team and considering others as well as the search for new experience and achievement. Working hard helps to maintain us, to overcome the heartaches and pain we share. As we mature as a group, we rely upon the friendships and memories we gather together in the wake of the pursuit of success.  Our progress is only limited by our own efforts.  We all have a desire to create something we can be proud of.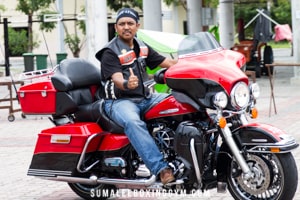 Rehearsals began on the Friday. We arrived at the stadium where members of the Kedah Riders Club were revving their engines and the Z1 team were in full swing, prepping the stage, lights, and sound. We had heard that our entrances would be something special but this was truly unique. Jordan was allocated a BMW touring bike whilst I, to my extreme pleasure, hopped on the back of a huge Harley Davidson. I goaded the driver into revving his engines as much as possible, after all, we want to make an impression don't we?
The first leg of the two day event saw some local competitors take to the stage, as well as one Australian fighter from Lamai Muay Thai. Though it was a slightly more sombre affair than the Thai's (mostly due to the lack of betting), the fights were anything but sombre. Every match that evening was ended by knockout and served as a good precursor for the main event.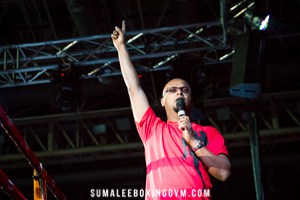 Saturday night arrived. Both Jordan and I felt well rested after a couple of decent nights sleep in our compact, but comfortable hotel room. There was a considerable buzz about the stadium as we made our way to the changing rooms, stopping for a few selfies with some fans along the way. The arrival of Jom Kitti (a Thai trainer at Muay Thai Fitness Lab in KL) and his family was a welcome sight and bolstered our confidence.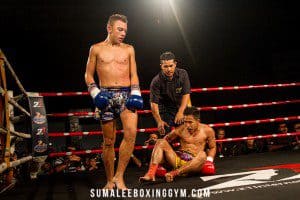 Jordan Coe led the charge in a heated battle with Qualid Saripan from White Tiger Gym. His eccentric demeanour in the last couple of days was amusing, but did make us ponder what he would be like once he got in the ring. As expected he made good use of the home support, the Malays giving a hearty cheer with every punch he landed. Unfortunately cheers do not win fights. Jordan's prized left leg went to work as he unleashed kick after kick and racked up the points. Having worked closely with Oron (Head Trainer) since arriving a couple of months ago, the improvement to his overall technique was evident. Qualid showed frustration after some well timed sweeps from Jordan and got a few cheap shots in where he could. This only served to infuriate my Scottish counterpart, and he finished his match in round 4 with a swift knee to the stomach.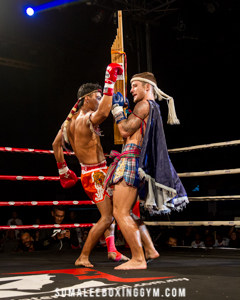 After belts were handed out to the winners of the the 4 man tournaments a hush fell across the stadium as they announced the main event. My opponent, Bow Suweilek, was Thai but had lived in Malaysia for many years and was a firm fan favourite. As I jaunted around the ring in typical Sumalee style, he joined me for a little dance and we put on a show for the audience, though I locked eyes with him throughout to make my intentions clear…this was a fight. Bow was pretty static in the early rounds. No doubt he had watched some of my fights and, knowing my boxing was strong, had prepared a suitable defence. He kept his back to the ropes and lunged forward with counter attacks to varying degrees of success as I let my front kick do the work- a new favourite in my arsenal. Sensing an opening in round 3 I let a kick fly in the direction of his head and…success! The sound of shin clashing with skull was followed by Bow falling to the canvas, gasps of disbelief from the audience, and screams of jubilance from my own corner.
Team Sumalee had emerged victorious once again, and with every victory I get the sense that this is just the beginning of something greater. These days I do wear a watch, but you'll never catch me with a mobile in my hand because around here it's all work and no play, innit? "I'll have just one more fight, and then go home…"
Written by Craig Dickson
Photography by Mike Davis
You can check out all the photos of the event from Sumalee Media on the Sumalee Facebook Page, and like Z1 International on Facebook to see the fight videos coming soon. Don't forget to follow us on Twitter (@sumaleeboxing) and Instagram for highlights of all our fights and regular updates.