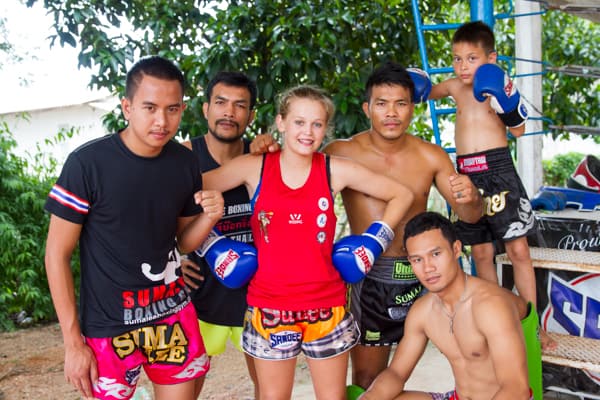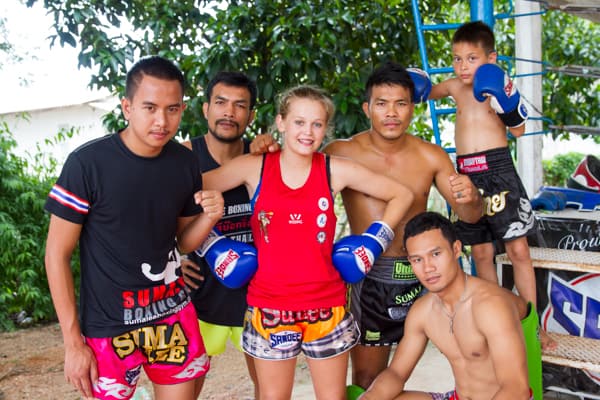 SANDEE Academy fighter, Chantelle Tippett (Chaos Muay Thai), arrived at the camp earlier this month to prepare for the 2015 IFMA Royal World Cup in Bangkok. Chantelle was selected to represent Team GB for after qualifying at last year's UKMF British Championships and is set to face her first opponent in the next couple of days.
Chantelle is originally from Devon in the UK and trains out of Chaos Muay Thai Gym. She was added to the SANDEE Academy Team at age 12, a program created to support the very best in British Junior fighters. Now at just 14 years old Chantelle is already a multiple Junior British and Regional Champion many times over and there's no sign of her stopping there. Sumalee first noticed Chantelle at last year's SANDEE UK Junior Open Championships where she was crowned the 45kg Champion. We were delighted when she decided to train with our team in preparation for the IFMA Royal World Cup.
The rising star has been training hard with Team Sumalee for the last two weeks. Chantelle attended group training twice a day and, though a little shy at first, settled in well. Our trainers were impressed with her technique and drive at such a young age. Here's what her mother, Lisa, had to say about their time here.
"Training at Sumalee has been everything I had hoped it would be and more for Chantelle. The fun, family atmosphere of group training and the focused 1:1 sessions have improved her confidence and developed her individual style, while the sponsored fighters have given her tips and encouraged her every step of the way. All the trainers have pushed her to her absolute limit in a totally safe environment. We can't wait to come back again!" Lisa Tee
Chantelle has now joined the rest of her team mates and nak muay from around the world at Rajamanghala National Stadium in Bangkok. The 10 day event sees many of our British students attending, including SANDEE Pro fighter Dakota Ditcheva (Northern Spirit) and Joe Le Maire (Unit 1 Gym). Chantelle is due to face an Australian opponent in the next couple of days to battle for a Silver medal, and if successful, will go on to face a Russian fighter for the coveted Gold medal. Good luck to all the fighters taking part!
"I still can't believe the opportunities I have been given over the last 4 years. I have now achieved my dream of training and fighting in Thailand thanks to Mum's fundraising and my sponsors, Follifuel. Now I would like to develop an entertaining fight style so that people know my name and love watching me fight." Chantelle Tippett
Read more about Chantelle on her website, or on her Awakening Fighters profile.