Last month the world of Muay Thai sadly lost one of it's great fighters and characters, Superlek Sor Sumalee (also known as Superlek Sor Esaan). Superlek was known as a skilled fighter and a great personality.  He defeated many legends  during his career.  One of his more notable victories was against Rammon Dekkers, who coincidentally also died prematurely earlier this year.  Both were in their early forties when they died.
Our Head Trainer, Oron "Deachkalon" trained and fought alongside Superlek at the famous Sor Sumalee Gym in Ubon Ratchatani.  Based in the Northeast of Thailand, the gym was renowned for producing champions.
Oron and Managing Director Lynne Miller of Sumalee Boxing Gym were invited to Superlek's funeral. Oron was also given the great honour of performing the Wai Khru Ram Muay at the procedings.  There were hundreds of attendees including many prominent figures from the Muay Thai community such as the renowned Ratchadermnoen promoter Somchai, and well known fighters such as Lamnamoon, Jompoplek, Orono Por Muang Ubon and many others.
Whilst there, Sumalee Boxing Gym was asked if they would support an event to raise money for Superlek's family by sponsoring fighters Oron Deachkalon and Craig Dickson to travel to Essan and fight on the show.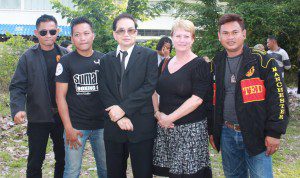 Naturally we agreed and some students, staff and trainers will also be attending.  All proceeds will be donated to Superlek's family. The event takes place in Ubon Ratchatani on the 1st June and the entire villages of both Oron and Lambang's will be there to watch.
We'll be documenting the journey to give you a rare insight into life in the Esaan region where so many great fighters had their humble origins.
Visit our Facebook Page, follow us on Twitter, and subscribe to us on YouTube for updates.