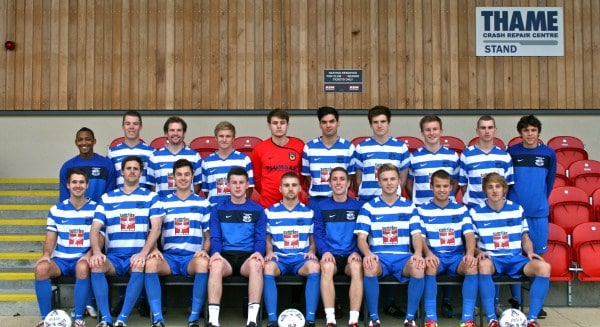 When Oxford Brookes University Football team (based in the UK) approached Sumalee Boxing Gym for sponsorship to assst them in 'raising their game' this last academic year, we had no hesitation in providing the help they needed.  The Club Captain wrote to us recently to thank us for our donation and sponsorship.  The team had an outstanding year and we are proud to know our help played a part in helping them along the way.
Sumalee Boxing Gym sponsored Oxford Brookes Football Club had its most successful year for over 10 years. The 1st team won the League and will now be facing universities such as Cambridge 1sts next season. Our club won ' Club of the Year' at this year's Sports Awards and this was the first time Football has ever won this title in the awards 28 year History. The Club's Captain, Danny     won 'Organiser of the year'. The Club also had the 1st ever official Varsity game against Oxford. This was a ticketed event with a sellout crowd of 400. The Club has also established links with Thame United, where all 1st team games are now played, and KEEN, a local children's charity.
The sponsorship given by your Muay Thai training camp in Phuket was an incredible help and really gave us the momentum we needed at the start of the year. We purchased a brand new kit with the Sumalee sponsor on the chest. We also used the money to purchase committee tops, pay match officials at the start of the year, and pay for an introductory match at the Thame ground for our 1sts vs 2nds annual pre season.
I can't express how much this money from Sumalee Boxing Gym helped our club.  It was exactly the kind of support a club like ours needs, which has no money at the start of term!
Club Captain
Danny Cowtan