Simple and well mannered, Nuyat Siluang – fight name Lambang Sor Sumalee – is Sumalee Boxing Gym's oldest and most experienced trainer. His frequent outbursts of jocularity conceal a thoughtful and tempered character. Deliberate and considered, his knack for simple yet astute observations has been the foundation of multiple, high-level Muay Thai careers. Being older than the other trainers, he retains a position of significance within the gym hierarchy. As technical chief, his input has been instrumental to the restructuring of Oron's style to take account of his increasing age, and in the preparations for his recent international fights in the UK and Panama, Central America.
Lambang's career began at ten in Ubon Ratchatani, in the North East of Thailand (Esaan) in his village gym. One month's training was sufficient preparation for his first fight. The son of a farmer, his thirteen-year competitive career saw over two hundred such fights, the money from which was a source of family income. At age fourteen the Lumpini Stadium became his boardroom. As a man, his demeanor is the essence of Asiatic decorum; a quiet intelligence, seldom distracted or absent minded, his attention to detail is the bedrock of Sumalee Boxing Gym's current style.  Lambang's teaching method reflects his character. Focusing on form and finesse,
his aim to draw from and guide the student is wholly Eastern in its execution. In this it differs from the more Western approach of direct intervention and allows the student a high degree of interpretation and "flow". Mind over matter, thought over exertion, skill over strength – Thai style. This style has led Regency to seven straight victories at Bangla Stadium, and has allowed Deachkalon's continued improvement into his thirties.
As for his own career, at 23 various injuries forced Lambang's retirement from the fight scene; his reaction to this was one of sadness he says, but not apathy. Almost immediately his work began as trainer in the original Sor Sumalee Gym in Ubon Ratchathani.  His partnership with Oron fundamentally contributed to his achievement of very high rankings in both the prestigious Bangkok stadiums, Lumpini and Ratcherdermneon. His contribution extends to helping shape the careers of Cartoon and Regency Sumalee, both of whom still fight with success 17 years into their working relationship with Lambang Sor Sumalee. As a Muay Thai Khru he offers tacit stability, patience and strength of character to his students.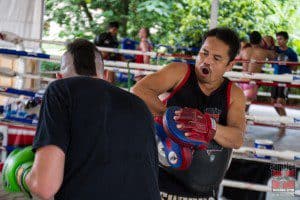 He has an urge to share this knowledge, not to mention decades of accumulated knowledge on how and when to score ponts as well as a strong work ethic. The fact and both Regency and Oron were virtually unscathed in their recent spectacular fights is doubtlessly a testament to this quiet man's wisdom and expertise.  Oron's performances on the international stage were described as a Masterclass in Muay Thai.  Regency currently has an apparently effortless streak of wins to his name.
Lambang's studied and considered input has allowed me to picture a new avenue of style and granted a different perspective on both the art of muay Thai, and on how much I have yet to learn as a fighter – the horizons either of which never shrink or diminish.  He has made a great impression on me as a fighter and as a person.
By Craig Dickson