By Craig Dickson
This was our first trip to Langkawi to fight on the Z1 Royal Kedah International Challenge. An early morning six hour road trip south to Saturn on the south east coast of Thailand preceded the ferry crossing to Langkawi. Alighting blearily on the Malaysian archipelago we were assailed by a contingent of photographers. This seizure inducing surprise attack was to herald the arrival of Kedah's new Muay Thai superstars, including myself as Sumalee Boxing Gym's sponsored fighter and Parinya Sumalee. Just as well I did my hair in advance I thought.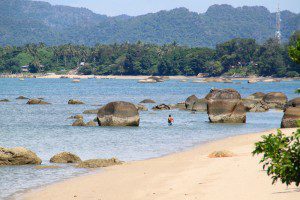 Langkawi is "multi-cultural";  although there is little integration between races, they do live in what appears to be harmony. The Indian community, the remnants of the good-old British Raj colonial work force – who can certainly prepare a buffet – have yet to outstay their welcome in this pious Islamic province. We did gorge ourselves on curry almost from the moment of our arrival, Courtesy of the Z1 promoter; indeed for days we made sure we were the first in line for those naan. It made a change from chilies and rice. There is also a small population of Thai and Chinese immigrants, but I didn't see any.
Being in such high-spirits from all the feasting, day two saw 'big-boss' and I take a jaunt around the island in a little tin box from Taiwan, apparently a car.  Despite its' appearance it was nonetheless a decent foresight  when a particularly vicious storm rolled in. At one point visibility was down to ten metres or less. Some rain! It made the precipitous rain-forest a sight afterwards.  In Langkawi, large swathes of the rainforest remain more or less untouched in its fullness of life and verdure.  The heavy storm left great tendrils of moisture rising from the canopy into the low slung clouds.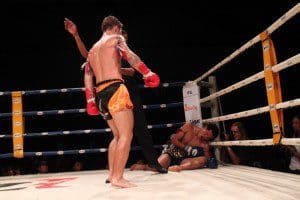 The production quality of the show (the real reason we were there) – the 6th Z1 Royal Kedah World Muay Thai Challenge was of a high standard; streamed live on line, flashing lights, pretty girls and good fights.  I threw caution to the wind, slugging it out in a last ditch attempt to save my career from the clutches of a dismal year.  It was a return of the cave-man to banish the insidious demon of self-doubt and second-guessing.  My opponent was Pet Ubon, a strong contender from the nearby Thanochot Gym in Phuket.  I stuck to my game plan which paid off with a devastating and convincing KO in the third round.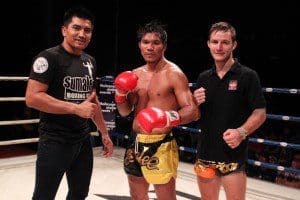 Those who watched the live stream will have also seen a strong performance from Parinya Sumalee against the tenacious and durable Simon Jan of Lamai Samui.  Despite the referee calling the fight at the end of the second round after Parinya knocked Jan down several times, Jan somehow was allowed to come out of the corner and tenaciously fought on for another three rounds.  By that time though, it was too late for Jan as Parinya was able to hold off Jan's point scoring capability with solid defense.
After all the punching and curry-munching, it was high time to indulge the primate some more so I rented a motor bike. Admittedly it was a rather camp orange bike, but I got it for free in the end.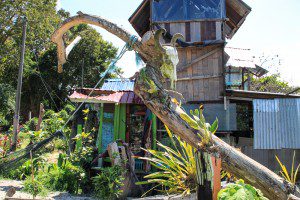 As I made my way through the lazy villages, a ridge of cliffs drew ever nearer.  To the delight of the many tourists upon its summit sits a work of great modern engineering. Langkawi's 700m cable car ascent is a surreal affair, gliding silently over millennial jungle. Hoisted towards the only station it'll ever stop at, the car is buffeted by updrafts that eagles and horn-bills share in their giant looping flights, it provides a coveted opportunity for a unique selfie. Don't forget the finger-V.
Incidentally a deep wave of joy washed over me as I was escorted to the front of a queue of a couple of hundred tourists because I was a lone traveler. Another V to those suckers.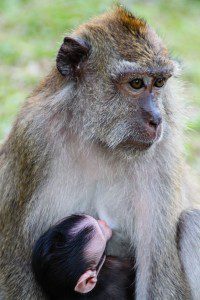 Day four I got up a bit earlier than the sun (read: rose from a drunken stupor), and hit the road again to find some more of those birds and other creatures. Jagged and forested limestone teeth rend upwards all over the island creating steep valleys in which I fancied to hear the echoes of a prehistoric time. The dawn cries of the birds mingled with the hoots and jeers of the monkeys and white-lipped macaques that were so indignant at being disturbed during their morning forage. They wandered in some semblance of natural habitat however, a sadly diminished phenomenon in Phuket,Thailand.
A group of Malays my own age (frolicking gaily, no doubt) at the pool of a waterfall were polite and well educated, if somewhat innocent. We agreed that Langkawi was a remarkable place; the pity was that I had such a short time there.  It was nonetheless an inspiring and interesting trip. If you go, visit the Craft Centre, everything is made on the island itself. Travel allows one a freedom of character and expression, but true escapism is difficult to find.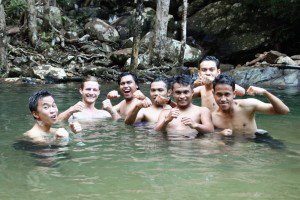 A note from Sumalee Boxing Gym
A big thanks to Z1 International for inviting the Sumalee team to such a prestigious and well run event.  The following gyms were all represented on the show and there was a good array of top class international fighters in action over the two day event:
White Tiger, Kuala Ketil, Kedah
KP MuayThai Club, Kuala Perlis
Kambiz Warriors, Kuala Lumpur
Judith Lockhart
Kelab MuayThai Kola, Kuala Perlis
Hamidi MuayThai, Langkawi
Sumalee MuayThai Gym, Phuket
Pet Ubon
WMC Lamai MuayThai Gym
Boxx Warriors Malaysia
Manop Gym, Phuket
Kamel Mezatni
Sor Surinya, Thailand
Salah "The Beast"
Saad Ewa Team, Langkawi
Tiger MuayThai, Phuket
Grand Thai Boxing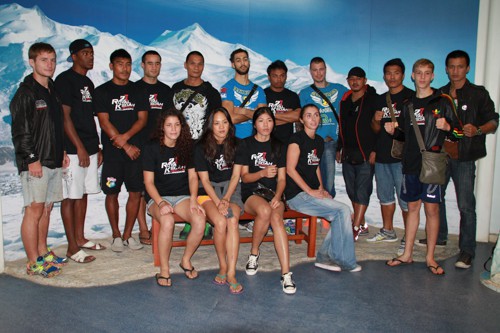 We were all well fed, well housed and well looked after over the five days we were there.  We very much look forward to working with Z1 on other Muay Thai events they organize in the future and there is already the sniff of an exciting match up for Craig in February of next year in an equally exciting destination.
For those of you looking for a relatively accessible alternative to the standard Ranong Visa Run, take a look at Langkawi as an option.  Getting there is relatively easy and inexpensive, it is much less developed that some of the more touristy areas of Thailand and English is widely spoken making it easy to negotiate.  Although the beaches are not nearly as good as in Phuket, there is plenty to compensate for this not least the fact that it is a Duty Free Island with a great selection of all sorts of alcoholic drinks to chose from. For some reason, there is also an enormous amount of ridiculously cheap chocolate available there.
.