November 15th saw the return of some of the Sumalee Fight Team to the beautiful island of Koh Samui.  This is a relatively easy journey from Phuket involving a four hour drive to Donsak near Surathani where it is possible to catch the Seatrans ferry over to Samui.  This particular ferry affords us the luxury of taking the car over too, enabling us to get around easily once we are there.  The total cost of the ferry with car and four passengers is approximately 1200 thb.
On this occasion, both Oron Deachkalon Sumalee and Craig Dickson were fighting at the Phetchabuncha Stadium in Chaweng on the 16th November.  This is a stadium which is steeped in tradition.  We understand it was opened nine years ago by the family of the promoter, Khun Am.  In size and feel it is much more similar to Patong Boxing Stadium than to Bangla Boxing Stadium, our home stadiums in Phuket.  Nevertheless, in many respects, Phetchbuncha is very different from the Phuket stadiums.  Most notably at Phetchbuncha Stadium, strict codes regarding behaviour and conduct within the stadium are adhered to.  Fighters are expected to be clean shaven and respectable looking.  If you fight from the red corner you wear red shorts, and similarly from the blue corner you wear blue.  No other colours are allowed.  No smoking or drinking is allowed in the fighters changing rooms (although alcohol can be purchased relatively cheaply at the stadium).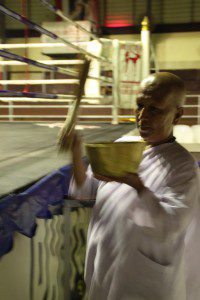 Corner men must wear appropriate clothing, including long trousers, when attending to their fighters.  There is a battalion of substitute corner men if the fighters home support is not deemed suitable.  Women are not allowed in the corner area at any time.  All staff are clearly identifiable by their well presented clean and tidy identifiable uniforms.  Security staff wear highly polished black patent leather shoes which has a certain charm.  Decorum is the keyword and they run a very tight ship there.  It all makes for a refreshing change for those of us more used to the more laissez faire attitude at the Phuket stadiums.  It is more of an occasion somehow!  There is a pride in what they are doing.
Cultural rituals pervade at Phetchabuncha. For example, prior to the show all of the fighters themselves are paraded around the locality for all to see.  All fighters and both corners are blessed by a resident female monk (reputedly the promoter's mother) prior to show beginning.  Incense is burnt in the corners for that extra guarantee of good luck for all involved in the show.  All of this ritual added to a sense of being part of something that was uniquely Thai and very special.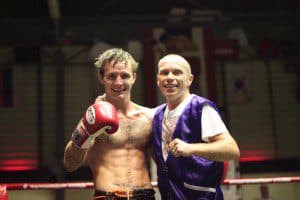 Craig Dickson and Oron Deachkalon Sumalee did not disappoint.  Craig was on first, up against a well known local Thai – Sangpet Jun Muay Thai.  It was one of his most exciting performances executed in classic "Craig style".  He kept the pressure on from the beginning wearing his opponent down by his persistent advance forward.  He finished with his signature flurry of body punches in the third round which very quickly dropped his opponent to the ground.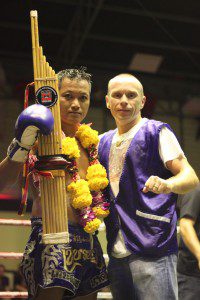 Oron Deachkalon Sumalee fought the much younger and taller Koh Samui champion, Mongskrit Sit Sorred.  For the first two rounds things didn't look to be going Deachkalon's way. Taller opponents are always a challenge for Deachkalon as their height makes it difficult for him to execute his favourite winning tactic, those strong Sor Sumalee knees known the world over.  Coming out with more resolve in the fourth round though, Deachkalon managed to get a grip and floor his opponent with a succession of well places knees to the body despite the height difference.
All in all very strong performances by the two Sumalee fighters.  An extremely enjoyable weekend hosted by the warm hearted and generous promoter Khun Am.
By Lynne Miller