This year we see a change in the format of the Scholarship in Muay Thai. Whilst we will still be accepting entries for one lucky winner to join us in Phuket next year, we have hand selected two nak muay who we feel would benefit greatly from our tuition. We are extremely pleased to introduce our Sumalee Scholarship in Muay Thai winners for 2013/14, Okbae Moon and Martin Avery!
Okbae Moon 문옥배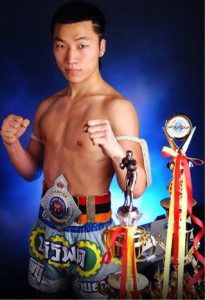 From Seoul in South Korea, Okbae is no stranger to the ring, nor to Thailand. As a young fighter and Korean Champion he visited Phuket on two occasions hoping to gain international experience. Okbae met and trained with our Head Trainer, Oron, at his previous gym and competed locally multiple times with great success (ending many of his fights by KO). They became good friends and training partners.
Unfortunately, all did not end well. In 2011 during his second trip to Phuket, Okbae was involved in a motorbike accident which left him with significant injuries. Unable to compete in the sport he loved and with heavy medical fees to repay he was forced to take a break from his career to recuperate physically, financially and mentally. Okbae has since turned his life back in the right direction. After a long and arduous recovery he began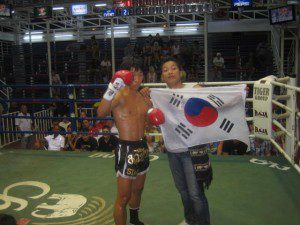 training and, with great determination, was able to compete again in late 2012. May 2013 saw Okbae compete in a South Korean competition where he took second place, losing narrowly to the current national representative. Due to his incredible determination and vast potential, Sumalee Boxing Gym are pleased to be offering Okbae Moon a Scholarship position at our camp in Phuket, Thailand. Okbae will be arriving with us on the 9th December 2013 for 2 months of intensive training with our team.
Martin Avery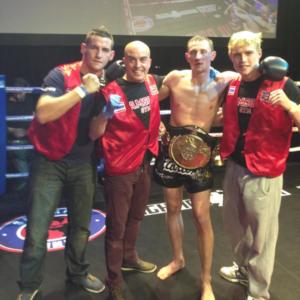 Our second Sumalee Scholarship in Muay Thai winner hails from Southampton, England. Brought to our attention by Lumpini Muay Thai Gym, also in Southampton, Martin Avery was recently crowned the ICO European Champion at Enfusion Live. With a host of regional titles and a high profile win at just 23 years old, Oron and our team thought Martin would be the perfect candidate for our Scholarship. Martin will be joining us in Phuket in 2014, dates TBC.
To find out how you could be our final winner enjoying 2 months free training and accommodation at our camp in Phuket, Thailand, head to our Scholarship page here or by clicking the image below.