Ever since his first appearance in the UK as participant, and subsequent winner, of the WMC UK Superfly 59 kg Tournament in 2010, there has been a strong appetite for Oron Deachkalon Sumalee to fight there again.  During this tournament Deachkalon fought Jonno Chipchase in the first round, Rung Kharnparn in the semi finals and Keith McLaughlin in the finals.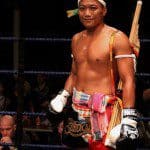 Since his epic battle with Keith McLaughlin in the finals which finished with Mclaughlin being unable to come out of the corner for a deciding fourth round, Deachkalon has become somewhat of an iconic figure with young nak muay in Scotland.  Since Sumalee Boxing Gym (the Muay Thai training camp in Phuket where Deachkalon is one of the business partners) opened in Deember 2011, many students from Scotland have been over to train at the camp.  Interest in Sumalee Boxing Gym amongst the Scottish market has been fuelled by our sponsorship of Craig Dickson (Formerly from SMTC Gym) and our forthcoming sponsorship of Jordan Coe (Carnage Gym).
It was the idea of the owner of Carnage Muay Thai, Colin Anderson, to invite Oron Deachkalon over to the Falkirk near Edinburgh to provide seminars to his young students at the gym.  When John O'Brien, promoter and owner of OB Muay Thai in Paisley, heard Oron Deachkalon was going to be in the area he was keen to have him to fight one of his own students, Robin Downer.
Oron Deachkalon's trip to the UK was jointly sponsored by Sumalee Boxing Gym, OB Muay Thai and Carnage Gym.  During his time in Scotland, Deachkalon caught up with friends old and new, giving displays and seminars to students from the following gyms: Mmag, Carnage, OB Muay Thai, SMTC and Aberdeen Muay Thai group.
Oron Deachkalon's fight with Robin Downer took place in the spectacular venue of Paisley Town Hall.  It was a perfect setting to highlight the contrast between the two cultures.  Oron Deachkalon is a true ambassador for Muay Thai.  Everything about his performance is steeped in Thai culture.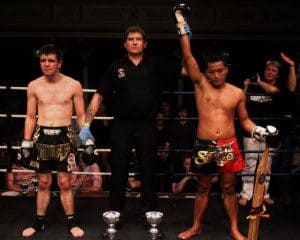 He brings his own brand of Thai culture with him when he performs, always preluding his Wai Khru with an Isaan dance which incorporates the Kaen (an Isaan musical instrument).  His fight was a master class in technique and he soon won the partisan Scottish audience over.   His much less experienced opponent was dazzled by the variety in Deachkalon's armoury.  Whilst Deachkalon won the fight by unanimous decision, Robin Downer was valiant in defeat. The packed audience was not disappointed by what they saw, many commenting how inspiring Oron's style was.  Oron was supported in his corner by Jordan Coe and Rung Khanrparn.
John O'Brien, the promoter, has already invited Oron Deachkalon over to the UK again in June 2013.  This time he will be joined by Regency Sumalee.
by Dr Lynne Miller