It looks as if the Sumalee Strength and Conditioning Studio will be completed far sooner than expected! With the imminent arrival of a brand new power rack, the studio will be fully equipped to offer a full body workout which is essential to compliment Muay Thai training. The completion of the studio coincides with the arrival of our Strength & Conditioning coach who will be based on site. Initially he is here to offer postural analysis to new comers to the gym, offering corrective exercise programmes where required to ensure that the student's body is up to the rigours of Muay Thai training.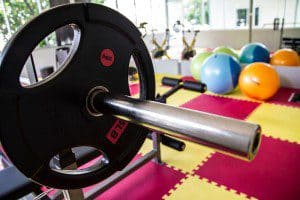 In the coming months a functional coaching programme will be offered in the studio to assist with progression in the sport. Depending on the length of the guest's stay, the coach will be able to design a personalised coaching programme to assist with strength, speed and flexibility (three very important functions in Muay Thai). As well as his Strength and Conditioning qualification, the coach will undertake a sports nutrition course which starts in the next few weeks. With a good understanding of the importance of nutrition and the way the body takes on nutrients already, this additional qualification will result in our coach being able to offer the complete package from the Sumalee Studio!
The trainers and fighters have been making full use of the facilities in the Sumalee Studio. After every group training session they head in there, pumping iron to finish off their workout. We have some long term guests arriving soon who are hoping to fight during their stay and we will be actively encouraging them to make use of the studio to give them the edge in fight preparation and during the fight. Conditioning of the body for any sport can never be underestimated, and is particularly important for Muay Thai. The opening of the Sumalee Studio and the addition of the Strength and Conditioning Coach provides a significant enhancement to the already excellent training package offered at Sumalee Boxing Gym.