By Craig Dickson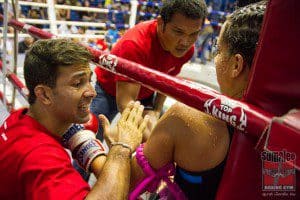 It is rare to find so devoted a couple as Mauricio and Marcela Siles in the world of Muay Thai – the perfect example of Muay Thai Matrimony. From Costa Rica, they travel the world in each other's company, their shared art fuelled by their love for one another. So far they have spent several years training in Thailand and Marcela has even been honored with a Thai fighting name, given to her by her trainers. Throughout the world she is now known as Baitong Sumalee. Baitong is the Thai word for a banana leaf and was given to Marcela because of her love of the colour green. Sumalee is the gym she trains out of in Thailand.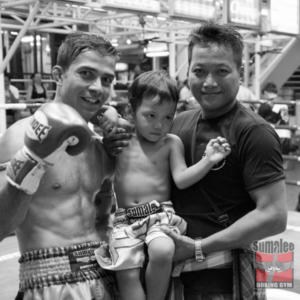 A smart, technical fighter, Mau's career spans seventeen years. With fifty-five fights to his name, his skill lies as much in his ability to think as to fight. The only child of a single mother, the now the owner of Sutai Gym in Costa Rica began Muay Thai in an attempt to create his own image of man. Many fighters, as like as philosophers in their search for truth or meaning, lack definite male role models. The urge to prove to oneself, and to others, an overt and capable masculinity is a symptom of this – a will to heroism. Heroism in art stems from the notion that to live is to strive; to fight is the most rudimentary form of striving.
Kenneth Clark wrote: "The heroic involves a contempt of convenience and a sacrifice of the pleasures which contribute to what we call a civilized life. It is the enemy of happiness. But we recognize that it is man's supreme achievement."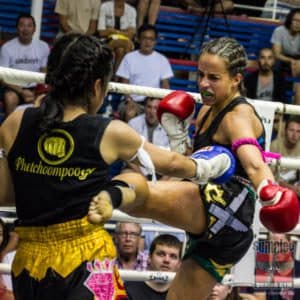 In common with many who make great sacrifice much to pursue an ideal, Mau and Marcela are articulate and intelligent. Marcela holds an MSc in Nutritional Science. Mau abandoned his veterinary studies, and later his own dream of a world title, in order to provide Marcela with the ongoing support she requires to succeed. Mau is Marcela's bedrock, providing her with both emotional sustenance and acting as her coach. Equally important to Marcela is being in the right environment. This is crucial to her being able to achieve her best in the ring. Returning to Sumalee, after a short break in their home territory, they stress the importance of having a 'home gym' in Thailand where they can share the joy of their victories with their friends and the trainers who have worked with them to help them achieve their goals.
From a middle-class background, Marcela's home differs as much from Mau's as her reasons for fighting. Whereas Mau enjoys the sensation of being highly skilled and a dangerous weapon in the ring, Marcela fights to prove to herself that she can achieve greatness. With 46 fights to her name, performing to her highest potential is her only aim. Marcela's quest for a world title has led the couple from Panama to Malaysia, from Las Vegas to Thailand. Marcela's only fear – not showing that she is capable of being, quite simply, the best in the world.
Pain and sacrifice is no barrier to either one, yet Marcela has certainly forgone the greater worldly comforts of the two. Now so close to the final objective of a world title, the pursuit of this consumes both their lives. Indeed Marcela is clear that money cannot buy the feeling of accomplishment associated with such endeavor; Mau applies himself with complete devotion to the achievement of their dream. "Obstacles which present themselves can be overcome with enough sacrifice", says Marcela. The difficulties of realizing this dream are the real lessons to be learnt. Neither holds any regret for the life they so single-mindedly pursue. Mau states that victory is not an end in itself – it must be credible, and earned. As time moves forward, and the couple begin to think of raising a family, they see one last effort to the achievement of the status of world champion as Marcela's valedictory goal. Before giving herself to motherhood – something she says she cannot share with Muay Thai – one final, heroic, triumph must be gained. Working within the framework provided to her by the trainers at Sumalee, I for one hope that both their dreams are realised. I am sure my feelings are shared by all the team at Sumalee Boxing Gym.
Since their return to Sumalee only two weeks ago, the husband and wife team appeared on the same fight card at Bangla Boxing Stadium on September 4th. They both won their fights; Mau with a TKO in the second round, and Baitong with a points decision.
Who knows what lies ahead for Marcela and Mau? One thing we can be sure of is that they will be in it together, helping each other achieve their short term goals and long term ambitions.