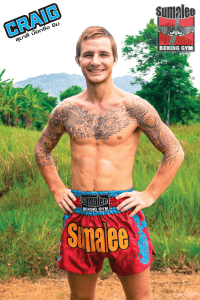 It has been an exciting few months for Sumalee Boxing Gym. Being the newest camp on the island of Phuket we are constantly developing our facilities, training, and one of the most important aspects, our team. Since joining us in August 2012 our young Scottish sponsored fighter, Craig Dickson, has made a big impression on the fight scene in Phuket. From his explosive first fight at Bangla Boxing Stadium against Jesse Phuket Top Team, Head trainer Oron 'Deachkalon' Sumalee quickly realised his potential.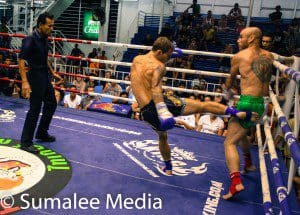 After this it seemed he also caught the attention of Bangla Boxing Stadium in Patong, Phuket. Ever keen to promote exciting fights for the thousands of tourists that flock here every year they pitted him against solid stadium regulars such as Victor Dragon Muay Thai. Victor and Craig  have fought twice with Victor taking the first match and Craig taking the second. Both fights were thrilling to watch and we're sure to see them battle again in the future.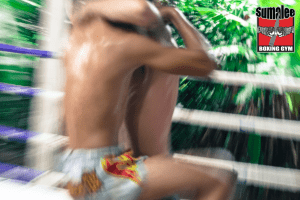 In his first couple of months with us his talent and focus in training became apparent. He seemed to have a very natural striking style and was very resilient. One aspect of his training we targeted for improvement was clinching. Although not practiced heavily in western countries, in Thailand, clinching is an essential weapon in any nak muay's arsenal. A good performance in the clinch can score heavily and often mean the difference between a loss and a win when a fight goes to decision. With the "clinch master" Oron as his mentor, Craig soon developed this side of his game. This was demonstrated in his first Sumalee fight against a Thai adversary, Vilachai, who is a seasoned and respected fighter from Trang.  Craig won this fight with a Round 4 KO.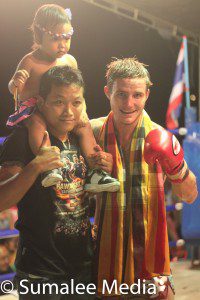 It seems Craig's momentum is hard to stop. In his most recent match he was asked to fight at the Rawai Muay Thai 9th Anniversary Fight Night at Nai Harn beach. His opponent was Chalam Khao, a Rawai Muay Thai trainer and fighter with hundreds of fights under his belt. This highly anticipated fight stacked the odds against Craig who had limited experience in comparison. After 3 rounds many would have said Craig was on the 'back foot' but his sheer strength and sharp reflexes allowed him to cut Chalam Khao in the 4th round. This led to a lot of blood loss, followed by clinically accurate finishing blows by Craig to take the win, and the trophy for fight of the night. Truly a landmark fight in his career.
Craig Sumalee Boxing Gym's next fight is on the 23rd November. As usual he is being pitted against one of the strongest fighters Phuket has to offer, in this case Anvar Lion Muay Thai. Moving into 2013 we are expecting big things and big fights from our prodigy and are confident that with the support and training from Sumalee Boxing Gym he has an even bigger future in the noble sport.
To see all of Craig's fights head to our YouTube Channel (make sure you subscribe!) and follow us on Facebook and Twitter for daily updates from the camp.

Do you think you've got what it takes to train and fight with us in Phuket, Thailand? Click here or on the picture below to find out how you could win 2 months free training and accommodation with us in 2013 with the Sumalee Scholarship In Muay Thai.