Oron Deachkalon is from Ubon Ratchathani in Esaan, Thailand.  He started his training as a Muay Thai fighter when he was 13 years old at Sor Sumalee gym in Ubon.  This gym has produced many famous fighters including: Lamnammoon; Jompohlek; Superlek and of course Oron (his fighting name when he was at the gym was Deachkalon sor Sumalee).   During this time, Oron went to Japan to fight on several ocassions.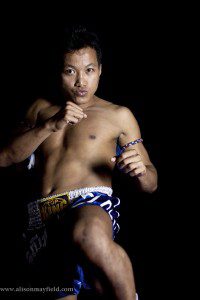 In is not unusual in Thailand, especially in the North East, for parents to give their male offspring to the local gym if they are unable to provide for them.  The gym provides for their day to day needs whilst training them to become fighters. If they become successful fighters, the gym's early investment in their care is returned handsomely.  This is what happened to Oron.  His father had a motorbike accident and was unable to meet the expenses incurred as a result of this and care for Oron as well.  When Oron was taken to the gym he was extremely distraught at having to leave his home in Ubon Ratchathani, Naa Gae City.  He cried everyday for a week and refused to eat anything at all.  He soon realised, however, that training was his only option and Muay Thai became his lifeblood.  He still received the support of all his neighbours in Naa Gae City, who used to turn up for his fights by the truck load even when he fought in Bangkok.  When he went to Naa Gae City recently, after an abscence of many years, he was welcomed like a returning hero.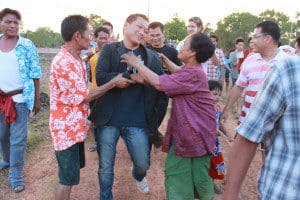 He started fighting in Bangkok from the age of 15 and continued to appear at Ratchadermneon and Lumpinee stadiums until he was 24 years old.  He was ranked Number One at Lumpinee and Number Two at Ratchadermeon.  He has had over 300 fights, winning at least 250 of them.  His most significant achievements are:
Finalist at Ratchadermneon at 122 lbs
Champion Lumpinee at 122 lbs
World Boxing Council Champion at 122 lbs
UK Superfly Champion at 59 kgs
At the age of 24 Oron moved to the Chiang Rai area of Northern Thailand.  As this took him out of his native Esaan, he decided to build into his routine something from the area he loved in order to recognize its contribution to him as a person and a fighter.  His Wai Khru is unique within Thailand as it begins with an Esaan dance where Oron plays the Kaen (an Esaan flute made of bamboo).  Oron's Wai Khru is recognised thoughout Thailand and he has appeared on many television shows because if it.  He has also appeared on the game show Pan Naa (A Thousand Faces) and in numerous magazines and newspapers.  His Wai Khru is now so much part of his repertoire, that in recognition of this, he named his recently born son after the Esaan instrument he plays – Kaen.
In 2009 Oron moved down to Phuket to pursue a career as a Muay Thai trainer.  Oron is accredited as a Muay Thai trainer by the National Sports Authority of Thailand.  He is an excellent trainer and people from all over the world come to train specifically with him.  As those who have trained with Oron will know, not only does he take care of their training needs but looks after them in every way he can.  He is still very active on the fight circuit and regularly fights in Phuket and other local stadiums in Southern Thailand.  In 2010 Oron did his first trip to the UK where he offered seminars and training in Essex and Hampshire.  During his time in the UK, Oron fought in the UK Superfly 59 kg tournament and won.  He won more money for this fight than it would have been possible for him to earn as a trainer in two years of working in Thailand.  It is anticipated that he will go back to the UK late this year or early next year to defend this title.
Everyone who knows Oron could not help but agree that he is a great personality.  Not only is he an entertainer as a fighter, but he has a truly amazing singing voice as well.  He has won many singing competitions and loves to entertain his students with his singing.  Not only that, he ia a great cook too!