At Sumalee Boxing Gym, we are always excited to take on tough matches.  Accordingly and fresh off a decisive win over Daraeak Sutai Muay Thai, our trainer Max agreed to a bout against dangerous boxer, Torkeb Sinbi Muay Thai at 59 kg.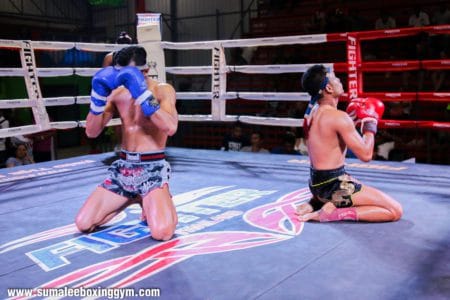 In the first round, Phunkorn utilised his range using his teeps and jabs to keep Torkeb at a distance.  Torkeb was intent on knocking Phunkorn out using heavy punches.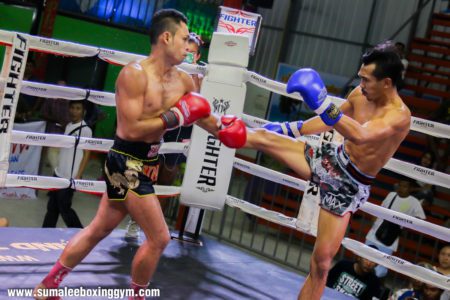 In Round Two, Torkeb attempted to close the distance by changing his attack to low kicks. He was able to land some clean shots, but Phunkorn replied to these with solid body kicks and teeps.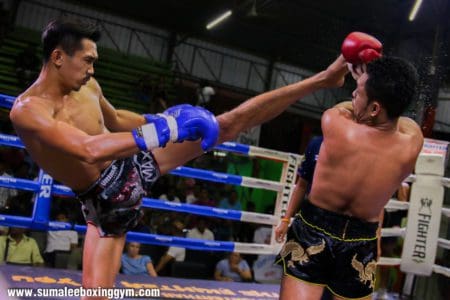 The third round saw both fighters starting to exchange body kicks, with Torkeb throwing heavy punches again in an effort to knock Phunkorn out.  However, Phunkorn was able to control the distance and stay out the way by using teeps and left kicks.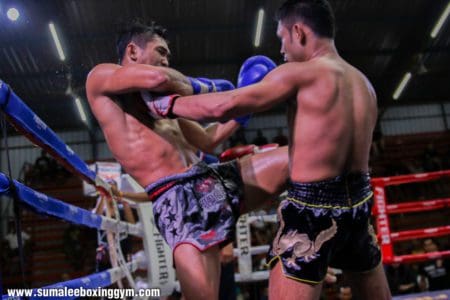 Sensing urgency, Torkeb came out swinging in the fourth round, throwing barrages of punches and low kicks to try and hurt Phunkorn.  It was to no heed as our fighter kept his composure and landed a solid left knee which stunned and winded Torkeb. As the round went on, Torkeb was visibly tired from his failed knockout attempts. Phunkorn finished the round strongly, picking his opponent off with big knees and kicks.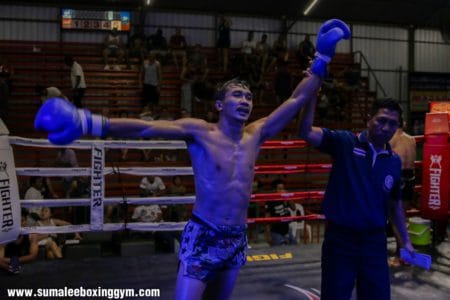 In the last round, Torkeb Sinbi Muay Thai made a final attempt to get the win by throwing wild punches. Phunkorn again used his knees and teeps to stop this attack.  He landed a strong right body kick which saw Torkeb retreat to the opposite end of the ring, staying back from Phunkorn until the final bell sounded. Phunkorn was declared the winner on points.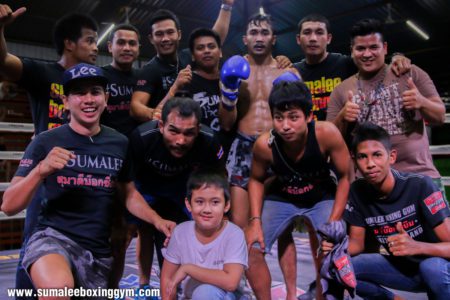 Watch the full fight video here.