The Sumalee supporters were out in force on Monday February 27th at Patong Boxing Stadium.  Phunkorn (Khru Max) was facing a rematch fighter against Daraeak Sutai Muay Thai and Gustavo was fighting his first A class Muay Thai fight.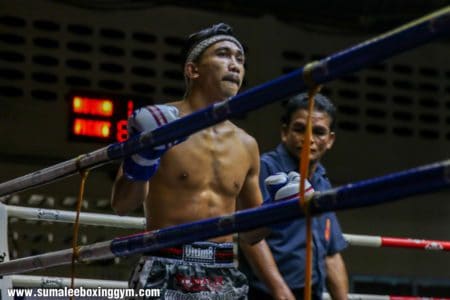 The first fighter to represent Sumalee was Phunkorn who is currently riding on a 4 fight win-streak. Daraeak is a well-known fighter who has just recently won on Super Muay Thai via knockout. This was set to be an exciting fight as Phunkorn had defeated Daraeak last year.  Daraeak requested the rematch.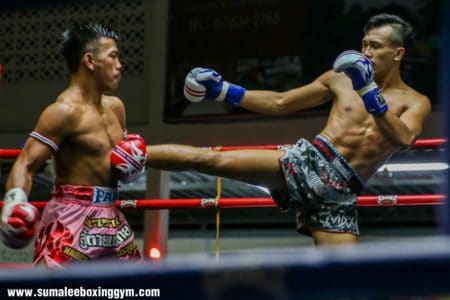 The fight started at a slow pace with both fighters trading teeps and jabs. Phunkorn, being the lighter but taller fighter, used the ring and attacked with caution.  It was clear from the start Daraeak was looking for a one-punch knockout.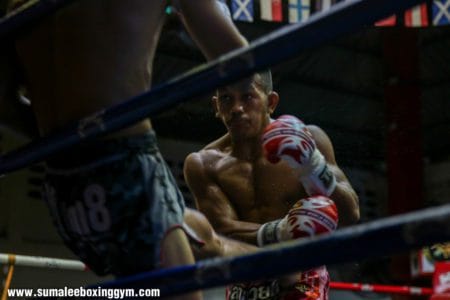 Daraeak continued to look for the knockout only to find himself countered by vicious body kicks from Phunkorn. In the middle of the round, Phunkorn scored a few punches of his own mixing things up with teeps and kicks.  During all of this round Daraeak was still looking for Phunkorn's chin.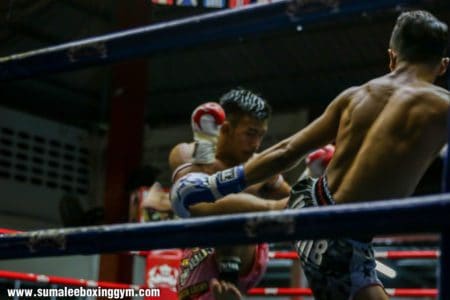 In Round Three Daraeak landed a body kick at the out set but with every kick landed, Phunkorn would counter with a kick of his own pushing the pace of the fight. Daraeak found some success towards the middle of the round landing an elbow stunning Phunkorn.  However, Phunkorn recovered and used his height advantage to land long knees stunning Daraeak in return.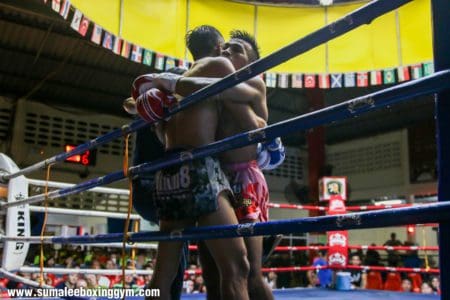 Round Four saw both fighters trading kick for kick from the start.  Phunkorn got the better of the exchange forcing Daraeak to close the distance and enter the clinch.  This happened repeatedly.  Phunkorn used this to his advantage landing knee strikes and scoring sweeps as he exited the clinch. Phunkorn stayed active and landed kicks at will, scoring and countering his opposition.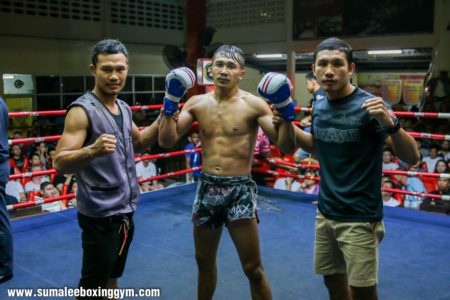 Fifth and final round saw Daraeak desperately look for the knockout once again as he knew he was behind on the scorecards. Phunkorn closed the distance which prevented Daraeak from being able to land any clean punches, scoring with his own kicks and knees. Daraeak tried to land a cartwheel kick, made famous by Saenchai, only to stumble.  Phunkorn countered by a big right body kick. The round finished with Phunkorn scoring teeps and left kicks, ultimately winning him the round.  Phunkorn was declared the winner.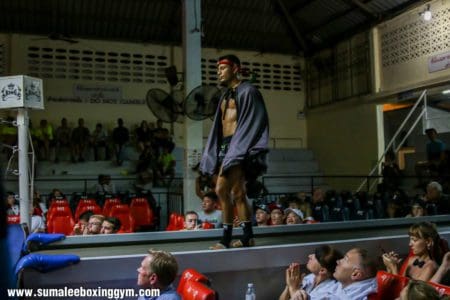 The second fighter to represent Sumalee was Gustavo Navarrette from The United States of America.  This was Gustavo's first A class Muay Thai fight and he faced a Thai opponent called  Klaikangvol Sor. Tnaiwat.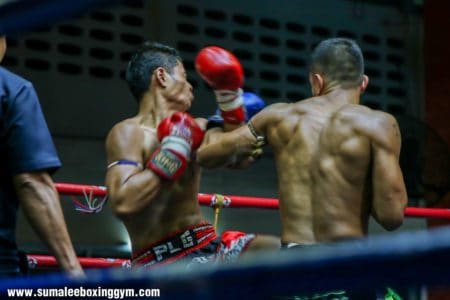 Gustavo wasted no time landing clean punches on his opponent, mixing his attacks with low kicks. Both fighters traded punches with Gustavo landing a big left hook knocking out his opponent clean.  He was declared the winner.
Watch both fight videos at the bottom of the page.