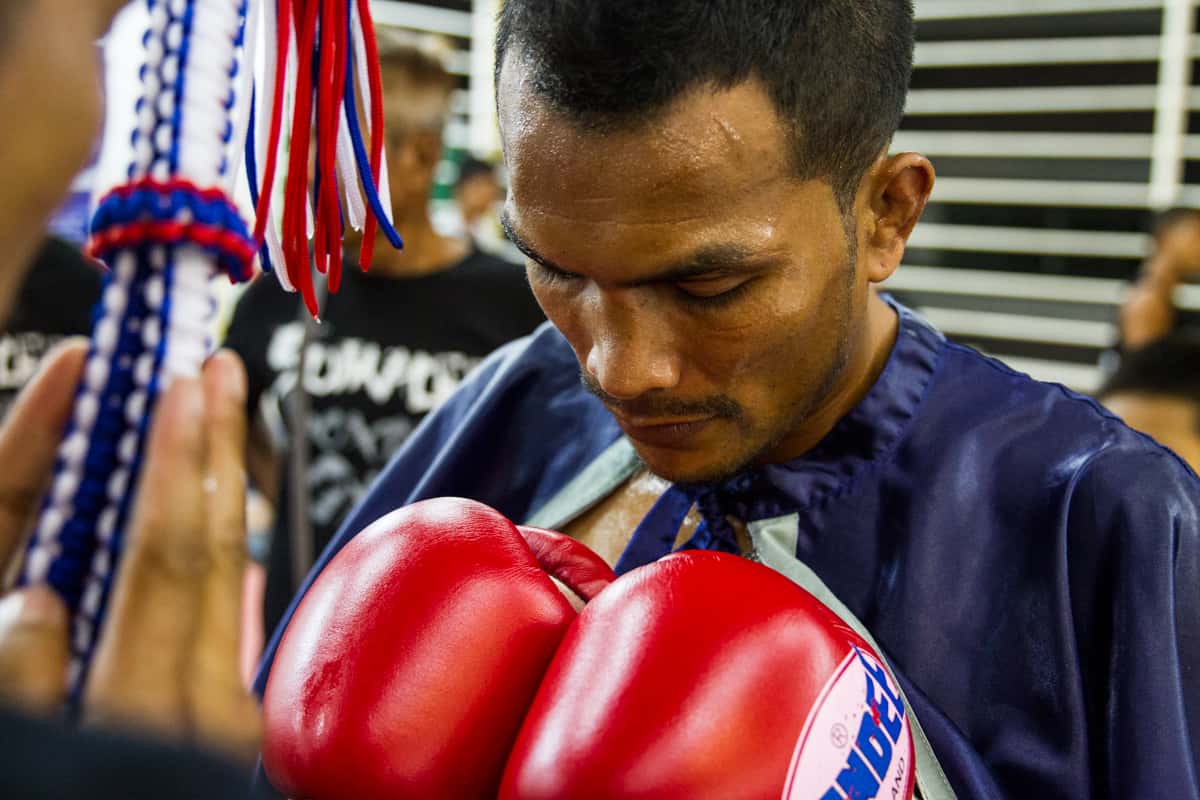 Overview
2015 was an enormously successful year for Sumalee Boxing Gym. In this post we want to let you know about the progress we have made within the world of Muay Thai, and locally in Phuket.
Sumalee Boxing Gym Logo
We began the year by revamping our company logo. So much had happened since opening our doors in late 2011. We felt that a new look was the perfect way to reflect a new period in the gym's history. The collaborative design between our Marketing Director, Mike Davis, and graphic designer, Sam Surplice, retained many of the iconic elements of our old logo but with a sleeker, more contemporary style.
New Sponsors
Last year the Sumalee Boxing Gym had the pleasure of welcoming two new corporate sponsors, namely Ultim8 FightWear and Boomzap Entertainment. Ultim8 FightWear is a Hong Kong based Martial Arts clothing and equipment company. Ultim8 produces a very distinctive style of fight wear. Together we have created a new collaborative range of clothing to strengthen our brands. Boomzap are a casual games developer and publisher based in South East Asia. They have developed over 40 game titles on various platforms.
Sandee Sponsor
We have continued to work very closely with our original sponsor, Sandee Thailand. We had an exciting start to 2015 by sponsoring the hugely successful 'Sandee Junior Open Championships', held in the UK. This got our name out to some of the brightest Muay Thai prospects currently in the UK. Subsequently, we were fortunate to have two of Britain's top young female fighters, Chantelle Tippett and Dakota Ditcheva, come and train with us. Since then Dakota has received considerable media attention. Most notably she was named The Mirror Pride Of Sports 'Young Sports Person Of The Year' as well as 'Amateur Female Fighter of the Year' at the Awakening Female Muay Thai Awards. We are very proud that Dakota had her first full rules Muay Thai fight in Thailand representing our gym. You can see Dakota's fight here.
Room Occupancy
In 2015 room occupancy levels have increased by 15% over and above the previous year. We attribute much of the growth to the greater inroads we have made into the European market (particularly the UK), Australia, Singapore and Hong Kong where there has also been considerable growth. As well as the increase in number of students coming to stay on site, the gym has also benefitted from a considerable increase in day visitors.
East Coast of Phuket
Boat Lagoon
Much of this can be attributed to heavy investment and rising popularity of the Thalang and East Coast area of Phuket. The Boat Lagoon, which is approximately three kilometers from the gym, has been completely revamped attracting the locally famous Villa Market anchor store. The Boat Lagoon is working towards becoming a unique shopping, dining, residential and office complex.  The aim is to offer a great alternative to Phuket Town and Patong's shopping malls for people staying in the northwestern part of the island. Similar improvements are planned for the Royal Phuket Marina, which adjoins the Boat Lagoon.
Cape Yamu
Another exciting change to the East Coast has been the development of the Cape Yamu area. Formerly a small fishing village, Baan Yamu, it was often overlooked by visitors to the island. The opening of Point Yamu by Como on the Cape's head has changed all that. Point Yamu is one of the most prestigious hotel brands on the island and overlooks the stunning Phang Nga Bay. This is where we feel visitors can get the best of Phuket – small scale, tasteful development in an area of outstanding natural beauty.
Local Changes
A particularly interesting development in the immediate area, and one that will significantly benefit our students in the future, is the luxurious 'Royal Gems Pavilion' retail and leisure complex.  It is being built right beside Heroine's Monument roundabout. For once the architecture is fabulously iconic, imitating the infamous sino-portuguese style. Details are still emerging but we have been reliably informed that the development will contain exclusive retail outlets, restaurants, an 8 screen cinema and bowling alley – all within walking distance of the gym. This is just the sort of entertainment our customers have been looking for.  We believe no other gym can offer such immediate access to this type of facility.
Revamp of Shop and Restaurant
Last year we promised that we would be working on our reception area/shop as well as the Ringside Restaurant branding. Mike Davis has created a completely new look shop and reception area for us with the help of Sun (our office manager) working on custom designed fixtures and fittings. During his time here, Sam (SBG Nutrition) worked with Rhian (Restaurant Manager) to develop a delicious new menu for the Ringside Restaurant. As usual our menu focuses on additive free and healthy foods. Since the new menu has been introduced uptake and turnover in the restaurant has increased significantly by 27%. Mike also developed a new logo for the Ringside Restaurant, which we think looks fantastic.
We are now working to improve the design of the Ringside Restaurant. Our main focus while we are making these changes will be improving colour and ambiance. So far we have implemented a softer lighting system.  Additionally, we commissioned a local seamstress to create beautiful new cushions for our dining area. There is a lot more work to be done and we will keep you informed as we make more progress. We have already made a start on improving the lighting throughout the gym site generally. As well as looking great, this will also improve safety at night.
Nutrition
During the last year Sam has also been working with the sponsored fighters on their nutrition.  He has been helping them particularly with fight preparation and making weight. Sam's scientific and progressive approach to weight loss has proven extremely effective in an environment that is often ruled by tradition. Once again our sponsored fighters have done a brilliant job representing the gym. The have fought on some of the best promotions, in the greatest stadiums and against some of the most well known fighters currently on the circuit in Thailand and elsewhere. This year alone they have appeared at Thai Fight, Lumpinee Stadium, the Omnoi Stadium (Ch.3 Stadium) and Z1 International.
Some Changes
As always, especially in a Muay Thai business in Thailand, there have been some changes in staff and team members during the last year.
Sponsored Fighters
Unfortunately the period of sponsorship for our Scottish fighters, Craig Dickson and Jordan Coe, has now ended. We have enjoyed working with them both enormously and cherished seeing them grow as fighters and as people. Team Sumalee sincerely wishes them both the very best in their future endeavours.  We would like to thank them for their contributions during their time with Team Sumalee.
Joe le Maire
Earlier this year we announced that Joe Le Maire had been signed as a sponsored fighter from June 2016. Joe, from Unit 1 Gym in Bury-St-Edmunds in the UK, has made quite a name for himself already at only 17 years of age. The Flyweight fighter has seen huge success over the last year both locally and internationally.  We are confident that a year of sponsorship with us will enable him to achieve his goals.
Liam McKendry
Also joining us for a year of training and fighting is Liam McKendry, from M-MAG Gym in Scotland. Coming off a short break from fighting for most of 2015 Liam visited us last November.  Whilst he was here he celebrated a victory at Bangla Boxing Stadium. We feel that Liam has a lot to offer and hope that we can help him reach his full potential during this coming year.
Staff
Sadly, after four years with us, Mike Davis has decided that it is time for him to return to the UK for a while. Mike has made such a great contribution over the last four years and has generally made his mark on the business, particularly through his photography skills. We are sure everything he has learnt here will be put to good use in his future chosen career. Mike has been an outstandingly loyal member of staff and will be very much missed.
Gunn Taylor will replace Mike going forward. Gunn has been brought up in the UK, but he is a Thai citizen and is fluent in both spoken and written Thai.  This is a valuable asset to us. We know that Gunn will put his own stamp on the media output in the future.  We look forward to watching his skills develop. Some other recent additions to the team are two new trainers, Khru Beng and Khru Lib.
Targets for 2016
Our key objective for 2016 is to increase our visibility within the local and wider Muay Thai community. In this respect, our media will increasingly have Thai language posts as well as English. Furthermore, if the opportunity arises, we are aiming to acquire an up and coming Thai fighter to join our team.
At Sumalee Boxing Gym, we try to keep ahead of the game. Most of you will be aware that we are working in an increasingly competitive environment. I see it as my personal responsibility to distinguish our services from that of other Muay Thai gyms in Phuket. I feel we have carved a clear niche in the market and are currently working towards greater diversification. As always we will endeavor to push the boundaries, and invite you to become part of our ever-growing community.
Thanks for another great year!