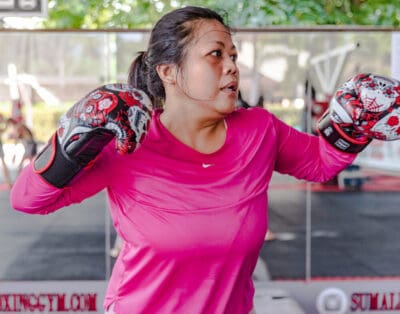 The endless beaches, turquoise water, and breathtaking views are just some of the things that draw the solo traveler to Thailand. However, there is so much more to the land of smiles than a blissful paradise setting.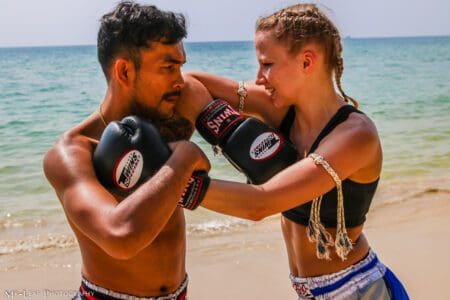 Thailand is the birthplace of Muay Thai, so if you love martial arts, fitness, and Thai culture, why not try a fitness holiday with Muay Thai and Yoga? A Muay Thai retreat offers an experience much more unique than a traditional holiday and is ideal if you're a solo traveler. You'll learn new skills and get ripped while having the time of your life and connecting with like-minded people!
However, before you jump on the plane, there are many things to figure out; What exactly is Muay Thai? Do they accept newbies? Am I fit enough to survive Muay Thai training? 
Muay Thai for the solo traveler can be scary, especially if you are new to the sport. But what is waiting for you on the other side of fear is well worth the risk. So, if you're wondering how to find the best Muay Thai gyms in Thailand for the solo traveler, read on.
Considerations for a solo traveler when choosing a Muay Thai gym in Thailand
Your intention 
This is the starting point for choosing the best Muay Thai gym for you. Your intention will determine everything else. What are you looking to take away from this experience? Do you want to become the next Muay Thai world champion, or do you want to have an active vacation to help you get in shape while still enjoying the places around you?
If you're a solo traveler, you may want to feel part of a community and meet new people with the same intentions as you. However, if you're keen to up-level your skills, you may prefer an isolated place with no distractions to focus on your learning.
In Thailand, you can find the authentic Muay Thai experience, a luxurious "westernized" retreat, or a combination of both. Some gyms are very basic, with only the minimum requirements for training. Others have spas, pools, and cocktail bars built-in, so be sure to research the facility beforehand to know what to expect and avoid disappointment.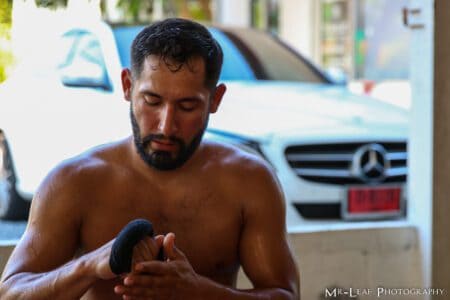 So, before booking a Muay Thai retreat, get clear on your goals, expectations, and what outcome you're looking for from this experience.
Your experience level 
Another essential factor to keep in mind is your experience level. Are you a complete beginner? Have you ever done a martial arts class before? What is your fitness level?
If you have never stepped into a gym before, you'll want to make sure that you choose a beginner-friendly facility, not a fighters-only gym. If you're attending a retreat, ask how the training will be tailored to your level. For example, the classes may be mixed level, or beginners may receive separate training from the intermediate students.
Location
The location you choose is another crucial element that will determine the quality of your experience. 
You may find a very authentic Muay Thai gym, but it could be located in no man's land and a 40-minute ride by car from the nearest city. This could be great if you are looking for a monk-like experience and want to laser focus on training. But if you're going to Thailand to enjoy the beaches and nightlife and explore temples and other sights, look for a tourist-friendly destination instead. 
There are many great places to train Muay Thai in Thailand, but without a doubt, Phuket is one of the best. Phuket has the highest number of Muay Thai gyms in Thailand and a huge fitness community. In addition, the island offers some of the most breathtaking landscapes with famous beaches seen in movies. 
The size of Phuket is perfect too. It's a 48×21 km island with various neighbourhoods; thus, it's small enough to establish roots but big enough to explore without getting bored. Plus, as one of the most favoured places in Thailand and an expat/digital nomad hotspot, it's an easy place to build relationships, making Phuket very popular for the solo traveler!
Food, accommodation, and budget 
Some Thailand Muay Thai gyms offer "train & stay packages," which can be an easy and convenient solution. Staying at the facility can also offer a feeling of safety for the solo traveler who are visiting alone and for the first time. This is especially true if you stay with a reputable gym that is well-known in the community like Sumalee Phuket. 
The quality of the accommodation will depend on the gym or retreat centre. Shared rooms are great if you're highly socialable and want to save money. However, private rooms are available if you value your rest and alone time. 
Staying at the Muay Thai gym also means fewer things to worry about. Some facilities offer packages that include daily meals. For example, at Sumalee Phuket, we specialise in performance nutrition to fuel your training and aid recovery. 
Schedule & extra activities 
If you're booking a Muay Thai retreat as a solo traveler to make the most of learning new skills or improving your game, you'll want to make sure that the gym you choose offers a regular schedule of Muay Thai classes six days a week.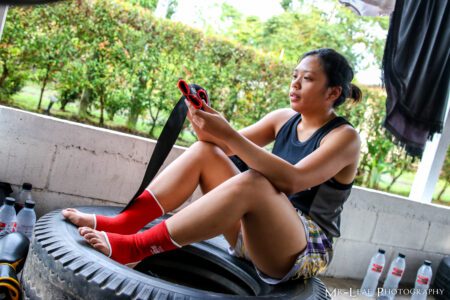 Some gyms also offer other fitness or wellness classes, such as yoga. Yoga is a great complementary activity to Muay Thai as it accelerates your recovery, prevents injury, and increases your flexibility. Plus, as a calm, relaxing activity, it is an excellent contrast from a high-pace sport and provides a much-needed break for your body and mind!
Most gyms will be able to organise group sightseeing excursions and day trips. However, it's super easy to organize these things with other students once you arrive, too.
Final thoughts for a Solo Traveler
As a solo traveler to Phuket, take time to research the best Muay Thai gyms. Check out their reviews on TripAdvisor and Google.  Don't hesitate to contact them directly either, as learning more about what they offer will help you determine if it is a right fit. When traveling on your own, it's essential to find a gym or retreat centre that feels safe and like home!
____________________________________________________________________________
Thanks for reading! For more tips, tricks and bits of advice, follow us on Facebook and Instagram, or sign up for our special offers on the Sumalee Boxing Gym website.
If you have any questions about Thailand or if you need more information please contact us on info@sumaleeboxingboxinggym.com.  For updates on and information from Sumalee Boxing Gym please either subscribe to our mailing list via the home page of the website.