This week we had two fight nights, at Patong Boxing Stadium and Bangla Boxing Stadium on the 15th and 16th respectively.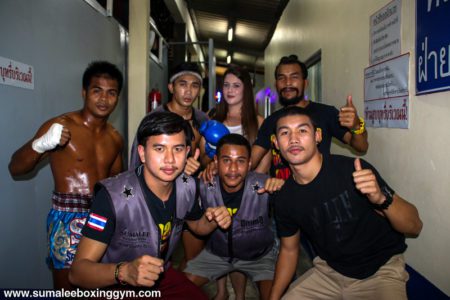 On the first night at Patong Boxing Stadium we had trainers Phunkorn (Max), Sornsin (Pak), and fighter Petbarporn (Jet) on the card.  As this was Pak and Jet's debut for the gym, there was a strong crowd from the gym to support the team.  Max is a strong draw as well, particularly because he excellent technical ability which enables him to fend off larger opponents.  His last fight again Deraeak Sutai was a clear demonstration of this and our customers were anxious to see him fight again.  They were not to be disappointed.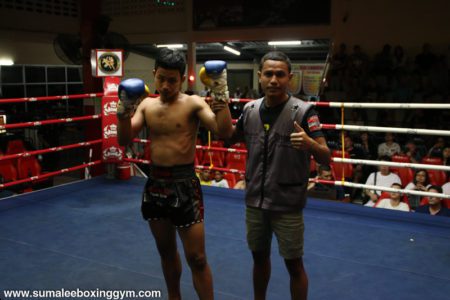 Up first was Jet, making his return to the ring after a year-long break. He is extremely dedicated to the sport and is often seen at the gym training well into the evening as his work schedule prevents him from attending our group training sessions.  He faced a heavier opponent.  He started the fight at a fast pace, using his boxing to give his opponent an 8 count early on. His opponent recovered but Jet continued to apply pressure and a high work rate, overpowering him and winning by  TKO in Round One.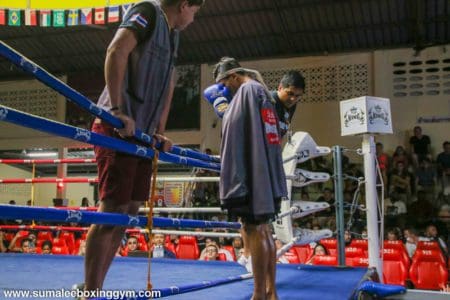 Our second fighter at Patong Boxing Stadium was trainer Max, who was against a Korean opponent from Tiger Muay Thai. Again, Max faced a bigger opponent in both height and build.
In the two opening rounds, both fighters traded kicks.  Max looking to keep his distance and fight smartly against his opponent who was coming forward with strong boxing, looking for the knockout.  Max, however, kept his cool and stayed well in control of the fight.
Round three saw Max outclass his opponent, landing countless unanswered body kicks which visibly hurt and slowed his opponent down.  In addition he managed to avoid counter-attacks.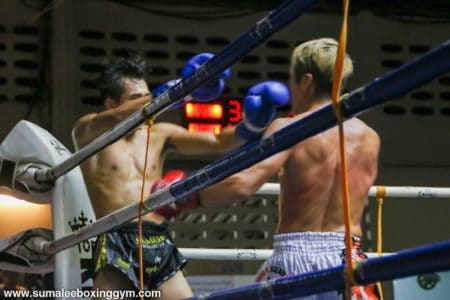 In the fourth round, with his opponent closing in with boxing, Max utilised his elbows to break his rhythm.  His vast experience and carried him through, continuing to score throughout these attacks. Towards the end of the round, Max was caught with a clean left hook.  This had the corner team concerned as Max has a tendency to trade punches when he is hurt.  This would have been dangerous as his opponent in this instance had a big size advantage.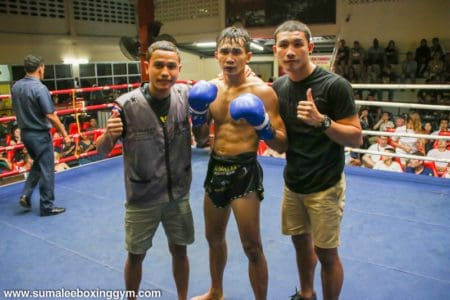 The final round went at a fast pace, with Max's opponent looking for the knockout. Max again used his experience to keep his opponent out of range and score points with long teeps and body kicks.
At the end of five hard-fought rounds, Max was declared the winner of the bout.
Our final fight at Patong Boxing Stadium for the evening featured Pak, who faced a trainer from Rawai Muay Thai.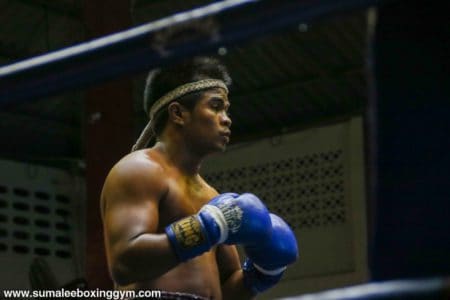 For the first round and the majority of round two, both fighters were cautious and tested each other's skills before upping the pace. At the end of the second round, the two clinched and threw elbows, an exchange which left Pak with a cut early in the bout.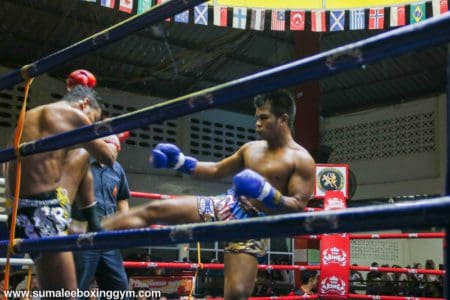 From Round Three onwards, both fighters came forward aggressively.  Pak responded to his opponent's wild punches with strong body kicks. Throughout the round, Pak's opponent taunted him, trying to lure him into making a mistake. Despite this, Pak kept his cool and continued to outscore his opponent. The end of this round also saw a head kick being thrown at Pak after the bell, luckily this did not faze him.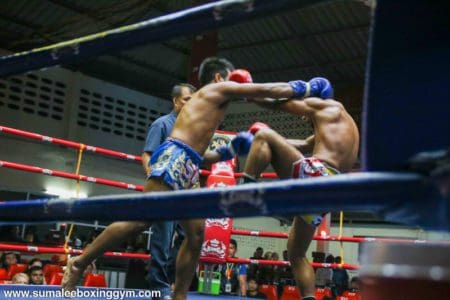 Pak was instructed by the corner at the beginning of Round Four to clinch and sap his opponent's energy, as Pak was much stronger in the clinch. This advice paid off and Pak was able to outscore his opponent throughout the round.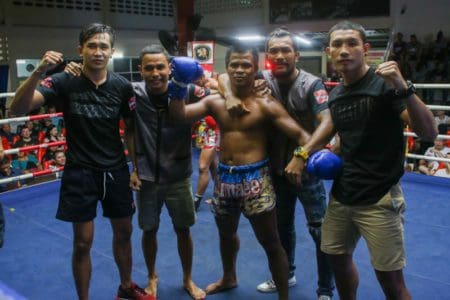 After 4 high-paced rounds, both fighters were visibly tired.  However, Pak continued to press forward with his attacks until he was certain he had secured the win, making the night a clean sweep for Team Sumalee.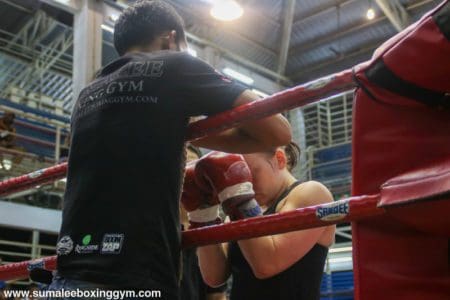 The following night at  Bangla Boxing Stadium, we had visiting British fighter, Kat Holden in her first A class bout. Kat had been told who her opponent was and was prepared for this particular fighter.  However, on the night she was given a different opponent.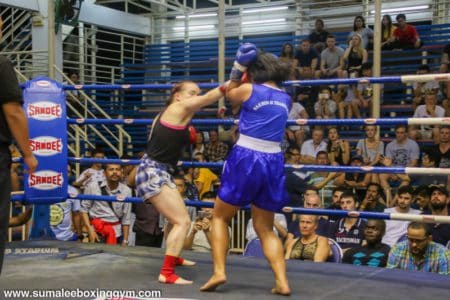 Kat started the fight at a fast pace, with strong boxing combos. Her opponent returned these with equally strong body kicks.  Although young, her thai opponent was a good counter fighter.  This enabled her to control the pace in rounds one and two.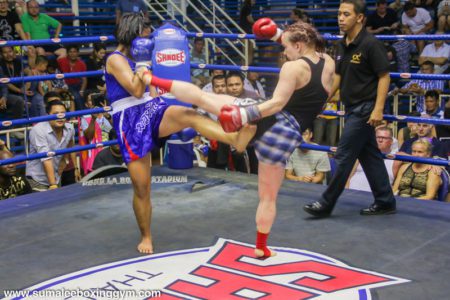 In Round Three, Kat was able to land solid knees in the clinch, but her opponent's strong guard made it difficult for Kat's kicks to have the desired effect.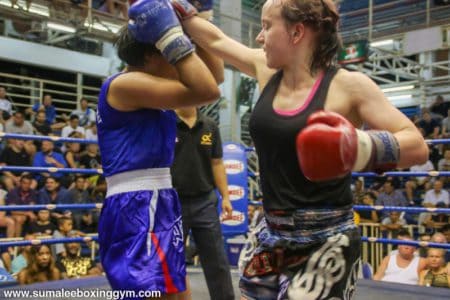 The fourth round saw Kat coming forward again with good boxing combos and having some success landing left body kicks, forcing her opponent to fight at a faster pace.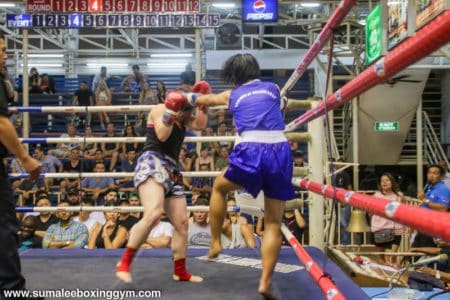 In the final round, Kat knew she would have to get a knockout to win the match, so worked her boxing from the start of the round. Her opponent again used her strong counters to ensure she was consistently scoring with body kicks, which ultimately won her the bout.
Check out all four fight videos at the bottom of the page.