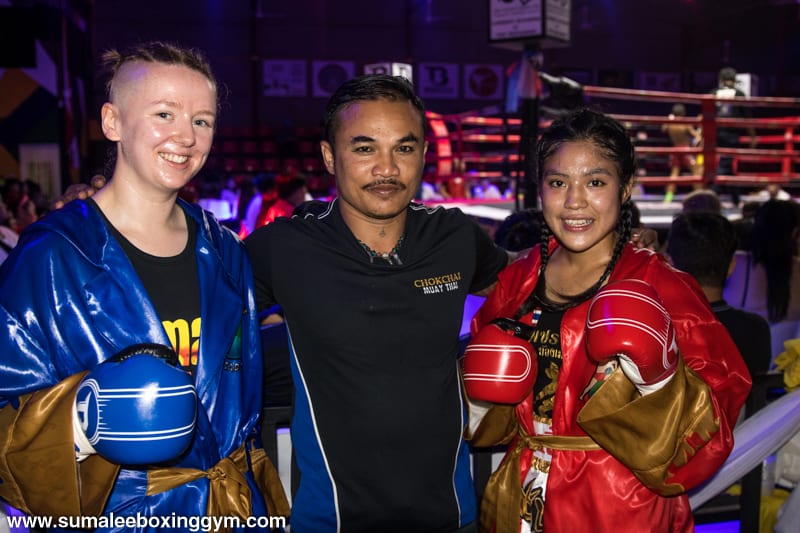 On Thursday 8th December Sumalee Boxing Gym resumed their fight program at Chokchai Stadium following a month long embargo on all Muay Thai fights in Thailand.   On the card was Scottish fighter Rhona Walker and it was our first appearance at the very impressive new Chokchai Stadium in Chalong.  This was Rhona's third appearance for Sumalee during her extended stay this year.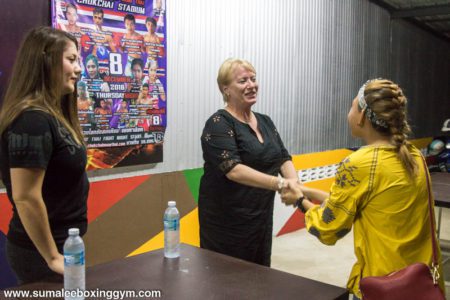 We were pleased to have the company of Solo Travel Series film crew from Singapore.  This series follows a solo female traveller around several different destinations in Asia.  In each of the destinations, the host presenter experiences activities unique to that particular place.  For Phuket, Muay Thai and Sumalee Boxing Gym were chosen as the main focus of this episode.  The first part of the episode was filmed inside Chokchai Stadium and will include scenes from Rhona's fight.
Although it was only Rhona's 13th fight, she was thought capable to matching Petchompoo, a veteran with over 40 fights to her name. This was by far the toughest test in Rhona's Muay Thai career so far.  She more than rose to the occasion, showcasing her improved skills and technique.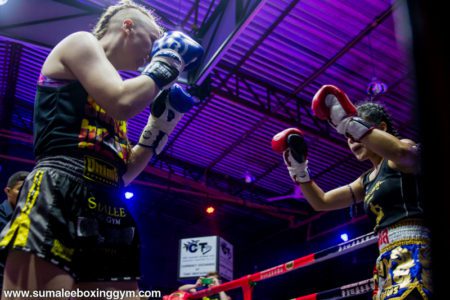 In round one, both fighters get the feel of the fight by exchanging teeps and body kicks, remaining largely kick for kick through the round.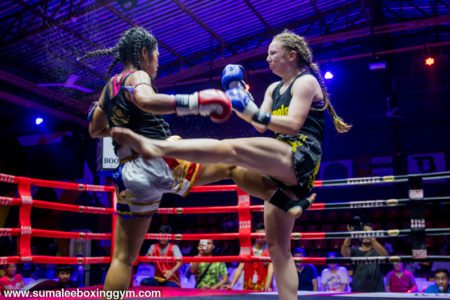 Moving into the second round, Rhona was able to find her rhythm and settle into her movement. Her techniques were effective in breaking her opponent down and nullifying her attacks.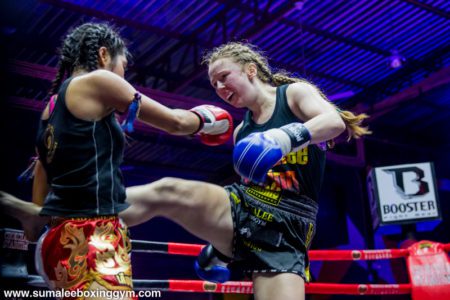 Round 3 saw Petchompoo coming out with a purpose throwing hard body kicks, which Rhona was able to block and counter.  She used movement and angles to her advantage enabling her to edge the fight. Rhona also showed improved skill in the clinch from this round onwards, managing to outwork her opponent who is known for her knee strikes.
The fourth round again started fast with both fighters throwing hard kicks to the body. Rhona gained an advantage again by landing 6 unanswered kicks at the start of the round.  This rocked her opponent and slowed her down.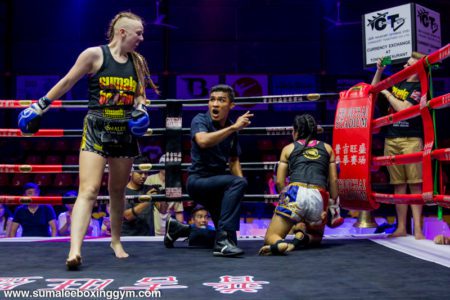 Staying composed, Rhona again used angles to create openings and land shots without incurring unnecessary damage. With ten seconds left in the round, the accumulation of heavy shots caught up with Petchompoo and she took an 8 count.  Petchompoo was lucky and saved by the bell.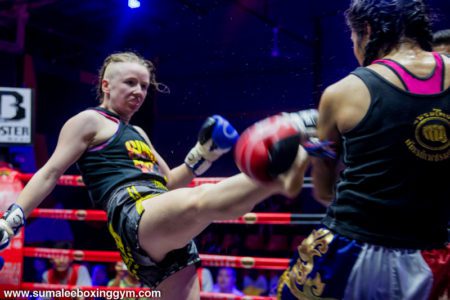 In the final round, both fighters exchanged teeps, but with Rhona well ahead on points she slowed her attack as a sign of respect and sportsmanship to her opponent.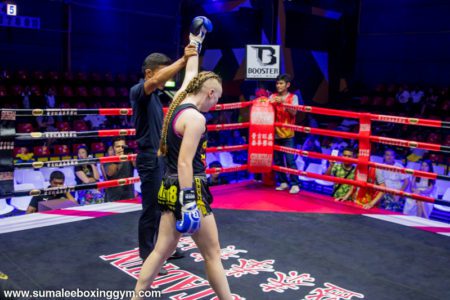 Rhona was declared the winner of the bout.  It was a defining point in her Muay Thai career and a strong win for Team Sumalee. Check out the full fight video at the bottom of the page.