By Mike Davis for Sumalee Media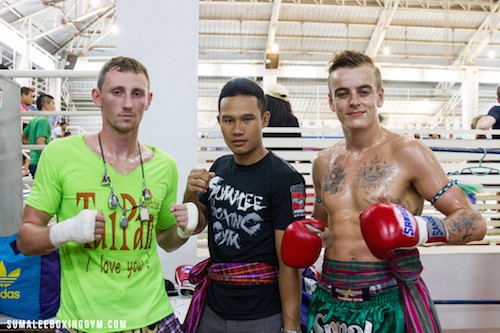 3 Fantastic wins for Team Sumalee on Friday night! Alex from Lookborai Muay Thai in Southampton, England started us off. He faced a French nak muay who struggled to cope with some strong combinations that Alex was throwing his way. Our fighter put the pressure on and ended the match in Rd 3 by TKO with a couple of powerful knees.
Martin Avery was matched with a big fighter from Rita Muay Thai. Martin shrugged off some powerful kicks and paced himself well in the early rounds. By Rd 3 Martin's attacks were starting to take their toll on the blue corner and the Brit had ended the match by Rd 4 with a well placed body kick. An impressive win!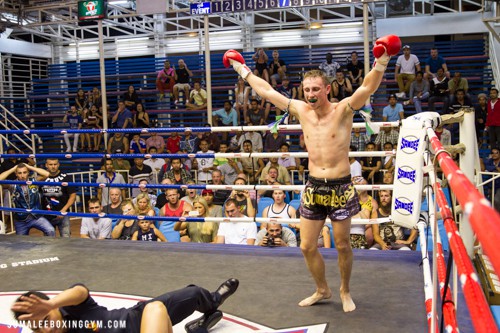 Khru Nat aka Mongkol Thong Sumalee ended the night perfectly with a strong points win over Veelachai Nongnapat Muay Thai, a regular at Bangla Boxing Stadium. His performance of the Wai Khru was beautiful and was only matched by his technical prowess and strong clinching.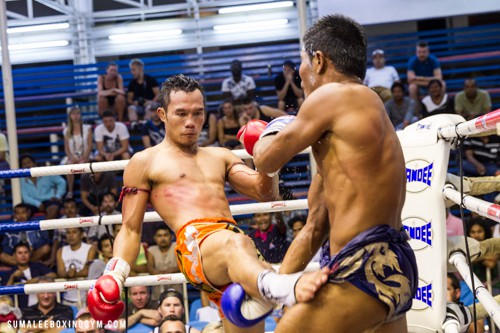 Alex Doyle Sumalee (England) VS Yanz Hussain Muay Thai (France)- Alex WINS via Rd 3 TKO
Martin Avery Sumalee (England) VS Alek Rita Muay Thai – Martin WINS via Rd 4 KO
Mongkol Thong Sumalee (Thailand) VS Veelachai Nongnapat Muay Thai (Thailand) – Mongkol Thong WINS via decision
Check out the photo album from Sumalee Media on our Facebook Page here, or watch the full fight videos below.