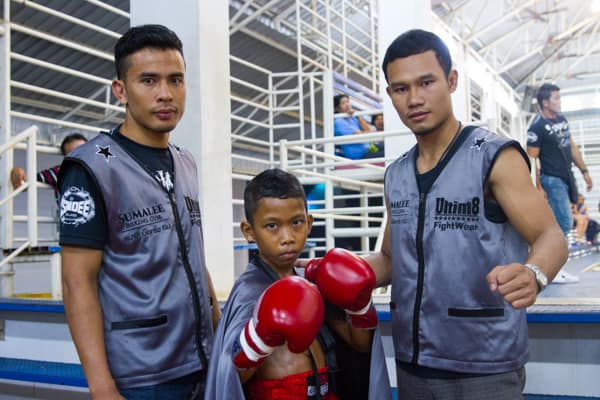 Team Sumalee headed down to Patong last night for another exciting evening of fights, but we got a lot more than we bargained for from our fighters Jungreed Dam, Marting Avery and Kaengkla Sumalee! Our junior fighter, Deem (Jingreed Dum Sumalee), warmed up the crowd in the opening bout against Look Hin Sor. Satchai. Deem had the advantage in both height and age but Look Hin was more experienced, even at 7 years old! Despite this Deem started with an aggressive approach and soon got the better of his opponent. He was declared the winner by Rd 1 TKO in his first Muay Thai fight.
Kaengkla was scheduled for the penultimate fight of the evening, with Martin in the final and main event. Kaeng faced the sturdy looking Singnoi from Lion Muay Thai and looked to be on the back foot for the first two rounds, conceding an 8-count and being saved by the bell in Rd 2. Unbelievably he came back with some huge knees in Round 3 to win by TKO in Rd 3 and (we think) dislocating his opponents shoulder from the force!
In what had to be the fight of the night, sponsored fighter Martin Avery took on the heavily tattooed Willy from Kaewphitak Muay Thai. Both fighters battled over 4 non-stop rounds and were unrelenting with their attacks. By Round 2/3 both fighters were cut from elbows but Martin's superior cardio soon became evident. The referee called an end to the fight in Rd 4 and the blood soaked athletes embraced with mutual respect. A fantastic end to the evening!

Jingreed Dum Sumalee (Thailand) VS Look Hin Sor. Satchai – Jingreed Dum WINS by Round 1 TKO
Kaengkla Sumalee (Thailand) VS Singnoi Lion Muay Thai (Thailand) – Kaengkla WINS via Round 3 TKO
Martin Avery Sumalee (Thailand) VS Willy Kaewphitak (U.S.A.) – Martin WINS via Round 4 KO