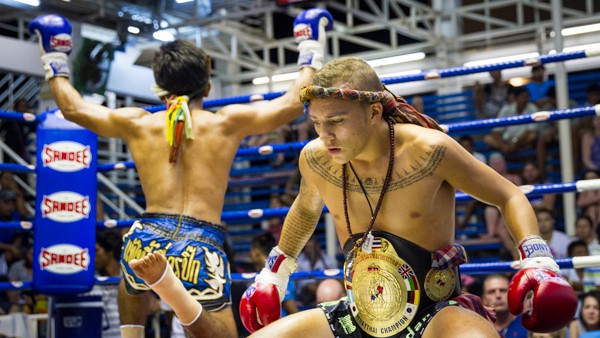 Wednesday night saw Team Sumalee descend upon Bangla Boxing Stadium once again. Originally scheduled for Friday night, Jordan Coe and visiting fighter Savannah Kincses were asked by the promoter on Tuesday if they could fight on Wednesday instead. Despite the short notice and lack of a rest day they both accepted the challenge without complaint.
Savannah had already visited and fought for our camp last year so she new what to expect. For this fight she trained with our team for around 3 weeks and was matched with her first Thai opponent, Nungning. Savannah did well to defend against the powerful attacks of the Thai and landed some solid knees and punches. Despite this, Nungning seemed to have experience on her side and her counter attacking kicks crept through too many times for the judges liking.
Jordan Coe began his fight the way he always does, with a little Thai style dancing! With the crowd suitably warmed up for the main event the bell sounded for round 1. Not to be outdone by Jordan's entrance, Daraaek began with a cartwheel kick which almost connected. Both fighters went toe-to-toe for the first 3 rounds with Jordan becoming the aggressor in the clinch during the later rounds. Everyone thought he had done enough to claim the win but the judges thought differently and the Thai was declared the winner by decision. A lot of disagreement could be heard around the stadium but we'll let you make up your own mind.
A big shout out to our students for their fantastic support!
Jingreed Dum Sumalee (Thailand) VS Nungning Elite Fight Club – Nungning WINS by Decision
Jordan Coe Sumalee (Scotland) VS Daraaek Petsaban Nakonthang (Thailand) – Daraaek WINS via Decision