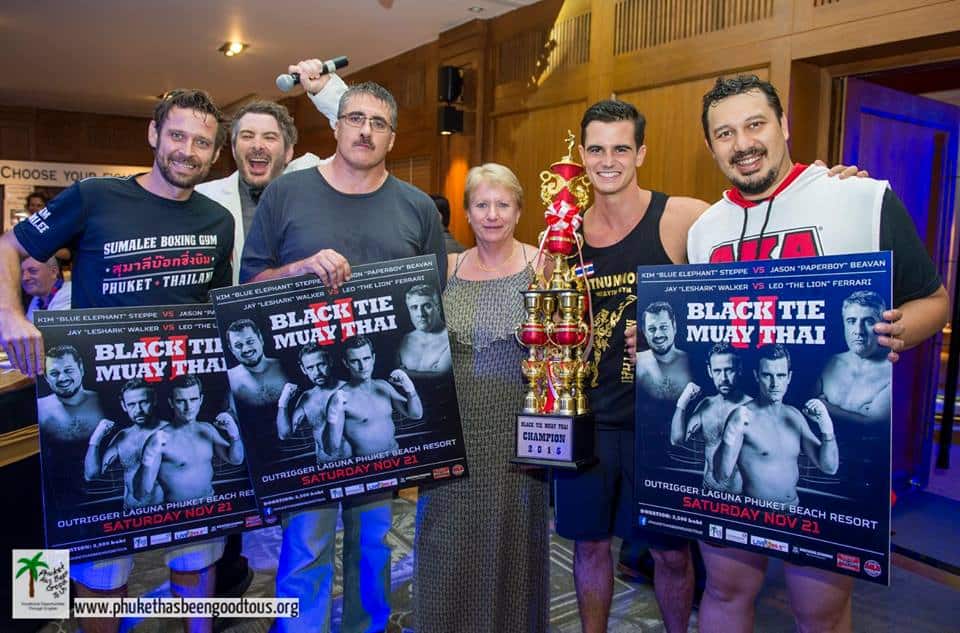 Last Saturday marked an important date in Phuket's calendar, the return of 'Black Tie Muay Thai' by the Phuket Has Been Good To Us Foundation. The annual event, held at the Outrigger Laguna Beach Resort ballroom, combines the gritty world of Muay Thai with a sophisticated evening of dinner and drinks. Attendees enjoyed a cocktail reception, four-course dinner, free flowing beverages, a silent auction with some fantastic prizes, and martial arts displays from local gyms. A total of over 900,000 baht was raised and donated to the Phuket Has Been Good To Us Foundation which helps schools teach English to local children across the island.
VIDEO: Black Thai Muay Thai IIThey came, they raised lots of money, they kicked arse! The big annual grand fund-raiser for Phuket Has Been Good To Us.

Posted by The Phuket News on Wednesday, 25 November 2015
Last year Sumalee Boxing Gym donated a prize to the auction but this year we were asked to take a more active role. Local celebrity figures were asked to take part in a series of "smoker" fights, in which they would have 3 months to prepare for at supporting gyms. Jason "Paperboy" Beavan (The Phuket News) was to face Kim "Blue Elephant" Steppe (Blue Elephant Phuket) in a heavyweight clash, and Jay "LeShark" Walker (Royal Phuket Marina) took on Leo "The Lion" Ferrari (Phuket Has Been Good To Us). Our team was tasked with preparing Jay "LeShark" Walker for his bout.
Take a look at an interview we filmed with Jay, filmed during the lead up to his fight.
After 3 rounds of modified rules Muay Thai Jason Beavan and Kim Steppe's match ended in a draw, with Jay tasting defeat by way of Rd 3 TKO at the hands of Leo. Mongkol Thong Sumalee Boxing Gym also performed our traditional Thai dancing entrance and his award winning rendition of the 'Wai Khru Ram Muay' ceremony.