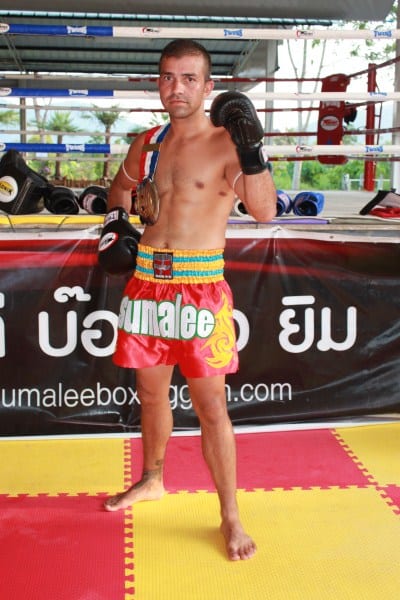 Moe (Mauricio Calvo Siles) is from San Jose in Costa Rica.  He has been coming to Thailand to train and fight Muay Thai since 2008.  He had worked and trained in a couple of gyms in Costa Rica before this.  After coming to Thailand the first time, however, he decided to open his own gym in Costa Rica modeled on the Thai style of training.  Sutai Gym in San Jose was the first gym in Costa Rica where Muay Thai training sessions included one to one pad work with with trainers.  During his absence from Costa ca, Sutai Gym is being run by his head trainer who is the two times Pan American Sonchai Champion.
Moe came to Thailand in 2010 and has been here since, focusing on improving his skills as a trainer.  During his time here he has been fighting as well and has now had approximately 16 fights in Thailand, 13 of which he has won.
In total Moe has fought more than 30 times.  He has fought in the USA and in 2009 for the AKF Championship in Orlando.
Although Moe still fights, he is now more focused on his work as a trainer and coach as his gym in Costa Rica has several well known fighters training there.
Moe will be having his first fight for Sumalee Boxing Gym on Sunday 15th April.  This video shows his pre-fight preparation.  The things Moe likes most about Sumalee Boxing Gym is its location away from the more developed areas of Phuket and motivational trainers.