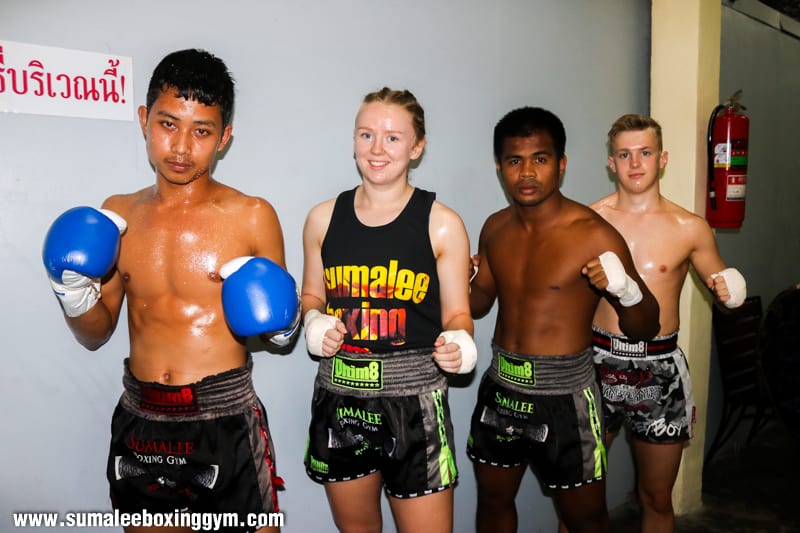 Sumalee were out in force on the 19th January, this time heading over to Patong Boxing Stadium.
The fight card at Patong Boxing Stadium featured our sponsored fighter Joe Le Maire and Scottish fighter, Rhona Walker. Both were fighting for the stadium title.  The other two fighters on the card were  Petbanporn and Sornsin.  Petbanporn who stopped his opponent in the first round of his last fight and Sornsin also won a decisive victory the last time he fought for Sumalee.
Petbanporn was first up at Patong Boxing Stadium.  He was confident that his power would be too much for his opponent Anuchai.  His intention was to start fast to gain his opponent's respect.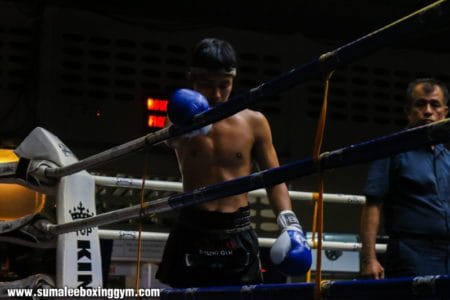 In Round One both fighters exchanged big body kicks and wild punches were thrown into the mix. Petbanporn landed some clean right hands in the middle of the round and Anuchai was forced to clinch up to avoid damage. The round ended with Petbanporn getting the better of the exchange but he also took some punishment in return.
In the second round both men came out with a purpose and the fight started just as it was left off from the first.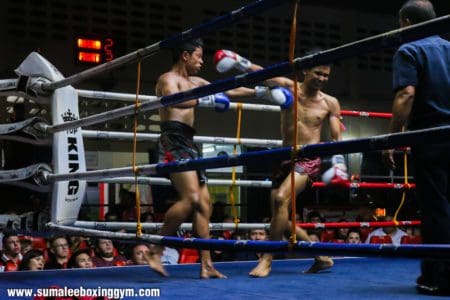 Petbanporn landed some heavy right crosses as Anuchai threw a body kick.  Petbanporm visibly rocked Anuchai resultanty.  The fight was subsequently turned into a clinching match.  Both were as equal in the clinching department and some big knees were thrown into the fight in an attempt to gain advantage. However, Petbanporn landed a precise leg kick which dropped Anuchai, resulting in an 8 count. Following this, Petbanporn wasted no time and went for the finish with a big leg kick.  The fight was stopped in the second round.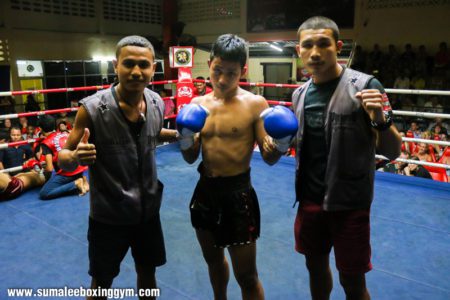 Scottish fighter Rhona Walker was next.  She had just come off a big win against Petchompoo Kiatmongkol.  She was the former regional champion and has made numerous appearances on tv.
Rhona faced another well-known fighter called Salika, a sponsored fighter from Kaewpitak.  Salika has recently won against Katya Phuket Top Team.  This fight was for the women's bantamweight title and it was Rhona's first attempt at a title in Thailand.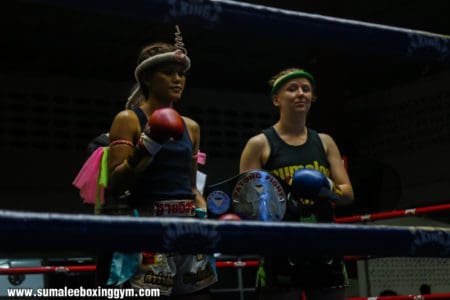 Round One started off slow with Rhona working her distance against the much taller fighter, Salika. The height difference threw Rhona off her rhythm.  Salika was clever with her footwork and was also able to land a long teep from a distance.  Salika was able to avoid Rhona's body kicks and counter using her range.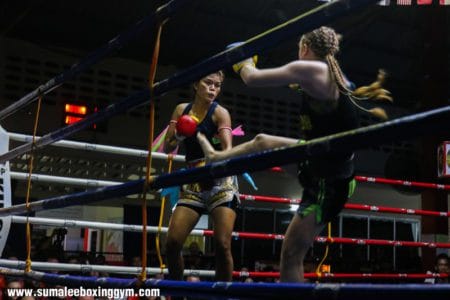 Rhona started Round Two in a more purposeful way, pushing the pace of the fight,  However, Salika used her teeps to push Rhona back avoiding her punches and kicks.  Rhona found it difficult to settle into a rythm as Salika used her height and range very well.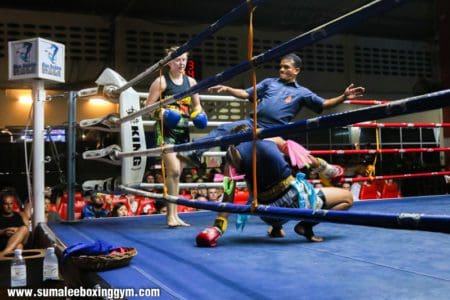 Round Three was a repeat of Rounds One and Two.   Salika used her range well, nullifying Rhona's aggressive style. Rhona gained some ground in this round as Salika was getting tired. A few knees were exchanged in the clinch with Rhona gaining a sweep. At the end of the round neither opponent heard the bell as they were so engrossed in the battle.  The referee was not aware of the bell either until alerted by the corners getting into the ring.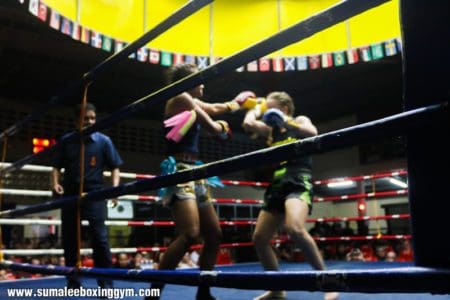 In the fourth round, with Salika continued her slow down, providing some openings for Rhona. This was a strong round for Rhona with back and fourth action.  Unfortunately this was too little, too late.  Despite Rhona's continued attack and aggression in the fifth round, the judges scored the bout a split decision in favour of Salika.
Joe Le Maire was the next Sumalee fight.  He was up against veteran Deelert.  This bout would decide the stadium's Featherweight Champion.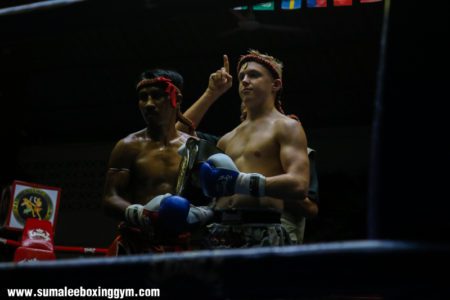 As Joe went to touch gloves for Round One, Deelert threw a heavy low kick which landed clean. Throughout this round Deelert continued to land strong and fast body kicks, causing reddening on Joe's ribs. Joe was able to counter these mainly with low kicks, attempting to slow his opponent's attack.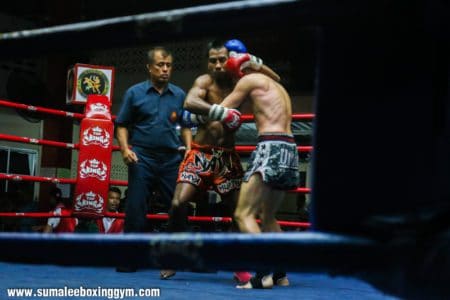 In Round Two, Joe continued to try and exchange kicks but was coming up short in these exchanges. In the middle of the round, therefore, he started to open up more with his boxing.  His hands landed more accurately than his kicks and were more effective.  Joe also started to gain ground in the clinch.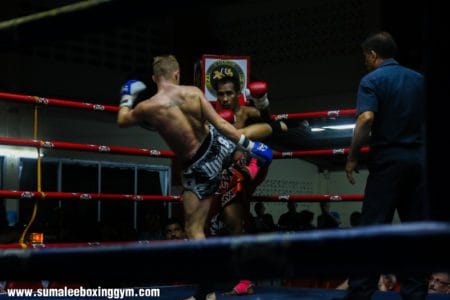 In Round Three Joe continued to push his attack.  Using his boxing to cut a path, he was able land some clean kicks to his opponent's body.  Wear his opponent down with this relentless attack, Joe landed a clean body shot which dropped his opponent.  He was unable to recover before the end of the count, thereby ending the bout.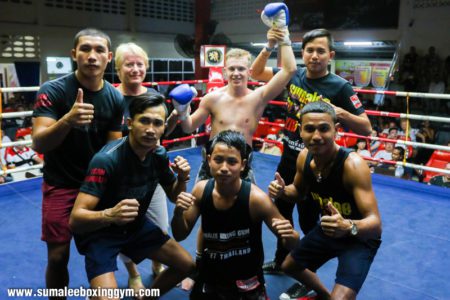 Last but certainly not least Sornsin was eager to put on a show, as always.  At the outset, both fighters tested the measure of each other.  Sornsin's opponent, Chaiklang, kept switching from orthodox to southpaw but this didn't phase Sornsin. Round Two was a repeat of Round One, a trading of  jabs with some wild hooks almost connecting.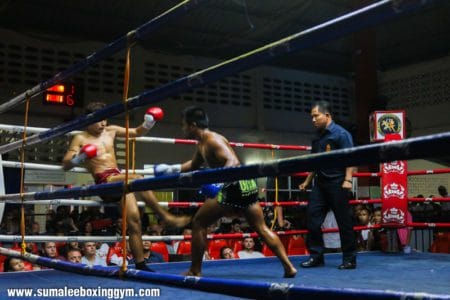 Sornsin applied relentless pressure from the start of Round Three.  He fought intelligently against Chaiklang whose moves were becoming increasingly ineffective.  Sornsin continued the pressure in Round Four, cutting off the ring to corner his opponent enabling him to score with many body kicks. Chaiklang continued to fight back and landed some big punches too.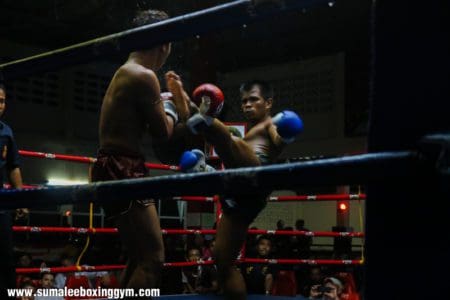 In Round Five Sornsin knew he had scored enough points to win and kept his distance. The fight went the full five rounds with Sornsin being awarded the win.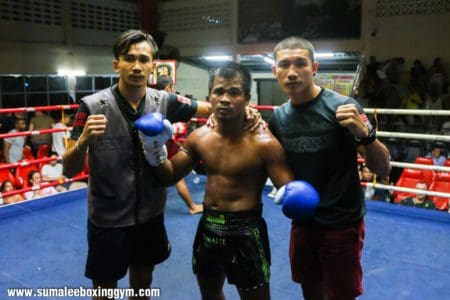 Watch all four fights here.