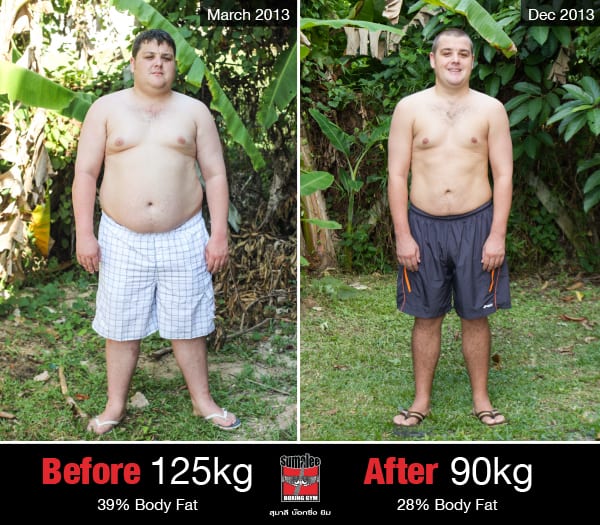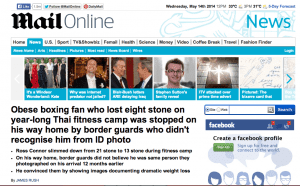 Ross Connor, from Peterborough in the UK, has featured heavily in recent online news stories after his incredible weight loss at our camp in Phuket, Thailand. The change was so dramatic that, upon leaving The Kingdom Of Thailand, officials did not believe that Ross' passport photo was him! It was only until he showed them progress photos that he was allowed to pass through immigration.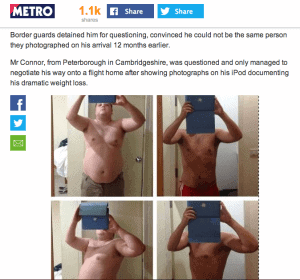 Ross joined us at Sumalee Boxing Gym early last year. He was extremely overweight at 125kg and had a staggering 39% body fat. Ross put this down to a less than nutritious diet, habitual junk food binges and no exercise. His social life suffered and, in turn, so did his confidence. He even dreaded getting on the bus for fear of the discrimination and stares that he would sometimes get.
His journey to fitness was not without it's challenges. At the beginning of his stay the young brit could not complete a full 2 hour group training session. Kicks and knees were a new experience and he was engaging muscles he had not used in years. Over time, Ross found things became easier as the weight dropped off. He was able to utilise his entire body and develop some of the techniques he had learnt from our trainers.
"I'd watch my idols boxing, and I thought to myself, if they can lose weight at a boxing camp before a fight – then so can I"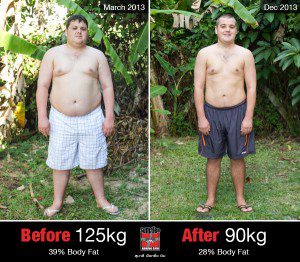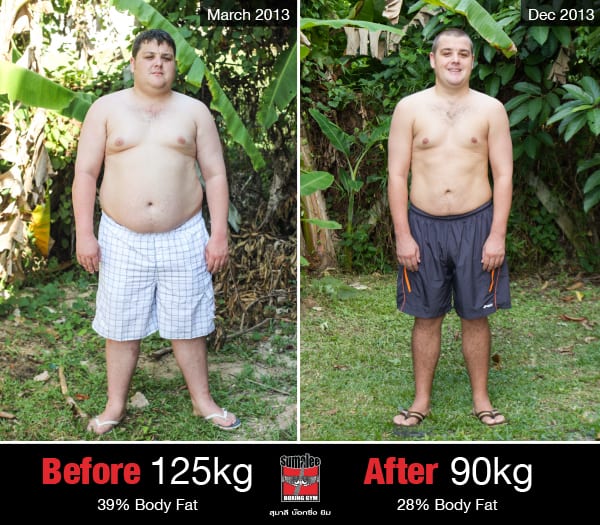 By Christmas of 2013 Ross looked like a new man, he had lost 35kg and 10% body fat, a life-changing difference. His time in Phuket was up and he travelled to America to spend some time with his family and young nephews, except this time he would have no problems when they wanted to go for a walk or play in the park. Ross plans to return to Phuket this year to continue his training and finish what he started. Everyone at Sumalee Boxing Gym would like to congratulate Ross on his excellent progress and determination and look forward to seeing him again soon. Read the original articles below.
Daily Mail Online  – https://www.dailymail.co.uk/news/article-2627264/Obese-boxing-fan-lost-eight-stone-year-long-Thai-fitness-camp-stopped-way-home-border-guards-didnt-recognise-ID-photo.html
Metro UK – https://metro.co.uk/2014/05/13/fat-boxer-who-lost-incredible-eight-stone-during-thailand-training-camp-detained-at-airport-because-no-one-believed-he-was-the-same-person-4726891/